The 2001/02 season was a bumper year for Irish Pointing Graduates that surpassed any gone before. Twenty three individual winners took thirty two graded races and all the 'big pots' fell to the ex Hunters.

Best Mate tops the pile taking the Cheltenham Gold Cup in the fashion of a Horse where the best seems yet to come. Florida Pearl had a cracking year with four graded victories including three Grade Ones (John Durkan Memorial Chase, King George & Heineken Gold Cup. Younger Grade One winners were also in evidence with Hussard Collonges taking the Sun Alliance Chase Big and Bold the Power Gold Cup and a Grade One Hurdle and two Grade two's for the consistent Classified.

On the Grand National front Irish pointers dominated. Bindaree took the English version, Supreme Glory the Welsh and the Irish Grand National went to The Bunny Boiler with amazingly five of the first seven home graduates from between the flags.


GRADE ONE WINNERS

BEST MATE 1995 g By Un Desperado – Katday (Millers Mate)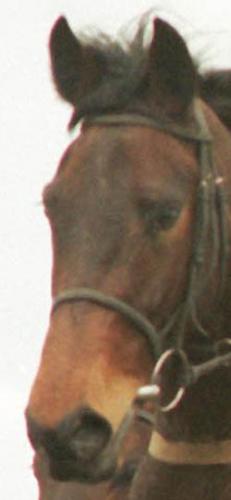 Williamhill.co.uk Haldon Gold Cup Chase - Gr.2 - Exeter - 2m 1.5f
Tote Cheltenham Gold Cup Chase - Gr.1 - Cheltenham - 3m 2.5f

BIG AND BOLD 1996 g by Legal Circles – Kodak Lady (Entre Nous)
Powers Gold Cup - Gr.1 - Fairyhouse - 2m 4f

CLASSIFIED 1996 by Roselier – Treidlia
Challow Novices' Hurdle - Gr.1 - Newbury - 2m 5f
Pertemps Leamington Novices' Hurdle - Gr.2 - Warwick - 2m 5f
Martell Mersey Novices' Hurdle - Gr.2 - Aintree - 2m 4f

FLORIDA PEARL 1992 g by Florida Son – Ice Pearl (Flatbush)
John Durkan Memorial Punchestown Chase - Gr.1 - Punchestown - 2m 4f
Pertemps King George VI Chase - Gr.1 - Kempton - 3m
Martell Cup Chase - Gr.2 - Aintree - 3m 1f
Punchestown Heineken Gold Cup - Gr.1 - Punchestown - 3m 1f

HUSSARD COLLONGES 1995 g by Glacial Storm – What Side
Royal & Sun Alliance Chase Grade 1- Cheltenham


OTHER GRADED WINNERS

BALLYCASSIDY 1996 g by Insan – Bitofabreeze (Callernish)
Tripleprint Novices' Hurdle - Gr.2 - Huntingdon - 3m 2f

BINDAREE 1994 g by Roselier – Flowing Tide (Main Reef)
Martell Grand National Chase - Gr.3 - Aintree - 4m 4f

FOXCHAPEL KING 1993 g by Jolly Jake – Monatrim (Le Moss)
Ericsson Chase - Gr.2 - Leopardstown - 3m

BOSS DOYLE 1992 g by Lapierre – Prolific Shot (Northern Guest)
John Smith's Hurdle - Gr.2 - Wetherby - 3m 1f

DELGANY ROYAL 1992 g by Denel – Glen Of Erin (Furry Glen)
Duggan Brothers Porterstown Handicap Chase - Gr.C - Fairyhouse - 3m 1f

GIVE OVER 1993 g by Lord Americo – Romany River (Over The River)
William Neville & Sons Novice Chase - Gr.3 - Leopardstown - 3m

GOLA CHER 1994 g by Beau Sher – Owen Money (Master Owen)
Rising Stars Novices' Chase - Gr.2 - Chepstow - 2m 3.5f

GUNTHER MCBRIDE 1995 g by Glacial Storm – What Side (General Ironside)
Racing Post Chase Showcase Handicap - Gr.3 - Kempton - 3m - £52,200

I CAN IMAGINE 1995 Husyan – Cyn Alley (The Parson)
Paddy Power Handicap Chase - Gr.B - Leopardstown - 3m

KEEN LEADER 1996 g by Supreme Leader – Keen Gale (Strong Gale)
Blue Square Classic Novices' Hurdle - Gr.2 - Uttoxeter - 2m 41/2f

MICHAEL MOR 1994 g by Denel – Oralee (Prominer)
Bank of Ireland Ballybrit Novice Chase - Gr.3 - Galway - 2m 1f
Irish Field Novice Chase - Gr.3 - Punchestown - 2m 4f

ROCKHOLM BOY 1993 g by Eve's Error – Rockholm Rosie (Tudor Rocket)
Smirnoff Handicap Chase - L - Galway - 2m 6f

SUPREME GLORY 1993 g by Supreme Leader – Pentlows (Sheer Grit)
Coral Eurobet Welsh National - Gr.3 - Chepstow - 3m 5 1/2f

TAKAGI 1995 by Husyan – Ballyclough Gale (Strong Gale)
Woodlands Park 100 Club Novices Chase - Gr.3 - Naas - 3m

THE BUNNY BOILER 1994 g by Tremblant – Dannys Charm (Arapahos(FR))
Marstons Pedigree
Midlands Grand National Chase - Gr.3 - Uttoxeter - 4m 2f
Powers Gold Label Irish Grand National Chase - Gr.A - Fairyhouse - 3m 5f

TUCO 1996 g by Scenic – Trathlee (Tromos)
Woodlands Park 100
Johnstown Novice Hurdle - Gr.3 - Naas - 2m 4f

VALLEY HENRY 1995 g by Step Together – Pineway VII
Bet 365 Telebet Novices' Chase - Gr.2 - Newbury - 3m
Ashleybank Investments Future Champion Novices' Chase - Gr.2 - Ayr - 2m 4f

WOTSITOOYA 1992 g by Rashar – Droopey Loops (Over The River)
Castlemartin Stud Pat Taaffe Handicap Chase - Gr.C - Punchestown - 3m 1f


2001/2002 NH SEASON

BEST MATE 6yo g By Un Desperado – Katday (Millers Mate)
Williamhill.co.uk Haldon Gold Cup Chase - Gr.2 -
Exeter - 2m 1.5f –Tote Cheltenham Gold Cup Chase - Gr.1 - Cheltenham - 3m 2.5f

Best Mate pulled up on his initial outing at Lismore where Henrietta Knight and Terry Biddlecombe were in attendance. The pair liked what they saw and agreed to purchase the son of Un Desperado. However Tom Costello expressed his wish to win a point before the sale would be sealed. Best Mate then went to Tuam where he contested a two runner contest against a mare called Well The Now Then. Best Mate made all and quickened nicely off a steady pace to score by eight lengths.

Assessment at this stage was difficult as neither runner subsequently ran that season but Well Then Now Then turned out to be a decent mare in her own right while Best Mate conquered the best that Steeplechasing had to offer. Although determining how good he would be was difficult on paper following his Pointing success, anyone listening to rider Tony Costello or his maestro father Tom after the race saying that he was one of the best that they had ever had through their hands should not have been surprised at the heights he has hit since winning his point.

In the 2001/02 season Best Mate only turned out on four occasions. His seasonal debut was at Exeter in a four runner contest at Exeter where he scored comfortably by twenty lengths from the Paul Nicholls trio of Desert Mountain , Fadalko & Cenkos. Following that at Ascot he put up a brave weight carrying performance but met with his initial defeat over the larger obstacles when attempting to give 20lbs to Wahiba Sands over an inadequate 2m 3f.

Best Mate was next seen in the King George at Kempton when for the first time on a racecourse he was not partnered by Jim Culloty who missed the mount through suspension. Tony McCoy took the ride and the pair found only Florida Pearl three parts of a length too good under an inspired ride from Adrian Maguire. McCoy admitted afterwards that he had underestimated the geldings stamina and may have been closer had he allowed his mount rein earlier in the race.

Nonetheless the Cheltenham Gold Cup was the next and final race for the gelding. The field looked a particularly strong one with Looks Like Trouble, Florida Pearl See More Business and Bacchanal all fancied while many questioned the Stamina of the second season chaser who was attempting further than three miles for the first time. Jim Culloty reinstated with his mount gave him the perfect ride along the inside and went away to score by 1 3/4l from Commanche Court with See More Business third. The former pointer had moved to the top of the Pile of Chasers where he was expected to remain

BIG AND BOLD 1996 g by Legal Circles – Kodak Lady (Entre Nous)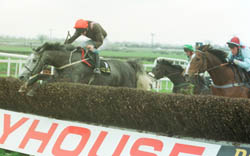 Powers Gold Cup - Gr.1 - Fairyhouse - 2m 4f
Big And Bold only ran once between the flags but made a big impact nonetheless. On February 27th 2000 in the four year old maiden at Lismore (also won previously by Florida Pearl) Big And Bold was sent off 1/2fav to make a successful debut under Mark Grant. The support was justified as he picked up the running a mile out and quickened nicely to score by eight lengths in what turned out to be a decent contest.

In this 2001/02 season he began with his first two runs over fences seeing him finish third and fourth. In February 2002 he took a 2m 4f Chase at Down Royal before heading to the Power Gold Cup at Fairyhouse. Fellow former pointer Truckers Tavern was sent off favourite but disappointed. This fellow however put in a spectacular display of jumping under Ruby Walsh to beat Harbour Pilot by ¾ length. He then ran only once more that season when finishing 19l second to Valley Henry at Ayr. Undoubtedly one of the more exciting novices of the 01/02 season he unfortunately didn't turn out subsequently the following season but was one of only five pointers to gain Grade One status for the season 01/02

CLASSIFIED 6yo by Roselier – Treidlia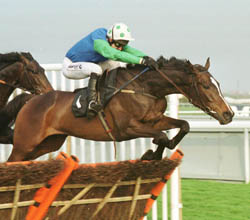 Challow Novices' Hurdle - Gr.1 - Newbury - 2m 5f
Pertemps Leamington Novices' Hurdle - Gr.2 - Warwick - 2m 5f
Martell Mersey Novices' Hurdle - Gr.2 - Aintree - 2m 4f

Classified is another to have only one experience of pointing but his performance on the day would not have inspired anyone to predict the heights he would go on to reach. At Kildorrey on the 25th February 2001 Classified contested the first division of the five year old geldings maiden finishing a poor fourth of four finishers at odds of 10/1.

He subsequently went to the park when he finished 9th on his debut. After winning an October '01 bumper at Gowran he then joined Martin Pipe where he scored on his next five runs and was beaten just 9l into fourth behind Galileo at Cheltenham in the Sun Alliance Hurdle. This was the only defeat he met in the 01/02 season from eight starts. In his other seven runs he took two grade two events and found his Grade One victory in a Novices Hurdle at Newbury on the 29th December 2001 under Tony McCoy by three lengths.

He went on to win a Grade two hurdle the following January at Warwick beating another pointer Eurotrek (Ballybunion debut winner 2001) by eight lengths and at Aintree in April Classified took the Martell Novices Hurdle, another Grade two event to see him as one of the most consistent graduates from the pointing field in the 2001/02 season

FLORIDA PEARL 9yo g by Florida Son – Ice Pearl (Flatbush)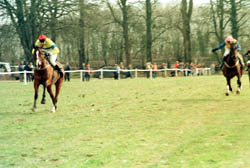 John Durkan Memorial Punchestown Chase - Gr.1 - Punchestown - 2m 4f
Pertemps King George VI Chase - Gr.1 - Kempton - 3m
Martell Cup Chase - Gr.2 - Aintree - 3m 1f
Punchestown Heineken Gold Cup - Gr.1 - Punchestown - 3m 1f

On the 3rd March 1996 Florida Pearl made his debut in a 9 runner four year old Maiden at Lismore on good ground under Tony Costello. Sent off an even money favourite he duly saw off his rivals by five lengths in comfortable fashion before being acquired to race under the care of Willie Mullins.

By the time the 01/02 season began Florida Pearl was a household name having already won the Cheltenham Bumper, The Sun Alliance Chase and finishing second and third in the two previous Gold Cups.

He began this season with a 3rd place at Down Royal behind Foxchapel King when needing the run. He then went on to beat Native Upmanship at Punchestown by a short head in a tremendous battle. After that Florida Pearl was sent to the King George where he put up one of the finest displays of his career when partnered for the first time by Adrian Maguire. An inspired Maguire ensured that the pair both Pointing graduates came home in front of the subsequent Gold Cup winner Best Mate.

Following disappointments at Leopardstown he went to Liverpool where Barry Geraghty had his first ride on the Florida Son gelding. A terrific round of jumping saw him account for Cyfor Malta by eleven lengths in the Martell Cup. The late season good vein of form was continued in the Heineken Gold Cup at Punchestown where he beat Native Upmanship by three lengths this time.

Florida Pearl is one of the very best pointers to graduate to Park racing and his record can not be matched by many. From his debut bumper run in December 1996 to the end of the 01/02 season he raced 25 times. He won 14 including eight Grade One contests, two Grade two events and a listed race. He finished second on six occasions including a Cheltenham Gold Cup and third twice also including a Gold Cup. After that he has one fourth placed, unplaced once(02 Gold Cup) and fell once. He truly is one of the greatest and most consistent chasers to emerge in recent times and in spite of some unwarranted criticism throughout his career his record above speaks for itself for the former pointer.

HUSSARD COLLONGES 1995 g by Glacial Storm – What Side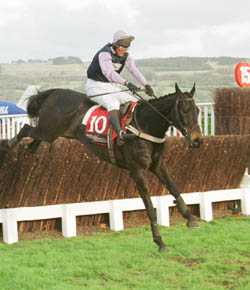 Royal & Sun Alliance Chase Grade 1- Cheltenham

Another to only get one taste of pointing action but made his outing count when landing a gamble to beat a ten runner field in an Inch Maiden in April 2000. He scored comfortably by eight lengths in what was admittedly not the strongest race but it set him on his way for a career on the park. He clearly impressed a few onlookers that day as it Peter Beaumont had to go to £46,000 to secure this fellow at Doncaster in August 2000.

In the 01/02 season Hussard Collonges raced five times, registering two wins two seconds and falling once. His initial success of the season came in a Handicap Chase at Weatherby over 2m 4f – only the second park success of his career. He became a Grade One winner however with his next victory when taking the Sun Alliance Chase at Cheltenham beating Iznogoud by two lengths under regular pilot Russ Garrity. Always a good test for a young chasers he came through with flying colours to put himself among the most promising young chasers in Britain for handler Peter Beaumont.

BALLYCASSIDY 1996 g by Insan – Bitofabreeze (Callernish)
Tripleprint Novices' Hurdle - Gr.2 - Huntingdon - 3m 2f

Balllycassidy scored on his only outing between the flags when taking a four and five year old Maiden at Loughbrickland in April 2000. Ridden by Liam Lennon for trainer Ian Ferguson the son of Insan made a big impression and progressed to be park material. Having scored three out of seven runs and never finishing out of the first three he unfortunately fell on his seasonal reappearance at Aintree when holding every chance.

A couple of decent placed efforts followed before he made the 'grade' as it were. Ridden by Robert Thornton in a Grade two hurdle at Huntingdon he beat his only rival on that occasion See You Sometime by just over three lengths to justify favouritism

BINDAREE 1994 g by Roselier – Flowing Tide (Main Reef)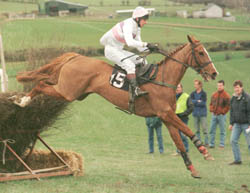 Martell Grand National Chase - Gr.3 - Aintree - 4m 4f

Bindaree had to face the starter on four occasions before registering a maiden victory in points. Finishing second to two decent sorts on his opening two runs including the ill fated Southsea Native he then most uncharacteristically ran out before finally putting his head in front at Loughbrickland on 20th March 1999. He won by fifteen lengths under Kevin Ross having gone off odds on favourite and was subsequently sold to race in England.

From a sales record point of view he was a 'progressive' sort. In February 1995 as a yearling he made £2000 at Tattersalls while a few years later at Goffs he was sold for £20,000. Although he was sold privately following his point to point success one can only assume it progressed upon a similar scale to before.

In the 01/02 season he raced seven times and although he only won once he made it count when scoring the 2002 running of the Aintree Grand National. Having been partnered on all his previous twenty three starts by Carl Llewelyn this was to be Jim Culloty's day and the pair struck up a winning relationship to win the famous steeplechase in a great battle with Whats Up Boys. Trained by Nigel Twiston Davies he didn't race again for the season finishing on a high note with the most famous Steeplechase in the world.

FOXCHAPEL KING 1993 g by Jolly Jake – Monatrim (Le Moss)
Ericsson Chase - Gr.2 - Leopardstown - 3m

Not an easy Point to Point recruit to follow as his name does not appear on any form books but he played his part nonetheless. In 1997 a horse called Jolly Man pulled up at Tallow before going on to score on his second outing at Kildorrey in a five year old Maiden by twelve lengths. Jolly Man was subsequently disqualified as it transpired that he was actually a four year old and not as had been thought the actual Jolly Man when the markings did not match his passport following his victory.

The horse that took part on the winning occasion was in fact Foxchapel King. The real Jolly Man turned out the following season but was fatally injured on his only outing. The fact that Foxchapel King took a five year old maiden as a four year old spoke volumes for the potential he held from an early age.

He has been a thoroughly consistent sort throughout his career and had eight career wins before the start of the 01/02 season. He began on a good note when taking the Munster National on the opening day of the new Racecourse at Limerick. Success in the James Nicholson chase at Down Royal at the hands of Wicked Crack and Florid Pearl followed before he went on to his seasonal highlight at Leopardstown. The Ericcson Chase at Leopardstown has since been allocated Grade One status but in 2001 it was merely a grade two contest.

It was still a much sought after contest and Mouse Morris' gelding had to fend off Native Upmanship, Alexander Banquet and Rince Ri to secure success under David Casey. He then went on to finish a creditable ninth in the Gold Cup on his only other outing.

BOSS DOYLE 1992 g by Lapierre – Prolific Shot (Northern Guest)
John Smith's Hurdle - Gr.2 - Wetherby - 3m 1f

Boss Doyle ran twice in points in 1996. He began at Cloyne where he came to grief five out when still travelling well. Amends were made on his only other outing however at Clonmel when he came alone clear of the field under Tom Cloke. Although left clear when in front three out he came home 15l & a distance ahead of his rivals which signalled the end of his pointing career as the track beckoned. John Halley who both bred him and produced him for his points subsequently sold him to Mouse Morris who acts as starter at the Clonmel point to point and would have got a good look at this fellow even before the race subsequently acquired him for Mrs A.M Daly.

At the beginning of the 01/02 season Boss Doyle had won eleven races and been placed thirteen times from thirty two outings. He had gained a reputation for being a tough and game sort who revelled in a battle in spite of having worn blinkers on occasions. His graded success came on his seasonal reappearance at Wetherby in the John Smiths Hurdle over 3m 1f. He outstayed his rivals that day for a seven length victory under David Casey. He only ran three more time this season finishing placed behind Bannow Bay and Be My Belle before being slightly outclassed at Cheltenham behind Baracouda.

Boss Doyle is a most consistent sort who fell ever so slightly short of the top level but found his opportunity for graded event this season and his genuine manner of running has brought his connections many visits to the winners enclosure throughout his career.

DELGANY ROYAL 1992 g by Denel – Glen Of Erin (Furry Glen)
Duggan Brothers Porterstown Handicap Chase - Gr.C - Fairyhouse - 3m 1f

Delgany Royal competed in points in the 1998 season. He did not in fact win a maiden but finished runner up on his debut at Wexford, beaten ten lengths by Morrajay. He was available at 10/1 that day but went off favourite next time at the Ward Union's fixture where he disappointed and pulled up.

Delgany Royal had been a winner on four occasions entering the 01/02 season and on the 1st December 01 he took the Grade C Porterstown Handicap Chase over 3m 1f from another pointer Cregg House by seven Lengths. He is genuine stayer who has run regularly throughout his career and for his consistency picked up his reward here with Graded honours.

GIVE OVER 1993 g by Lord Americo – Romany River (Over The River)
William Neville & Sons Novice Chase - Gr.3 - Leopardstown - 3m

Give Over ran three times in Northern Points in 1998 being brought down on his debut after half way. He quickly made amends in a very decent contest at Armagh on the 21st February. A tough track he saw off challengers such as Beau and Prominent Profile who both turned out both to be well above average. He then went to Enniskillen for a winners contest and with victory looking assured going to the last he jinked and unshipped his rider when five lengths clear. He was subsequently sold to pursue his track career.

Before 01/02 Give Over had won four hurdle races and went over the larger obstacles on his seasonal debut at Gowran. He quickly acclimatised as a couple of runs later he saw off Beausheram at Fairyhouse before going to the Leopardstown Christmas meeting to compete in the William Neville & Sons Novice Chase. It looked a decent contest this season with Colonel Braxton sent off favourite and Big And Bold, Assessed, Macs Gildoran and Harbour Pilot all among the field. However under the care of Eddie Hales and the guidance of David Casey he saw off Colonel Braxton by a neck in a typically game effort for a horse not over big.

He subsequently lost his way slightly unseating and being brought down and being pulled up in the Sun Alliance chase but on his final outing as a novice this season he returned to form finishing runner up to another Irish Pointer The Bunny Boiler in the Irish Grand National at Fairyhouse. He is a tough and most genuine sort who will always feature over longer distances.

GOLA CHER 1994 g by Beau Sher – Owen Money (Master Owen)
Rising Stars Novices' Chase - Gr.2 - Chepstow - 2m 3.5f

As a yearling in 1995 he realised £4,200Ir at Tattersalls before returning to the same venue in 1997 as a three year old where it took £12,500Ir to secure the son of Beau Sher. It took three years however for him to set foot on a course.

His pointing career began with an introductory outing at Comber in Co Down in 2000 where he finished fourth. He then however justified favouritism under Kevin Ross to take a fair Armagh maiden by eight lengths and a distance. It was the same race as Truckers Tavern made his debut and pulled up before the last.

The following October he began his park career and on his five runs before the 01/02 season he won three and was runner up twice. His initial outing this season saw him take a Grade two contest at Chepstow where albeit with some fortune he came home nine lengths clear in a novice Chase, in fact this was his first effort over the larger obstacles. He duly took a 3m event at Kempton in January before finishing the season with a mid division run at Cheltenham behind Frenchmans Creek.

GUNTHER MCBRIDE 1995 g by Glacial Storm – What Side (General Ironside)
Racing Post Chase Showcase Handicap - Gr.3 - Kempton - 3m - £52,200

Most of the graded winners so far have run only a few times before progressing to the track but this fellow had quite a 'career' before graduating. By 2001 he had been through a sales ring on four occasions. 1995(Tatts) as a foal £1,200Ir, 1996 (Goffs) as a three year old £8,000Ir the following year as a four year old he made £9,500Ir again at Goffs and at Doncaster in May '01 he was knocked down for £38,000stg to finally embark on a career on the track.

His pointing career is no quicker to summarise. He raced in 2000 and also 2001 in points & Hunter Chases. In 2000 he was placed four times and won two and was unseated on his only other start. It was his fourth outing at Crecora that got him off the mark and he rounded off the season with a Hunter Chase success in Cork in April. The following season 2001 he ran four times and again it was fourth time lucky when he took a Leopardstown Hunter Chase under Alan Fleming.

He quickly made an impact following his sale to England that May and in the 01/02 season he ran eight times winning three and being placed in four. In January and February he scored back to back victories at Kempton in 3m chases. The February contest being the prestigious Racing Post Chase which he duly took by seventeen lengths under Richard Johnson and 10st 3lbs. He went on to finish third in the Scottish National to Take Control in April on his final outing. A true staying he chaser and a most genuine sort.

I CAN IMAGINE 1995 Husyan – Cyn Alley (The Parson)
Paddy Power Handicap Chase - Gr.B - Leopardstown - 3m

As a foal I Can Imagine was sold from Tattersalls at just £800Ir. Returned as a three year old in 1998 she made £2,600Ir which would still represent tremendous value in time.

In 2000 she ran in three points. Placed in her opening two early season outings she subsequently did not reappear until April 30th where under Davy Russell she took her maiden and justified favouritism to score by seven lengths.

A true jumping sort she did not go the bumper route and indeed ran in chases in all of her races to the end of the 01/02 season. Having won three chases in her career she went to the Paddy Power Chase at Leopardstown on December 27th a 12/1 shot.

Carrying 9st 2lbs allowing for Joey Elliotts claim she stayed on resolutely to take one of the biggest pots in the calendar. She came home in front of quite a few pointers that day with The Bunny Boiler(2nd), Cregg House (4th), Call Me Dara(8th) , Wotsitooya (10th), and Delgany Royal (13th) all in the field. It was the biggest success to date for her trainer Robert Tyner she went on to finish fourth in the Thyestes at Gowran to this Is Serious before unseating at Cheltenham. She is ideally suited by long distance handicaps

KEEN LEADER 1996 g by Supreme Leader – Keen Gale (Strong Gale)

Blue Square Classic Novices' Hurdle - Gr.2 - Uttoxeter - 2m 41/2f

Realised £9,200Ir as a three year old in 1999 at Tattersalls. He made his points debut in 2001 in only the second race of the season on January 1st at Dromahane. This was a top class maiden with many decent sorts emerging. Won by Noble Justice (Wincanton Chase winner) Keen Leader was only beaten ¾ length and the subsequently prolific winner and ill-fated Ballyhampshire boy just a neck away in third. Druids Glen(Dual01/02 winner for Jonjo O'Neill) and Moss Bawn (Limerick bumper winner for Michael Hourigan) were also in the field.

He lost little time in making amends as James Sheahan steered him to victory at Knockanard while under the care of Tom Busteed. He was subsequently bought by Jonjo O'Neill to race in the colours of Mrs Stewart Catherwood where he has turned out to be a top class and most exciting prospect. By the end of this 01/02 season his only defeat from a total of five outings came when he fell at Cheltenham behind Gallileo.

His four victories came at Perth, Towcester, Leicester and Uttoxeter with the latter being a Grade 2 event. Ridden by Liam Cooper in very heavy conditions he never came off the bride to score by nineteen lengths from Tarasco. He has enough speed to win over two miles, stamina to win over 2m 5f and handles the heavy with ease. He appears to hold the all round package and could progress to be top class.

MICHAEL MOR 1994 g by Denel – Oralee (Prominer)
Bank of Ireland Ballybrit Novice Chase - Gr.3 - Galway - 2m 1f

Irish Field Novice Chase - Gr.3 - Punchestown - 2m 4f

Michael Mor is a half brother to Promalee. He made £17,000Ir as a four year old at Tattersalls when bought by Tom Taaffe. He then ran in two track races before returning to points to record his initial success. He took a Punchestown maiden in 2000 with little difficulty under John Cullen, however the aftermath was a little less straightforward. It turned out he did not hold a current Hunter Cert and he was duly disqualified under Regulation 6ii.

Noel Meade took over the training of him as his career progressed and by the 01/02 season he had won five races over hurdles and proved himself a decent sort. Reverting to chasing this season he unseated on his Roscommon debut before landing a brace of wins at Galway and Punchestown which were both Graded contests. In Galway he saw off Ellenjay by 3 ½ l to score over 2m 1f. He then went on to Punchestown in early October to take the Irish Field Chase by two lengths from Prince Dante. He slightly lost his way after that victory although did manage a few placed efforts including 15l 4th behind Moscow Flyer at the Punchestown Festival.

ROCKHOLM BOY 1993 g by Eve's Error – Rockholm Rosie (Tudor Rocket)
Smirnoff Handicap Chase - L - Galway - 2m 6f

This fellow certainly did not go the 'conventional route'. Most graded winners score quickly in points before progressing to the track. Rockholm boy ran twenty one times on the track before winning his point. Within those runs it must be said he did little to suggest he would turn out as he did.

Reverting to pointing in 2000 he was runner up on his initial outing before scoring twice. He took the opening Adjacent Maiden at Tuam before taking his winners contest by six lengths at Kilmallock. He was subsequently fancied for a Cork Hunters Chase but fell when fancied at the last ditch in a race won by Gunther McBride.

On the 12th September 2001 he took the Smirnoff Handicap Chase (Listed) at Galway beating former pointers Keeponthesunnyside and The Dell into second and third for third success of his career. He went on to put up a couple of fair displays before the end of the season and in June 02 took a handicap chase at Limerick.

SUPREME GLORY 1993 g by Supreme Leader – Pentlows (Sheer Grit)
Coral Eurobet Welsh National - Gr.3 - Chepstow - 3m 5 1/2f

Raced six times between the flags in '98 and '99 without success. From four starts in '98 he showed little to encourage but in his two '99 starts he finished third and second to suggest improvement was forthcoming. Indeed those efforts at Carrigtwohill and Fermoy were in fair contests.

When progressing to the park he again took time to acclimatise and entering the 01/02 season he had only scored twice from twelve starts.

He began this season with a 3m f4 win in a Stratford Chase before going onto finish fourth at Haydock. He then went to the Welsh National(Grade 3) where he went off 10/1 and he duly scored by two lengths from Jocks Cross with Bindaree back in third. On his day he is fair staying chaser in Handicap company.

TAKAGI 1995 by Husyan – Ballyclough Gale (Strong Gale)
Woodlands Park 100 Club Novices Chase - Gr.3 - Naas - 3m

Takagi looked to have the right credentials from the outset. Third on his first outing at Cloyne as a four year old in 1999 he turned out just a week later in Liscarroll where after blundering the last battled back to score going away by three lengths. Racegoers were spoiled for talent on the day as Timbera took his maiden just an hour later at the same fixture.

Takagi went on thereafter to be trained by Edward O'Grady. By the outset of the 01/02 season he had scored twice. His initial chase success came on 6th January at Naas 2002 where he won over 2m 3f and twenty days later he returned to the Kildare venue to pick up his Graded honours in a Grade 3 Novice Chase over 3m beating Copernicus and Risk Assessor. His other success came this season as this consistent fellow took a 3m chase at Navan in March.

Incidentally he was another value acquisition when as a foal he was sold for £2,800Ir at Tattersalls in 1995.

THE BUNNY BOILER 1994 g by Tremblant – Dannys Charm (Arapahos(FR))
Marstons Pedigree
Midlands Grand National Chase - Gr.3 - Uttoxeter - 4m 2f
Powers Gold Label Irish Grand National Chase - Gr.A - Fairyhouse - 3m 5f

The Bunny Boiler showed promise from the outset of his career between the flags. As a foal he was led out unsold from Tattersalls in 1995 for just £1,200Ir. His initial run in points cost a few pounds as he failed to land a gamble at Lisgoold. He then went to Dungarvan on January 24th and beat Sweet Deal by three lengths. His next outing was in a bumper but points related when he contested the Powers point to point bumper at Fairyhouse and went down by a short head to the ill fated Southsea Native.

(Not only did the Robert Patton ridden Southsea Native beat subsequent Irish Grand National winner The Bunny Boiler here but he also beat English National winner Bindaree in a Loughbrickland maiden before being fatally injured in a Navan Hurdle)

Entering the 01/02 season the Bunny Boiler had scored twice but had some admittedly moderate form over fences. Nonetheless he progressed nicely this season winning a hurdle at Thurles before been beaten by only I Can imagine in the Paddy Power Chase at Leopardstown. Two graded victories were to follow however. Firstly he took the Grade 3 Midlands Grand National at Uttoxeter under Norman Williamson over 4m 2f which complimented his endless stamina.
He then went on to run in the Irish Grand National where Ross Geraghty took the mount as he carried 9st 9lbs. Following a terrible mistake at the last the pair recovered to score by 1 1/2l from pointers Give Over(2nd) and Northern Sound(3rd). Also in the field were pointers- Takagi(5th) Delgany Royal(7th). He didn't reappear this season leaving him end on a high note with two graded victories and over £100,000 in prize money.

TUCO 1996 g by Scenic – Trathlee (Tromos)
Woodlands Park 100 Johnstown Novice Hurdle - Gr.3 - Naas - 2m 4f

As a yearling in 1997 he made £4,600Ir at Goffs. In 2000 he realised e11,000 as a four year old and both of those were excellent value for one of the most exciting pointing prospects of recent times.
His only outing was most impressive. He won division one of a Tallow five year old maiden by seven lengths. The time of the race was twelve seconds faster than division two which was won by 2003 Galway plate winner Nearly A Moose.

Tuco however in winning never came off the bridle under Davy Russell and looked a top class sort. In May '01 he took a twenty seven runner Fairyhouse bumper. His next outing was in January 02 where he fell behind Xenophon. After that he took a seventeen runner Thurles hurdle from Hedgehunter and went on to take a Naas Grade 3 Hurdle by a short head showing he had both ability and a good attitude. However in April of the 01/02 season he fatally fell in a Fairyhouse hurdle. Tuco was one of the finest recruits to emerge from pointing and from four completed starts he was unbeaten.

VALLEY HENRY 1995 g by Step Together – Pineway VII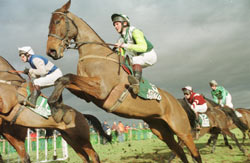 Bet 365 Telebet Novices' Chase - Gr.2 - Newbury - 3m
Ashleybank Investments Future Champion Novices' Chase - Gr.2 - Ayr - 2m 4f

Ran once in 1999 in Cloyne when finishing seventh. Being a big sort was then put away and reappeared on the opening day of the 2000 season in a decent maiden finishing second to Patsy Murphy. He then on the 30th January took a sixteen runner event at Carrigtwohill in a fair time. As expected he joined the Paul Nicholls yard for owner Paul Barber having already taken a Leopardstown bumper.

By the beginning of the 01/02 season he had three victories to his name and added four more by the end of the season. Remarkably two of those were in Graded contests. Following a successful debut over fences at Chepstow he then took a Grade 2 Novice Chase at Newbury under Timmy Murphy. He lost his rider three times mid season before returning to form and rounding off the season in fine form with two fine victories at Exeter and Ayr with the latter a Grade 2 Chase and the fourth Novice chase Valley Henry had taken this season. He was ridden by Barry Geraghty and fellow pointer Big And Bold was back in third. He was one of the leading Novices to emerge from the 2001/2002 season.

WOTSITOOYA 1992 g by Rashar – Droopey Loops (Over The River)
Castlemartin Stud Pat Taaffe Handicap Chase - Gr.C - Punchestown - 3m 1f

In 1998 he progressed nicely to take his Maiden. Third on his debut at Naas behind The Dell, he then went on to finish runner up at Summerhill before scoring at Punchestown. He then missed the 1999 season before returning in 2000 and scored twice from four runs at Tyrella and Castletown and was just touched off in a Tattersalls Open. The following season he came straight out and took a Wexford Hunters Chase when well supported.

Although consistent in the 01/02 season he only found one victory coming on his final outing in the Pat Taaffe Handicap Chase at Punchestown over 3m 1f under Danny Howard when trained by Michael O'Brien. His season had seen him finish in the first four on five of his other six outings providing plenty of enjoyment for his breeder/owner Christopher Cullen who's son Denis had ridden him to his pointing / Hunter Chase successes.