The 2002/03 season was yet another successful one for Irish Pointers with fifteen individual winners taking no less than twenty four wins. Five former pointers achieved seven Grade One victories. Yet again Best Mate comes out top of the pile with an awesome display in the Cheltenham Gold Cup and further Grade one success in the King George Chase at Kempton.

The new star this season was undoubtedly Beef Or Salmon who took four Graded contests including the Grade One Ericsson and Hennessy Chases. Classified again gets into the top bracket with the Cleeve Hurdle while the Grand National on both sides of the water went to Irish pointers. Montys Pass landed a huge gamble take the English Grand National while Timbera takes the Irish Grand National which in recent years has been 'farmed' by ex pointers but this seasons first six home all came from the pointing field which represents an amazing result in the race.

GRADE ONE WINNERS

BEEF OR SALMON 1996 g by Cajetano – Farinella (Salmon Leap)
Morris Oil Chase - Gr.2 - Clonmel - 2m 4f
O'Connell Transport Hilly Way Chase - Gr.3 - Cork - 2m
Ericsson Chase - Gr.1 - Leopardstown - 3m
Hennessy Cognac Gold Cup - Gr.1 - Leopardstown - 3m

BEST MATE 1995 g by Un Desperado – Katday (Millers Mate)
McCallum Corporate Cons. Peterborough Chase - Gr.2 - Huntingdon - 2m 4.5f
King George VI Chase - Gr.1 - Kempton - 3m
Tote Cheltenham Gold Cup Chase - Gr.1 - Cheltenham - 3m 2.5f

CLASSIFIED1996 g by Roselier – Treidlia – (Mandalus)
Byrne Bros Cleeve Hurdle - Gr.1 - Cheltenham - 2m 5.5f
Collins Stewart National Spirit Hurdle - Gr.2 - Fontwell - 2m 4f

MONTY'S PASS 1993 g by Montelimar – Friars Pass (Monksfield(GB))
Guinness Kerry National Handicap - Gr.A - Listowel - 3m
Martell Cognac Grand National Chase - Gr.3 - Aintree - 4m 4f

TIMBERA 1994 g by Commanche Run – Morry's Lady (The Parson)
Powers Gold Label Irish Grand National Chase - Gr.A - Fairyhouse - 3m 5f

OTHER GRADED WINNERS

BARRYSCOURT LAD 1994 g by Glacial Storm – Clonana (Callernish)
Great Yorkshire Handicap Chase - L. - Doncaster - 3m

BILLY THE SNAKE 1993 g by Yashgan – Kathy's Trix (Callernish(GB))
Clarkson Financial and Property Handicap Chase - L. - Leopardstown - 2m 3f

KEEN LEADER 1996 g by Supreme Leader – Keen Gale (Strong Gale)
Weatherbys Towton Novices' Chase - Gr.2 - Wetherby - 3m 1f
Reynoldstown Novices' Chase - Gr.2 - Ascot - 3m 0.5f

LUCKY BAY 1996 g by Convinced – Current Liability (Caribo(GB))
Systems By Design Worcester Novices' Chase - Gr.2 - Newbury - 3m

ROCKHOLM BOY 1993 g Eve's Error – Rockholm Rosie (Tudor Rocket)
Hewlett Packard Galway Plate - Gr.B - Galway - 2m 6f

TAKAGI 1995 g by Husyan – Ballyclough Gale (Strong Gale)
Pierse Contracting Troytown Handicap Chase - Gr.B - Navan - 3m

TANA RIVER 1996 g by Over The River – Home In The Glen (Furry Glen)
EBF National Hunt Novices Handicap Hurdle Final - Gr.3 - Sandown - 2m 4.5f

TEN POUNDSWORTH 1993 g by Orchestra – Rush For Gold (Mugatpura(GB))
Paddy Fitzpatrick Memorial Novice Chase - Gr.3 - Leopardstown - 2m 5f

TRUCKERS TAVERN 1995 g by Phardante – Sweet Tulip(Beau Chapeau)
Bet Direct Peter Marsh Chase - Gr.2 - Haydock - 3m

VALLEY HENRY 1995 g by Step Together – Pineway VII
Fieldspring Desert Orchid Chase - Gr.2 - Wincanton - 2m 5f
Aon Chase - Gr.2 - Newbury - 3m

BEEF OR SALMON 1996 g by Cajetano – Farinella (Salmon Leap)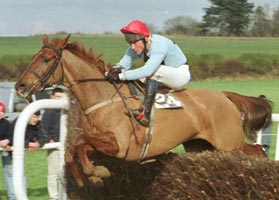 Morris Oil Chase - Gr.2 - Clonmel - 2m 4f
O'Connell Transport Hilly Way Chase - Gr.3 - Cork - 2m
Ericsson Chase - Gr.1 - Leopardstown - 3m
Hennessy Cognac Gold Cup - Gr.1 - Leopardstown - 3m

Beef Or Salmon is by the relatively unheard of Cajetano who stood in Ballycanew Co Wexford. He only covered a small number of thoroughbreds before being exported to Italy. Beef Or Salmon twice went through the ring. In 1999 as a three year old he made £5,400 at Tattersalls while the following year at Goffs he made £6,500Ir as a four year old.

He went pointing in 2001 where he looked a most impressive sort when taking his maiden. His debut saw him fall in Dungarvan in January when still a possible winner but he made no mistake the next outing at Clonmel under Davy Russell on February 18th coming home a distance clear and destroying the field. Michael Hourigan explained afterwards how his name came about and he would be answering that for quite some time to many journalists. Interestingly on the day he said he was named after the Dunraven Arms Hotel in Adare menu who offer only 'beef or salmon' at their many functions. However as the horse has improved Hourigan has edited the story to say it was a different hotel in Adare that gave rise to the name.

Before this season Beef Or Salmon had scored on three occasions and run decent company against Ned Kelly & Like A Butterfly among others.

This season 02/03 however he really sprung to fame. Four graded victories out of six wins. Eight starts one fall and his only defeat when completing coming in a flat handicap at Leopardstown. He first raised eyebrows when taking the Morris Oil Chase at Clonmel(Grade 2) often the starting point for stable companion Dorans Pride in the past. This was his first effort over racecourse fences on the same course he had taken his point and beat some seasoned campaigners in Sackville and fellow pointer Cregg House.

To prove it was no fluke he took a Grade three chase at Cork over 2m by four lengths at his ease. At was at his stage Hourigan threw him at the deep end and he contested the Ericcson Chase at Leopardstown (Grade 1). Yet again he rose to the challenge showing terrific speed and a spectacular round of jumping to beat Colonel Braxton & Harbour Pilot. The trio returned to contest the Hennessy Cognac Gold Cup on the 9th February where the Novice 'franked' the form with a little more ease on this occasion. The Gold Cup clash with Best Mate was being billed as a Match with Beef or Salmon emerging as the only likely danger to the reigning champion. Unfortunately he fell early on but although some doubted it was the correct decision to run as he had shown all the right credentials along the way to suggest he was up to the task. Nonetheless he will be a major force for next years top chases and an incident free clash against Best Mate would be a joy for national hunt supporters to watch.

For good measure he rounded off the 02/03 season with a flat race win at The Curragh over 2m beating a 28 runner field under Michael Kinane. He is undoubtedly one of the most exciting prospects to emerge from between the flags.

BEST MATE 1995 g by Un Desperado – Katday (Millers Mate)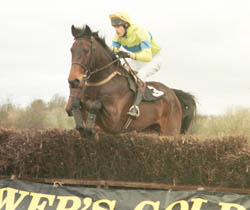 McCallum Corporate Cons. Peterborough Chase - Gr.2 - Huntingdon - 2m 4.5f
King George VI Chase - Gr.1 - Kempton - 3m
Tote Cheltenham Gold Cup Chase - Gr.1 - Cheltenham - 3m 2.5f
As a foal Best Mate cost £2,500Ir from Tattersalls.

Best Mate pulled up on his initial outing at Lismore where Henrietta Knight and Terry Biddlecombe were in attendance. The pair liked what they saw and agreed to purchase the son of Un Desperado. However Tom Costello expressed his wish to win a point before the sale would be sealed. Best Mate then went to Tuam where he contested a two runner contest against a mare called Well The Now Then. Best Mate made all and quickened nicely off a steady pace to score by eight lengths. Assessment at this stage was difficult as neither runner subsequently ran that season but Well Then Now Then turned out to be a decent mare in her own right while Best Mate conquered the best that Steeplechasing had to offer. Although determining how good he would be was difficult on paper following his Pointing success, anyone listening to rider Tony Costello or his maestro father Tom after the race saying that he was one of the best that they had ever had through their hands should not have been surprised at the heights he has hit since winning his point.

Entering the 02/03 season Best Mate was at the top of the pile of Chasers having won the previous seasons Cheltenham Gold Cup. He was carefully placed by his trainer Henrietta Knight in the 02/03 season with Huntingdon on the 23rd November the starting point of his campaign over 2m 4f. He easily accounted for Douze Douze and Geos in the Grade 2 contest.

Then it was on to the King George(Grade 1) where for the second year running Jim Culloty was forced to miss the ride and Tony McCoy again deputised. The previous year McCoy reckoned he should have allowed his mount to stride on at an earlier stage and perhaps they had the winning of the race and now the chance was there to prove his point. Sure enough the pair went to the front at the fifth last and saw off all challengers by 1 1/2l. In all likelihood it is not a race ever likely to bring out the best in the champion but his pure class puts him ahead of his rivals.

Best Mate was reunited with Jim Culloty for his attempt to win back to back Gold Cups(for the first time since L'Escargot 32 years previously) with Irish pointer Beef Or Salmon seen as the danger. The latter fell early and although a decent sort it is unlikely we have seen any chaser in recent years who could have matched Best Mate on the day who put up one of the best displays ever seen in the race to win easily by ten lengths with yet another Irish pointer in the frame in Truckers Tavern finishing second. Best Mate is still the one to be toppled and it looks a difficult task. Comparisons with Arkle are regularly thrown about but given the fact that he is unlikely to be tried in handicaps giving away lumps of weight the Arkle supporters will win the argument. Nonetheless a horse can do no more than beat the best that is around in his time and Best Mate continues to produce the goods every time.

CLASSIFIED 1996 g by Roselier – Treidlia – (Mandalus)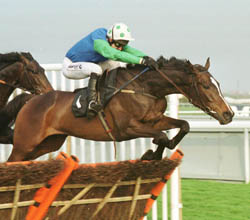 Byrne Bros Cleeve Hurdle - Gr.1 - Cheltenham - 2m 5.5f
Collins Stewart National Spirit Hurdle - Gr.2 - Fontwell - 2m 4f

Classified is another to have only one experience of pointing but his performance on the day would not have inspired anyone to predict the heights he would go on to reach. At Kildorrey on the 25th February 2001 Classified contested the first division of the five year old geldings maiden finishing a poor fourth of four finishers at odds of 10/1.

He subsequently went to the park when he finished 9th on his debut. After winning an October '01 bumper at Gowran he then joined Martin Pipe where he scored on his next five runs and was beaten just 9l into fourth behind Galileo at Cheltenham in the Sun Alliance Hurdle. This was the only defeat he met in the 01/02 season from eight starts. In his other seven runs he took two grade two events and a Grade One victory in a Novices Hurdle at Newbury on the 29th December 2001 under Tony McCoy by three lengths.

02/03 was a successful season for him yet again as this consistent performer added to more Graded victories to his tally. On the 25th January at Cheltenham(Grade 1) he cam home in front of Stable Companion Mr Cool by a length McCoy choosing the right one and justifying favouritism. He subsequently took a Grade 2 Hurdle over 2m 4f at Fontwell on the 17th February again at short odds. If taking to the larger obstacle nest season he may well have further graded victories to come.

MONTY'S PASS 1993 g by Montelimar – Friars Pass (Monksfield(GB))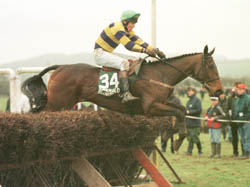 Guinness Kerry National Handicap - Gr.A - Listowel - 3m
Martell Cognac Grand National Chase - Gr.3 - Aintree - 4m 4f
Montys Pass was bought out of Tattersalls as a four year old for £4,200Ir.

He campaigned in points in '98 & '99 and was a busy sort. Four runs in his debut season saw him open his account at Tullow in a Maiden by ten lengths. He also went on to take a one winner contest in Cork before finishing runner up in a Ladies Open.

In '99 he ran ten times including hunter chases. Two more pointing victories followed along with a Cork Hunter Chase. He also finished second in a Wexford Hunters Chase to Sheltering beaten nine lengths. At this point he had begun to show the signs he could progress to much better things as he had made the progress to date quite impressively.

By the outset of 02/03 he had raced 41 times with six successful efforts. At Listowel on the 25th September he took his biggest success to date with the Kerry National(Grade 1) beating another pointer in Putsometnby by two lengths.

The best was yet to come however as his enthusiastic owners in the Dee Racing Syndicate headed by Mike Futter backed him early in 2003 to take the English Grand National. They stood to win over £1millionStg if he delivered. It turned out to be one of the biggest and bravest gambles in the races history. Trainer Jimmy Mangan had brought him to the race of a mark that saw him carry 10st 7lbs under Barry Geraghty. He never looked in any danger as he came home twelve lengths clear of yet another pointer in Supreme Glory. He was clearly well suited by the Aintree fences but managed to score on the level in a charity race under trainers wife Mary before the seasons end to show he his a real all rounder. It was a terrific performance in the national that should see him again in the shake up next year barring injury although bookmakers are likely to be more cautious on this occasion

TIMBERA 1994 g by Commanche Run – Morry's Lady (The Parson)

Powers Gold Label Irish Grand National Chase - Gr.A - Fairyhouse - 3m 5f
Only hinted at form in '98 finishing a moderate fourth from two starts before coming good in'99 on his only outing at Liscarroll. He beat his ten rivals only an hour after the decent Takagi had taken his maiden. That was late in March and within a month he had taken a Cork bumper.

He had six wins to his name entering the 02/03 season and although he only managed to add only one more here from four outings he made it count on his final effort at Fairyhouse under Jim Culloty. The Powers Irish Grand National has become a good race for Irish pointers but this year it was dominated by them. Timbera came home a half length in front of Knock Knock 2nd ('02 pts), Winning Dream 3rd ('00pts), Davids Lad 4th ('98 pts), Torduff Boy 5th ('99) and Wotsitooya 6th ('99pts). All of the first six home had originated in the points field giving the prize money a clean sweep. Timbera won the day in a tough battle for trainer Dessie Hughes at odds of 11/1

BARRYSCOURT LAD 1994 g by Glacial Storm – Clonana (Callernish)
Great Yorkshire Handicap Chase - L. - Doncaster - 3m

This fellow was bough by Rathbarry Bloodstock services in 1997 as a yearling for £6,400Ir. He turned out twice in '99 as a five year old falling in January and waiting until the 16th May to reappear where he showed ability finishing runner up in a Bartlemy maiden. His next outing however was not until Novermber '01 when he took a Wexford older horses maiden by eight lengths under James Sheahan. Hardly the ideal preparation but obviously a talented sort who from seven runs in total on the track to the end of the 02/03 season has been runners up four times. Martin Pipe has taken him under his care and he has duly won a competitive Doncaster listed chase by a head from Ryalux under Rodi Greene. A well handicapped sort having campaigned initially in Hunter Chases he may be one to follow for another decent success/

BILLY THE SNAKE 1993 g by Yashgan – Kathy's Trix (Callernish(GB))
Clarkson Financial and Property Handicap Chase - L. - Leopardstown - 2m 3f

Sold as a three year old at Goffs in 1996 for £2,400Ir.

Showed ability on his only start as a four year old in '97 in a Clonmel Maiden before being off until reappearing in 2000 where he ran seven times. Falling although showing ability on his first two outings he picked up four placed runs but failed to open his account. He was a little inconsistent but progressed nicely on the track.

He had visited the winners enclosure three times before this season and after running a few decent efforts managed to take a listed contest at Leopardstown by a head from Clonmels Minella under a terrific rider from former pointing rider John Cullen.

Sadly he was killed in a fire at trainer Pat Hughes yard since.

KEEN LEADER 1996 g by Supreme Leader – Keen Gale (Strong Gale)
Weatherbys Towton Novices' Chase - Gr.2 - Wetherby - 3m 1f
Reynoldstown Novices' Chase - Gr.2 - Ascot - 3m 0.5f

Realised £9,200 as a three year old in 1999 at Tattersalls. He made his points debut in 2001 in only the second race of the season on January 1st at Dromahane. This was a top class maiden with many decent sorts emerging. Won by Noble Justice (Wincanton Chase winner) Keen Leader was only beaten ¾ length and the subsequently prolific winner and ill-fated Ballyhampshire Boy just a neck away in third. Druids Glen(Dual01/02 winner for Jonjo O'Neill) and Moss Bawn (Limerick bumper winner for Michael Hourigan) were also in the field. He lost little time in making amends as James Sheahan steered him to victory at Knockanard while under the care of Tom Busteed. He was subsequently bought by Jonjo O'Neill to race in the colours of Mrs Stewart Catherwood where he has turned out to be a top class and most exciting prospect. By the end of this 01/02 season his only defeat from a total of five outings came when he fell at Cheltenham behind Gallileo.

In 02/03 he took two more graded contests but fell on his reappearance. Three victories duly followed by a distance, twenty four lengths and twenty six lengths.

On the first of February he took the Weatherby's Novice Chase at Wetherby(Grade 2) going off 'odds on' to do so. Two weeks later at Ascot he took another Novice Chase(Grade 2) where the fall of Jair Du Cochet took from the race. He was considered for this years Gold Cup and Sun Alliancea and in the end took the latter route where he was most disappointing finishing 40l behind in a run that was too bad to be true. He is still to be respected a one of the top novices at the season end and can contest top honours next season.

LUCKY BAY 1996 g by Convinced – Current Liability (Caribo(GB))
Systems By Design Worcester Novices' Chase - Gr.2 - Newbury - 3m

Finished second in a four year old maiden on his only outing between the flags on 26th March 2000. It looked a decent contest and he was tipped to progress although never returned to points. As a three year old he made £5,200Ir at Goffs in 1999.

Before this season he had taken a Wincanton hurdle for his trainer Henrietta Knight. A couple of decent runner up efforts were duly followed by a Grade 2 Novice Chase at Newbury where at odds of 14/1 he saw of Joly Bey by five lengths on the 29th November to add himself to the list of Graded Winners.

ROCKHOLM BOY 1993 g Eve's Error – Rockholm Rosie (Tudor Rocket)

Hewlett Packard Galway Plate - Gr.B - Galway - 2m 6f

This fellow certainly did not go the 'conventional route'. Most graded winners score quickly in points before progressing to the track. Rockholm Boy ran twenty one times on the track before winning his point. Within those runs it must be said he did little to suggest he would turn out as he did.

Reverting to pointing in 2000 he was runner up on his initial outing before scoring twice. He took the opening Adjacent Maiden at Tuam before taking his winners contest by six lengths at Kilmallock. He was subsequently fancied for a Cork Hunters Chase but fell when travelling well at the last ditch in a race won by Gunther McBride.

He had taken the listed Smirnoff handicap chase at Galway in September 2001.

On the 31st July 2002 he had arrived at the start of the Galway Plate having won his most recent outing at Limerick and was sent off for the Summer showpiece at 20/1 under claimer Keith Hadnett and trainer Michael Hourigan. At the turn for home he had only fellow pointer Wotsitooya to catch which he duly did and went to record a three and a half length victory for his local enthusiastic Galway owners one of whom Gerry McMahon bred this fellow and Gerry often hosts the Galway Blazers point to point.

TAKAGI 1995 g by Husyan – Ballyclough Gale (Strong Gale)
Pierse Contracting Troytown Handicap Chase - Gr.B - Navan - 3m

Takagi looked to have the right credentials from the outset. Third on his first outing at Cloyne as a four year old in 1999 he turned out just a week later in Liscarroll where after blundering the last battled back to score going away by three lengths. Racegoers were spoiled for talent on the day as Timbera took his maiden just an hour later at the same fixture.

Takagi went on thereafter to be trained by Edward O'Grady. By the outset of the 01/02 season he had scored twice. His initial chase success came on 6th January at Naas 2002 where he won over 2m 3f and twenty days later he returned to the Kildare venue to pick up his Graded honours in a Grade 3 Novice Chase over 3m beating Copernicus and Risk Assessor. His other success came this season as this consistent fellow took a 3m chase at Navan in March.

Incidentally he was another value acquisition when as a foal he was sold for £2,800Ir at Tattersalls in 1995.

In 02/03 Takagi could only manage one success from nine starts and made it count when taking the Troytown Handicap Chase(Grade 2) at Navan over 3m. Norman Williamson took the mount as Takagi beat Artic Copper by five lengths. Pointers Delgany Royal and Michael Mor finished fourth and fifth respectively. Although not recording another success for the season he did run a few decent efforts when finishing runner up to both Rince Ri and Be My Belle to suggest there is another 'big one' in him at least.

TANA RIVER 1996 g by Over The River – Home In The Glen (Furry Glen)
EBF National Hunt Novices Handicap Hurdle Final - Gr.3 - Sandown - 2m 4.5f

Tana River was sold at Tattersalls for £2,000Ir in 2000 as a four year old. He only ran once in points on 24th February 2002 but made it a successful run scoring by 3l & 20l from an eleven runner field. He was owned by leading Cork rider Tom Lombard but as this was a novice riders event Tom's nephew William McCarthy guided the son of Over The River to victory.

From only five outings in the 02/03 season(his only starts to date) this fellow won three and was runner up twice. He began by finding Supreme Prince too good at Chepstow and returned to the same course where he was no match for the high class Coolnagorna. Three victories followed at Exeter, Leicester and Sandown with the latter qualifying for the graded winners category as it was a Grade 3 Novice's handicap Hurdle. He carried 11st 12lbs to victory here in heavy ground and looks a decent staying chaser in the making

TEN POUNDSWORTH 1993 g by Orchestra – Rush For Gold (Mugatpura(GB))
Paddy Fitzpatrick Memorial Novice Chase - Gr.3 - Leopardstown - 2m 5f

At Tattersalls in the Derby Sale of 1997 this fellow was bought for £13,000Ir.

He subsequently was not seen until 2000 as a seven year old where he quickly made up for lost time scoring on his first two runs at Loughbrickland and Maralin and finishing third in an Open on only his third ever start. Incidentally he took his winners race at Maralin on the same day as Truckers tavern took his maiden.

He only had two outings in the Foot and Mouth restricted 2001 season. Firstly only beaten a head in a decent Castletown winners race then finishing fourth to Sheltering at Leopardstown.

In the Autumn if 2001 he won at Ballymena and Loughbrickland and met defeat at the hands of Joe Blake by five length before running no race to pull up at Armagh. Early in 2002 he won a Tyrella Open before capitalising on the last fence fall of Joe Blake at Leopardstown to beat Sheltering in a Hunters Chase. He then went on to finish a fair seventh in the Foxhunters at Cheltenham before losing out to Sheltering by 1/2l at the Punchestown festival.

In the 02/03 season the decision was made to send him to the track where he made an immediate impression under a terrific ride from Davy Russell. In the Paddy Fitzpatrick Memorial Novice Chase (Grade 3) he saw off Ground Ball & Be My Belle. Tragically however he was killed on his next outing when suffering a heart attack before a fence in Leopardstown which was a major blow to connections who had waited so patiently for him to develop.

TRUCKERS TAVERN 1995 g by Phardante – Sweet Tulip(Beau Chapeau)
Bet Direct Peter Marsh Chase - Gr.2 - Haydock - 3m

Trucker Tavern ran in six northern points as a five year old in 2000 for trainer Colin McKeever. Pulling up on his debut at Armagh he then took a Maralin maiden on March 11th. He then put in two disappointing runs finishing a moderate third at Templepatrick and then pulling up at Loughbrickland before returning to form with two late season victories. He won at Newry under Warren Ewing and then went to Crumlin where Sol McHugh steered him to victory for his third success of the season.

On the 24th May Ferdy Murphy went to £50,000stg to secure him at Doncaster and has never regretted his decision.

He had won four and was twice placed before the 02/03 season. His Graded victory cam in the Peter Marsh Handicap Chase(Grade 2) at Haydock on the 18th January. The fact that he received over a stone from runner up and fellow Irish Pointer Hussard Collonges caused many to doubt if he would be Gold Cup class. Trainer Murphy however stated that he expected 'massive improvement' from him following the run. He went on to finish third to Valley Henry at Newbury in February but in the Gold Cup he fought off all challengers except the mighty Best Mate to ensure a one-two in racings Blue Riband for pointers. Should the Gold Cup ever come up a little on the testing side in the near future this fellow will not be far away.

VALLEY HENRY 1995 g by Step Together – Pineway VII

Fieldspring Desert Orchid Chase - Gr.2 - Wincanton - 2m 5f

Aon Chase - Gr.2 - Newbury - 3m

Ran once in 1999 in Cloyne when finishing seventh. Being a big sort was then put away and reappeared on the opening day of the 2000 season in a decent maiden finishing second to Patsy Murphy. He then on the 30th January took a sixteen runner event at Carrigtwohill in a fair time. As expected he joined the Paul Nicholls yard for owner Paul Barber having already taken a Leopardstown bumper.

In the 00/01 & 01/02 seasons he entered this category for taking graded races and made it a hat trick this term with two more. Beginning on the 27th October at Wincanton where he took the Desert Orchid Chase(Grade 2) by seven lengths from Upgrade. He then beat Intelligent by four lengths at Sandown before his other Graded victory came. The Aon Chase at Newbury(Grade 2) saw him beat Chives and Truckers Tavern to take his fifth Graded contest over three seasons racing. He subsequently went on to finish fourth to Best Mate at Cheltenham and fourth to First Gold at Liverpool but is still likely to be rubbing shoulders with the best next term.