The 2003-04 National Hunt season was another big year for former pointers. 24 Individual horses won 35 Graded races in the National Hunt Calender.

The highlights were Best Mate winning his third Gold Cup, Florida Pearl winning his fourth Hennessy Gold Cup at Leopardstown and Beef or Salmon winning his two Grade 1 races also.

For the newer recruits to this level Fundamentalist is most exciting having quickly made the points to park progression to take the Sun Alliance Hurdle while Strong Flow looks high class over fences.

Our Vic and Therealbandit among others are sure to keep former Irish Pointers at the top of the tree for some time to come.

GRADE ONE WINNERS

BEEF OR SALMON 1996 g by Cajetano – Farinella (Salmon Leap)
John Durkan Memorial Chase – Gr.1 – Punchestown 2m4f
Heineken Gold Cup – Gr.1 –Punchestown 2m 4f
Hilly Way Chase – Gr.3 – Cork 2m

BEST MATE 1995 g by Un Desperado – Katday (Millers Mate)
Ericsson Chase – Gr.1 – Leopardstown – 3m
Cheltenham Gold Cup – Gr.1 – Cheltenham 3m 2f

FLORIDA PEARL 1992 g Florida Son – Ice Pearl (Flatbush)
Hennessy Cognac Gold Cup – Gr.1 – Leopardstown 3m
Normans Grove Chase - Gr.3 –Fairyhouse 2m 1f

FUNDAMENTALIST 1998 g by Supreme Leader – Run For Shelter (Strong Gale)
Royal & Sun Alliance Novices Hurdle –Gr.1- Cheltenham 2m 5f

HI CLOY 1997 g by Be My Native – Thomastown Girl (Tekoah)
Powers Gold Cup – Gr.1 – Fairyhouse – 2m 4f
Greenmount Park Novice Chase – Gr.2 Limerick 2m 4f
Hugh McMahon Memorial Novice Chase –Listed - Limerick 3m

STRONG FLOW 1997 b by Over The River – Stormy Skies (Strong Gale)
Feltham Novices Chase –Gr.1 – Kempton – 3m
Hennessy Cognac Gold Cup – Gr.1- Newbury – 3m 2f

OTHER GRADED WINNERS

ANXIOUS MOMENTS 1995 g by Supreme Leader – Ms Brooks (Lord Ha Ha)
Craddockstown Novice Chase – Gr.2 – Punchestown – 2m

BALLYBOUGH RASHER 1995 g by Broken Hearted – Chat Her Up (Proverb)
Charlie Hall Chase –Gr.2 –Wetherby – 3m 1f

BALLYCASSIDY 1996 g by Insan – Bitofabreeze (Callernish)
Worcester Novices Chase –Gr.2 Newbury 3m

BINDAREE 1994 g by Roselier – Flowing Tide (Main Reef)
Welsh Grand National –Gr.3 Chepstow – 3m 5f

CLOUDY BAY 1997 g by Hubbly Bubbly – Bellteen (Beau Charmer)
Troytown Chase –Gr.A – Navan -3m
Leopardstown Chase –Gr.B –Leopardstown 3m

CRIAIRE PRINCESS 1998 g by Tidaro – Lough Borough (Orchestra)
Shannon Spray Mares Novice Hurdle –Listed- Limerick 2m

FORK LIGHTNING 1996 g by Roselier – Park Breeze (Strong Gale)
National Hunt Chase – Gr.3 – Cheltenham 3m

HUME CASTLE 1996 g by Religiously – Clyde Avenue (Peacock)
Mick Holly Memorial Handicap Chase –Listed –Leopardstown 2m 5f

INEXORABLE 1998 g by Roselier – Katday (Millers Mate)
Cork Stayers Novice Hurdle –Gr.3 – Cork- 2m 5f
Dorans Pride Novice Hurdle – Gr.3- Limerick 2m 6f

KEEN LEADER 1996 g by Supreme Leader – Keen Gale (Strong Gale)
Tommy Whittle Chase – Gr.2 – Haydock – 3m

LORD WHO 1997 g by Mister Lord – Le Bavellen (Le Bavard)
Woodlands Park Chase –Gr.2 – Naas – 3m

NATIVE PERFORMANCE 1995 g by Be My Native–Noon Performance (Strong Gale)
Kerry Grand National – Gr.A – Listowel – 3m

NEARLY A MOOSE 1996 g by Supreme Leader – Miss Tarbow (Tarqogan)
Galway Plate – Gr.A – Galway 2m 6f

OUR VIC 1998 g by Old Vic – Shabra Princess (Buckskin)
Reynoldstown Chase – Gr.2 – Ascot – 3m

PRINCE OF PLEASURE 1994 g by Spanish Place – Oronocco Gift (Camden Town)
Morris Ltd Handicap Chase – Gr.C –Punchestown – 2m 4f

TAKAGI 1995 g by Husyan – Ballyclough Gale (Storng Gale)
Bobbyjo Chase – Gr.3 – Fairyhouse – 3m 1f

THEREALBANDIT 1997 g by Torus – Sunrise Highway vii (damsire unregistered)
Lombard Properties Handicap Hurdle – Listed – Cheltenham – 3m 1f

WHAT ODDS 1996 g by Torus – Merrywell (Mugatpura)
Porterstown Handicap Chase – Gr.C – Fairyhouse – 3m 5f

WOTSITOOYA 1992 g by Rashar – Droppey Loops (Over The River)
Pat Taaffe Handicap Chase – Gr.C – Punchestown – 3m 1f
Smirnoff Handicap Chase – Listed – Galway – 2m 6f

GRADED WINNERS 2003-04 SEASON

BEEF OR SALMON 1996 g by Cajetano – Farinella (Salmon Leap)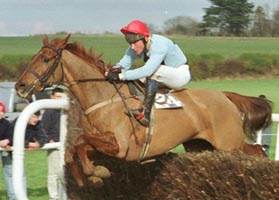 John Durkan Memorial Chase – Gr.1 – Punchestown 2m4f
Heineken Gold Cup – Gr.1 –Punchestown 2m 4f
Hilly Way Chase – Gr.3 – Cork 2m

Beef Or Salmon is by the relatively unheard of Cajetano who stood in Ballycanew Co Wexford. He only covered a small number of thoroughbreds before being exported to Italy. Beef Or Salmon twice went through the ring. In 1999 as a three year old he made £5,400 at Tattersalls while the following year at Goffs he made £6,500Ir as a four year old.

He went pointing in 2001 where he looked a most impressive sort when taking his maiden. His debut saw him fall in Dungarvan in January when still a possible winner but he made no mistake the next outing at Clonmel under Davy Russell on February 18th coming home a distance clear and destroying the field. Michael Hourigan explained afterwards how his name came about and he would be answering that for quite some time to many journalists. Interestingly on the day he said he was named after the Dunraven Arms Hotel in Adare menu who offer only 'beef or salmon' at their many functions. However as the horse has improved Hourigan has edited the story to say it was a different hotel in Adare that gave rise to the name.

Going into the 2003-04 season Beef Or Salmon was a leading candidate for Gold Cup Honours. His jumping appeared to improve with every run but Hourigan seemed to have to run his charge quite regularly to provide him with experience while being careful not to ask too much.
His seasonal 'bow' saw him beaten by a length by Edredon Bleu at Clonmel and a costly jumping error at the last proving his undoing. Next time up at Punchestown there was no mistake where he beat Tuitchev by a comfortable 3 ½ l in the Grade One John Durkan memorial chase in impressive fashion.

Only a week later he followed up with a Grade 3 success at Cork in the Hilly Way Chase before going to Leopardstown at Christmas to take on Best Mate in the Ericsson Chase. He was disappointing here going down by 13l and so Hourigan decided to put away his charge until the Cheltenham Gold Cup. A staying on third beaten just three lengths was the result and he was the undoubted eyecatcher of the race. Further Grade One success was just around the corner when he went back to Punchestown to take the Grade One Heineken Gold Cup beating Harbour Pilot by four lengths. He will begin the 2004-05 season as one of Best Mates biggest threats for the highlight of the season at Cheltenham

BEST MATE 1995 g by Un Desperado – Katday (Millers Mate)


(Best Mate returns to the Leopardstown Enclosure)
Ericsson Chase – Gr.1 – Leopardstown – 3m
Cheltenham Gold Cup – Gr.1 –Cheltenham – 3m 2f

As a foal Best Mate cost £2,500Ir from Tattersalls.
Best Mate pulled up on his initial outing at Lismore where Henrietta Knight and Terry Biddlecombe were in attendance. The pair liked what they saw and agreed to purchase the son of Un Desperado. However Tom Costello expressed his wish to win a point before the sale would be sealed. Best Mate then went to Tuam where he contested a two runner contest against a mare called Well The Now Then.

Best Mate made all and quickened nicely off a steady pace to score by eight lengths. Assessment at this stage was difficult as neither runner subsequently ran that season but Well Then Now Then turned out to be a decent mare in her own right while Best Mate conquered the best that Steeplechasing had to offer. Although determining how good he would be was difficult on paper following his Pointing success, anyone listening to rider Tony Costello or his maestro father Tom after the race saying that he was one of the best that they had ever had through their hands should not have been surprised at the heights he has hit since winning his point.

The Third Gold Cup was the aim at the start of the 2003-04 season for Best Mate. Henrietta Knight had carefully tuned her star with precision over the last few years and this would be no different. The season did not begin on a high however as he found the ill-fated Jair Du Cochet too good at Huntingdon over 2m 5f going down by eight lengths.

The next decision was whether to go for the King George at Kempton which was possibly a race which would expose the son of Un Desperado or make the trip to Ireland for the Ericsson Chase where he would meet Beef Or Salmon. Fortunately for Irish Supporters the Irish option was selected and he put in a terrific display to easily account for Le Coudray and Beef Or Salmon. It was straight to Cheltenham from here where history awaited and Best Mate proved he has more than just sheer class as he overcame traffic problems with Harbour Pilot on the bend and battled up the hill to hold off the late challenge of Sir Rembrandt to win his third successive Cheltenham Gold Cup and be installed favourite immediately for Number Four.

That completed the season for Best Mate who has now run 19 times on the track-winning thirteen, and second finishing six times. He is truly one of the finest racehorses we have ever seen.

FLORIDA PEARL 1992 g Florida Son – Ice Pearl (Flatbush)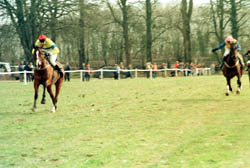 Hennessy Cognac Gold Cup – Gr.1 – Leopardstown 3m
Normans Grove Chase - Gr.3 –Fairyhouse 2m 1f

On the 3rd March 1996 Florida Pearl made his debut in a 9 runner four year old Maiden at Lismore on good ground under Tony Costello. Sent off an even money favourite he duly saw off his rivals by five lengths in comfortable fashion before being acquired to race under the care of Willie Mullins.

Going into the 2003-04 season many would have seen Florid Pearl as a chaser likely to be past his best. Willie Mullins has never allowed critics to sway his view on his stable star and aimed him first at the Grade 3 Normans Grove Chase over 2m 1f at Fairyhouse-a distance likely to be short of ideal for the 12yo. However the class still existed as Richard Johnson steered the veteran to a comfortable 2l victory over Rince Ri with Rathgar Beau, Knife Edge, Davids Lad and Arctic Copper all trailing behind.

Then it was back to Leopardstown for many peoples idea of the highlight if the season.

The Hennessy Cognac Gold Cup saw seven go to post with Florida Pearl a mere 5/1 shot. However the veteran overcame a loose horse crossing him at the last and the challenge of Le Coudray late on to win this prestigious event for an unprecedented fourth time leading to ecstatic scenes among the crowd in appreciation of this senior chaser and leading Wille Mullins to saying that this was a race he 'enjoyed nearly more than any race I've ever won'.

Florida Pearl was subsequently retired and few chaser will go out of the sport on the high and to such a reception that Florida Pearl received on the 8th February 2004. Florida Pearl is one of the very best pointers to graduate to Park racing and his record can not be matched by many. From his debut bumper run in December 1996 to the end of his career in 2004 he raced 33 times. He won 16 races including Nine Grade One contests, two Grade Two events a Grade Three and a listed race. He finished second on six occasions including a Cheltenham Gold Cup and third twice also including a Gold Cup. He was third twice and fourth placed on four occassions, even his fifth place returned money. He was in fact unplaced only twice in his life (02 Gold Cup included), fell once and pulled up once.

33 runs, 16 wins, 6 seconds, 2 thirds, 4 fourths, 1 fifth, 2 unplaced, 1 fell, 1 pulled up.
This is the record of a truly top class chaser who has given us plenty of excitement over the years from a 2m bumper through to staying chases. His highlights are most likely beating Best Mate in the King George at Kempton and winning his Fourth Hennessy. He is one of the finest chasers of recent times and one of the very best graduates pointing has ever produced.

FUNDAMENTALIST 1998 g by Supreme Leader – Run For Shelter (Strong Gale)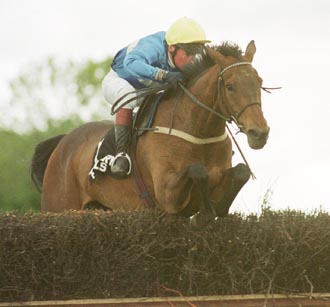 Royal & Sun Alliance Novices Hurdle –Gr.1- Cheltenham 2m 5f

Fundamentalist was bred by Co Meath trainer John Fowler and was trained as a pointer by Padge Berry. Therefore no less can be thought of him for pulling up on his first two outings as this was all part of the learning curve. He then went down by a length to Roman Consul at Athlacca in April 2003 and failed to make amends on his next outing of the 2002-03 season when he fell at Dromahane. However a late season run at Stradbally in a sixteen runner event saw him score by five lengths and he quickly doubled up with a week of the season remaining when he beat Hollygrove Native by ten lengths at Ballingarry.

He returned in the Autumn of 2003 at Templemore and his career as it were was about to take off. A four length winner of a Two winner contest saw him beat Mr Shush who was one of just tow horses last season to beat Champion Hunter Never Compromise. This sparked plenty of interest in the then five year old and Nigel Twiston Davies won the battle to secure the son of Supreme Leader. He has had just three runs on the track and is probably the least experienced Grade One winner we have covered in this section to date.

A Kempton Novice Hurdle success on his debut saw Twiston Davies suggest the Royal & Sun Alliance was the goal as he described his as 'very classy'. His next outing was at Haydock where he went down by half a length to Graham Wylie's Royal Rosa but at Cheltenham it was Wylie's Inglis Drever who had to give best as Fundamentalist was the most impressive winner of this years Sun Alliance Hurdle.

Many expect him to improve to be a top chaser and he is one on most shortlists for the 2004-05 season. In fact he won his Grade One less than five months after leaving the point to point field so surely there is plenty more to come from the six year old.

HI CLOY 1997 g by Be My Native – Thomastown Girl (Tekoah)
Powers Gold Cup – Gr.1 – Fairyhouse – 2m 4f
Greenmount Park Novice Chase – Gr.2 Limerick 2m 4f
Hugh McMahon Memorial Novice Chase –Listed -Limerick 3m

In November 1997 Hi Cloy went through Tattersalls as foal for £10,500 to 'cash'. He returned as a yearling in 1998 where Michael Hourigan bought him for £14,000.

His next public appearance was at Lemonfield point to point in March 2002 where he was beaten by six lengths by Lanmire Glen. His next outing at Naas saw him open his account by half a length in a race that included subsequent Champion Hunter Chaser What Odds.

Before the 2003-04 season Hi Cloy had won twice over hurdles but now as a chaser he was really coming into his own. A Novice Chase success at Limerick in a Grade Two contest set him on his way and just three days later he took on Pizarro at Leopardstown and was beaten by just two lengths.
Hi Cloy then continued a busy season where he rattle up a hat trick of wins.

On the 29th February he beat Compostello at Leopardstown before taking a Listed Chase at Limerick on St Patricks Day. His seasonal highlight was the Grade One Power Gold Cup when ridden by former top point to point rider Timmy Murphy he swept through to lead on the lines to beat Kicking King under what Ted Walsh described as one of the best rides he had ever seen. A narrow defeat to finish the season did little to take away from a terrific season and he is likely to be a strong contender in top middle distance chases nest season.

STRONG FLOW 1997 b by Over The River – Stormy Skies (Strong Gale)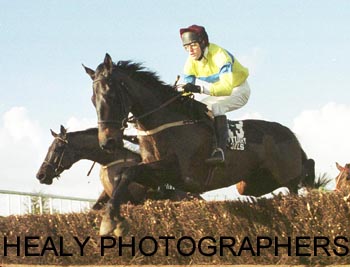 Feltham Novices Chase –Gr.1 – Kempton – 3m
Hennessy Cognac Gold Cup – Gr.1- Newbury – 3m 2f

Undoubtedly the most exciting Chaser who emerged throughout the 2003-04 season. Strong Flow needed just one attempt between the flags to break his maiden status when he beat Shady Lad by three lengths in January 2002.

Having gone to Paul Nicholls yard he had his first run on the track back in December 2002 in a Novice Hurdle where he was beaten by the mare Well Then Now Then by a length. What is interesting is that this mare was the 'other' runner in the two runner four year old maiden won by Best Mate when he took his point to point.

Going into the 2003-04 season Strong Flow had won three of his four starts but fell on his seasonal reappearance at Aintree. There was no mistake thereafter as he won a Novice Chase at Newton Abbott before tearing apart a more experienced field at Newbury in the Grade One Hennessy Cognac Gold Cup by fourteen lengths. His next outing was at Kempton at Christmas where he beat Ballycassidy in the Grade One Feltham Novices Chase. He looked a little impressive here and the reason was soon apparent as he sustained a cracked knee and was going to miss the rest of the season just as the Gold Cup was being suggested as a possible target. If he returns to his best he will be sure to challenging for top honours this term.

OTHER GRADED WINNERS

ANXIOUS MOMENTS 1995 g by Supreme Leader – Ms Brooks (Lord Ha Ha)
Craddockstown Novice Chase – Gr.2 – Punchestown – 2m

Anxious Moments was sold at Tattersalls yearling November sale 1996 for £3,600 'cash'.
Lismore is often the scene of a decent young horse emerging and on the same day as Powers Gold Cup winner Big And Bold won his four year old maiden this fellow took his five year old maiden under Davy Russell.

Charlie Swan now trains the gelding for J P McManus and going into the 2003-04 season he had won four races. This season saw just one victory but it came in the Grade Two Craddockstown Chase at Punchestown over 2 miles where he beat Caishill by four lengths. He seems to hold a lot of ability and according to his trainer often has to battle with muscle problems but a reproduction of his best could see him take another graded event for the former pointers.

BALLYBOUGH RASHER 1995 g by Broken Hearted – Chat Her Up (Proverb)
Charlie Hall Chase –Gr.2 –Wetherby – 3m 1f

This fellow won his only start in points back in April 2000 at Dundrum beating subsequent multiple points scorer Eoins Pride.

Trained by Howard Johnson he had won five times before the 2003-04 season. He was lightly raced this term but after finishing second to Battle Warning at Aintree he went on to take the Grade Two Charlie Hall Chase at Wetherby over 3m 1f from top chaser Marlborough. No further outing materialised this season so hoefully he can return to add to his tally in the 2004-05 season.

BALLYCASSIDY 1996 g by Insan – Bitofabreeze (Callernish)
Worcester Novices Chase –Gr.2 Newbury 3m

Balllycassidy scored on his only outing between the flags when taking a four and five year old Maiden at Loughbrickland in April 2000. Ridden by Liam Lennon for trainer Ian Ferguson the son of Insan made a big impression and progressed to be park material.

Before the 2003-04 season he had won five races for trainer Peter Bowen but this season he beat his lifetime to date record by adding six more. He had already been on the Graded winner list in the 2001-02 season for taking the Grade Two Tripleprint Hurdle at Huntingdon.

This season among his six wins was the Grade Two Worcester Novices Chase over 3 miles at Newbury where he beat Native Emperor by a head. He was also only eight lengths second to Strong Flow at Kempton in December. Obviously well up to taking Grade Two and Grade Three events and on somewhat of a roll.

BINDAREE 1994 g by Roselier – Flowing Tide (Main Reef)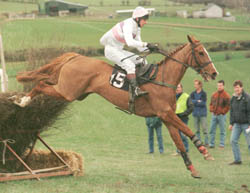 Welsh Grand National –Gr.3 Chepstow – 3m 5f

Bindaree had to face the starter on four occasions before registering a maiden victory in points. Finishing second to two decent sorts on his opening two runs including the ill fated Southsea Native he then most uncharacteristically ran out before finally putting his head in front at Loughbrickland on 20th March 1999. He won by fifteen lengths under Kevin Ross having gone off odds on favourite and was subsequently sold to race in England.

From a sales record point of view he was a 'progressive' sort. In February 1995 as a yearling he made £2000 at Tattersalls while a few years later at Goffs he was sold for £20,000. Although he was sold privately following his point to point success one can only assume it progressed upon a similar scale to before.

He had won eight races before the start of the 2003-04 including the 2002 Aintree Grand National although many thought his best may be behind him. However having finished second to subsequent Gold Cup runner up Sir Rembrandt at Chepstow the pair renewed rivalry in the Grade Three Welsh Grand National and in possibly the toughest test of stamina of the season Bindaree got up by half a length. He unfortunately unseated when attempting another crack at the Aintree Grand National but still seems to have enough enthusiasm to be a force in staying contests.

KEEN LEADER 1996 g by Supreme Leader – Keen Gale (Strong Gale)
Tommy Whittle Chase – Gr.2 – Haydock – 3m

Realised £9,200 as a three year old in 1999 at Tattersalls. He made his points debut in 2001 in only the second race of the season on January 1st at Dromahane. This was a top class maiden with many decent sorts emerging. Won by Noble Justice (Wincanton Chase winner) Keen Leader was only beaten ¾ length and the subsequently prolific winner and ill-fated Ballyhampshire Boy just a neck away in third. Druids Glen(Dual01/02 winner for Jonjo O'Neill) and Moss Bawn (Limerick bumper winner for Michael Hourigan) were also in the field.

He lost little time in making amends as James Sheahan steered him to victory at Knockanard while under the care of Tom Busteed. He was subsequently bought by Jonjo O'Neill to race in the colours of Mrs Stewart Catherwood where he has turned out to be a top class and most exciting prospect.
Seven of his ten starts before this season were successful but although he took a Grade Two Chase at Haydock in the Tommy Whittle he was a little disappointing. He unseated first time out before taking his only win and then finished third to Shooting Light at Newbury before finishing sixth in the Cheltenham.

He is however a classy sort who could still be capable of making his mark at the very top.

LORD WHO 1997 g by Mister Lord – Le Bavellen (Le Bavard)
Woodlands Park Chase - Gr. 2 Naas 3m
Woodlands Park Chase –Gr.2 – Naas – 3m

Lord Who took two runs to get the hang of things in point to points. Falling on his first two outings he then scored on his only completed effort in February 2002 at Clonmel by a distance.

A Limerick Maiden Hurdle winner in 2003 he scored twice more last term. Getting off the mark over fences at Limerick before taking the Grade Two Woodlands Park Cahse at Naas over 3 miles.
Although he has only won three of his fifteen starts he is thoroughly consistent as he has been placed on ten of his starts leaving him out of pocket on just two occasions almost two years ago.
His consistency is sire to win him further big prizes.

NATIVE PERFORMANCE 1995 g by Be My Native–Noon Performance (Strong Gale)
Kerry Grand National – Gr.A – Listowel – 3m

Ran twice in points in 1999. On his first outing he finished fifth of five finishers but this may not have been a bad effort as one of the non finishers in that race was none other than Best Mate.
He then went onto Cloyne and was in second after jumping the last and although held in second unseated before the line. Again he was in good company because the subsequent third in this particular contest was Takagi.

A consistent sort on the track he has no less than 52 times to the end of the 2003-04 season. Four wins seven seconds and five thirds is his record but his big day came in the Grade A Kerry National at Listowel where he beat River Cora who runs in the same colours –those of Donal O'Connor who happily led his two steeds back to the winners enclosure.
A regular runner in handicaps he may well have another big one in him.


NEARLY A MOOSE 1996 g by Supreme Leader – Miss Tarbow (Tarqogan)
Galway Plate – Gr.A – Galway 2m 6f

Nearly A Moose ran twice in points early in 2001. His debut saw him finish third behind the top class Ballyhampshire Boy before he got off the mark at Tallow scoring by fifteen lengths.
He was probably the first former pointer to take a graded contest this season when winning the Grade A Galway Plate. Unfortunately he has not been out since his big day but has currently a record of 4 wins and 6 placed efforts from 22 runs on the track.

OUR VIC 1998 g by Old Vic – Shabra Princess (Buckskin)

Reynoldstown Chase – Gr.2 – Ascot – 3m

Our Vic ran in one point to point when scoring in a four year old maiden at Oldcastle in good fashion. Ridden by Tony Costello who had previously steered Best Mate and Florida Pearl among others to their wins between the flags he was well thought of in the Costello camp and went on to join David Johnson and Martin Pipe.

He began this season unbeaten in his three starts but was given the tough season opener of having to shoulder top weight in a Listed Hurdle at Sandown in December. He failed by five lengths to give 20lbs to Overstrand before then being sent over fences. Two wins folloed including the Grade Two Reynoldstown Chase at

Ascot before he was sent off favourite for the Sun Alliance Chase. A slightly disappointing third behind Rule Supreme he was then put away and still has the makings of something special.

PRINCE OF PLEASURE 1994 g by Spanish Place – Oronocco Gift (Camden Town)
Morris Ltd Handicap Chase – Gr.C –Punchestown – 2m 4f

Ran in 11 point to points in 1999 & 2000. He managed to win twice at Athenry and Punchestown.
He has been well campaigned on the track also. He has run 38 times winning no less than seven times and placed on a further twelve. HE took the Grade C Morris Ltd Handicap Chase at Punchestown this season beating Winning Dream by three lengths.

TAKAGI 1995 g by Husyan – Ballyclough Gale (Storng Gale)
Bobbyjo Chase – Gr.3 – Fairyhouse – 3m 1f

Takagi looked to have the right credentials from the outset. Third on his first outing at Cloyne as a four year old in 1999 he turned out just a week later in Liscarroll where after blundering the last battled back to score going away by three lengths. Racegoers were spoiled for talent on the day as Timbera took his maiden just an hour later at the same fixture.

Incidentally he was another value acquisition when as a foal he was sold for £2,800Ir at Tattersalls in 1995.

33 runs 7 wins and 15 placed efforts were his closing balance at the end of the 2003-04 season. He was tried over banks this term also where he finished second and fourth on two days of the Punchestown festival. His Graded victory came in the Grade Three Bobbyjo Chase at Fairyhouse at the hands of Alexander Banquet. His previous Graded victories were in the Troytown at Navan and the Woodlands Chase at Naas.

THEREALBANDIT 1997 g by Torus – Sunrise Highway vii (damsire unregistered)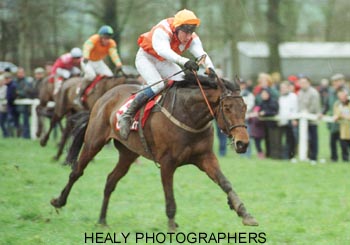 Lombard Properties Handicap Hurdle – Listed – Cheltenham – 3m 1f

This fellow is another Lismore graduate. He took his only start at the Waterford course in March 2002 under Davy Russell. 1 ½ lengths. He then went on to join Martin Pipe running in the colours of David Johnson.

At the end of this season he had won 7 of his 13 starts and was at one point seen as a potential Gold Cup winner. He ran into seventh in the Gold Cup behind Best Mate and is sure to have improved for the experience.

His Listed win this season came in fact over hurdles in the Lombard Properties Hurdle although he will be strongly fancied to appear again on this list next season over fences.

WHAT ODDS 1996 g by Torus – Merrywell (Mugatpura)
Porterstown Handicap Chase – Gr.C – Fairyhouse – 3m 5f

A combined total of 8 runs between points and Hunter Chases with 6 of them successful saw him reach the heights of joint Champion Hunter Chaser along with Sheltering in the 2002-03 season. He is trained by his breeder and former owner 'Tucker' Geraghty and is now owned by the Dee Racing Syndicate which of course includes Mike Futter.

He began this season well taking the Grade C Porterstown Chase at Fairyhouse over a very suitable 3m 5f. To find suitable trips he has been campaigned in England at times but has yet to rediscover his best form.

WOTSITOOYA 1992 g by Rashar - Droopey Loops (Over The River)
Pat Taaffe Handicap Chase – Gr.C – Punchestown – 3m 1f
Smirnoff Handicap Chase – Listed – Galway – 2m 6f

In 1998 he progressed nicely to take his Maiden. Third on his debut at Naas behind The Dell, he then went on to finish runner up at Summerhill before scoring at Punchestown. He then missed the 1999 season before returning in 2000 and scored twice from four runs at Tyrella and Castletown and was just touched off in a Tattersalls Open.

The following season he came straight out and took a Wexford Hunters Chase when well supported.A former Graded winner when he took the Grade C Pat Taaffe Chase at Punchestown in the 2001-02 season he is back on the list this term having twice taken Graded contests at Galway and Punchestown.