The 2006/07 season saw 30 individual pointing graduates win 40 Graded contests with 5 horses managing Grade One success.
Beef or Salmon again managed to take 2 Grade one contests which included his second James Nicholson Chase and his third Hennessy. It is also worth mentioning that he has won 19 races of which 10 are Grade one's.
Denman took the Sun Alliance Novice Chase at the Cheltenham festival whilst Silver Birch landed the 2007 Grand National for "rookie" trainer Gordon Elliott. The Eoin Griffin trained Kazal was in good form all season winning 5 Graded races.
GRADE 1:- 5
GRADE 2:- 12
GRADE 3:- 8
40 Graded winners; 30 Individual horses.

American Jennie
Pat Taaffe Hcap Chase - Punchestown (Gr B) €30790

Beef Or Salmon
James Nicholson Chase - Down Royal (Gr 1) €60344
Hennessy Gold Cup - Leopardstown (Gr 1) €79054

Burntoakboy
Coral Cup - Cheltenham (Gr 3) £45616

Carrigeen Kalmia
Clarkson Hcap Chase - Leopardstown (Gr C) €20673
Phil Sweeney Memorial Chase - Thurles (L) €13195

Chevaux Loco
Mount Rugby Hcap Chase - Cork (Gr C) €15395

Cloudy Bays
Wilf Dooley Chase - Tramore (L) €17954

Denman
Royal & Sun Allience Chase - Cheltenham (Gr 1) £96934
Berkshire Nov Chase - Newbury (Gr 2) £19957

Emma Jane
Stayers Novice Hurdle - Cork (Gr 3) €17958

Eurotrek
Beecher Chase - Aintree (L) £57020

Footy Facts
Bank of Irelamd Nov Hurdle - Navan (Gr 3) €17958
EBF Novice Hurdle - Cork (L) €22448

Forget The Past
Kinloch Brea Chase - Thurles (Gr 2) €21993

Gungadu
Reynoldsdstown Novice Chase - Ascot (Gr 2) £22808

Hear the Echo
P. Fitzpatrick Mem. Nov Chse - Leopardstown (Gr 2) €28013

Hold The Pin
EBF Nov Hcap Chase - Navan (Gr C) €22872

Kazal
Michael Purcell Mem Nov Hdle - Thurles (Gr 2) €32989
Slaney Novice Hurdle - Naas (Gr 2) €25511
Johnstown Novice Hurdle Naas (Gr 2) €21993
Dorans Pride Novice Hurdle - Limerick (Gr 3) €17958
Toshiba Copier Nov Hurdle - Leopardstown (Gr 3) €15395

Mister Top Notch
P J Moriarty Novice Chase - Leopardstown (Gr 1) €48310

On The Net
Tim Duggan Memorial Chase - Limerick (Gr C) €20203

One Cool Cookie
Powers Gold Cup - Fairyhouse (Gr 1) €44218
Greenmount Park Nov Chase - Limerick (Gr 2) €24693

Our Vic
Charlie Hall Chase - Wetherby (Gr 2) £51318

Parsons Legacy
Badgers Ale Trophy - Wincanton (L) £39914

Royal County Star
Ulster Bank Hcap Chase - Punchestown (Gr B) €32989

Shirley Casper
Future Champions Bumper - Navan (Gr 2) €15713

Silver Birch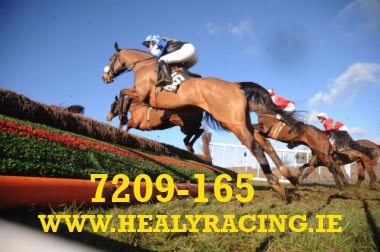 Grand National - Aintree (Gr 3) £399140
Simon
Racing Post Chase - Kempton (Gr 3) £57020
Skybet Chase - Southwell (L) £34212

Snowy Morning
Ten Up Novice Chase - Navan (Gr 2) €21993

Southern Vic
Poplar Square Chase - Naas (Gr 3) €17958

Spring the Que
Pierce Hurdle - Leopardstown (Gr B) €53141

The Halfway Bar
EBF Nov Hcap Hurdle - Fairyhouse (Gr B) €28591

War Of Attrition
Star Chase - Punchestown (L) €14815

Young Desperado
K McManus Fyingbolt Nov Chse - Navan (Gr 2) €21993