Courses
Aghabullogue
Track info
County: Cork
Soil Type: Brown Podzolic - coarse, loamy
Fences per circuit: 5
Fences per 3 mile race: 16
Direction: Left-Handed
Course Distance: 0.81m
Elevation Change (Highest to Lowest Point):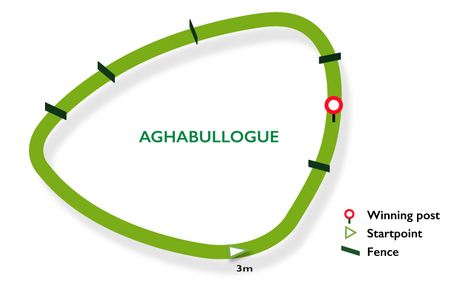 TRACK GUIDE
---
Home to the Aghabullogue point-to-point since 1988, the course presents a stamina test to the runners around this undulating and galloping track.

Runners begin on the home bend and race slightly downhill on the run to fence one, which also acts as the final fence at the completion of a further three laps. Fence two which is located after the winning post is at the foot of a steep uphill climb around a left-hand bend into the back straight.

The ascent levels out after the bend before they reach fence three, the first of three fences in the back straight. The three fences are quite evenly spread out, however the middle fence is located in something of a slight dip in the straight, as the field race downhill to fence four, before immediately climbing to the top of the hill and fence five.

Quite quickly after jumping the fifth, the field begin turning left-handed on a long downhill bend passed their point of departure and the home straight. There is quite a long run, not only between the final two fences, but also to the winning post, where stamina begins to come to the fore.

Whyso Mayo and Lovely Citizen, two Cheltenham Foxhunters heroes, have both won around the course, whilst Gold Cup winner Imperial Call was also trained on the land.
CIARAN FENNESSY, RIDER
Aghabullogue is a unique type of track and the ground is usually very soft due to the time of year, so you tend to need a horse that goes in tough conditions.

It is quite an up-and-down sort of track, with quite a tough pull up the hill on the far side.

I find it takes quite a lot of getting, but you also need a horse that travels around there, because you are always turning, and bends come up quick.

You need a horse to jump and stay well, as they tend to go a good gallop.