Courses
Ballingarry
Track info
County: Tipperary
Soil Type: Luvisols - fine, loamy
Fences per circuit: 5
Fences per 3 mile race: 15
Direction: Right-Handed
Course Distance: 0.97m
Elevation Change (Highest to Lowest Point):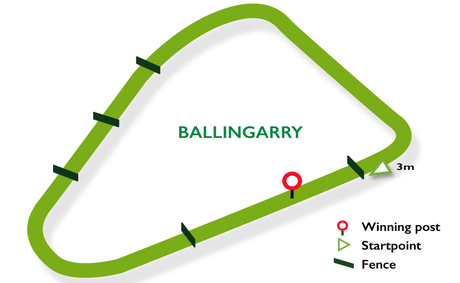 TRACK GUIDE
---
A regular venue on the point-to-point circuit for a number of decades, Ballingarry is a flat track made up of four straights of varying lengths, with five fences on each circuit, which is just shy of one mile a lap.

Races begin alongside the final fence in the home straight and the runners race past the winning line to fence one, the only fence jumped in the home straight on the opening lap. There is an extended run on the level before fence two, as the field race right-handed into the shortest of the four straights, before turning right again into the back straight. Three fences, numbers two, three and four, are located here and are jumped in very quick succession, to provide a real jumping test.

After jumping the final fence of that trio, which is the second-last fence on the final lap, there is a very long run on the flat between the penultimate obstacle and the final fence, as the runners turn right-handed to a lengthy straight along the side of the course which begins the run for home.

The home bend has been opened up slightly in recent years, before a short run to the final fence. A track where the speedier performances tend to come to the fore, Ballingarry is typically a good ground venue that holds racing at the end of the season, traditionally having the honour of hosting the final fixture of the season. As a result it has played host to many final day title showdowns over the years.

BARRY O'NEILL, RIDER
I think that Ballingarry is a very fair track. The hunt does a brilliant job with their ground, putting down plenty of water to keep it safe at that time of the year.

It is a good galloping track with loads of room. Nine times out of ten the best horse on the day will win because you have all that room for jumping to give your horse a bit of space. The one thing to watch out for are the three fences along the back straight. Those fences can come up quick enough, so it is vital to get into a good rhythm and jump them well, particularly on the final circuit. If you miss one, particularly the first of them, it can put you wrong for the next fences.

I have a real soft spot for Ballingarry, as the first year I won the title it went down to the final day of the season between myself and Jamie Codd. I will never forget it!