Courses
Bartlemy
Track info
County: Cork
Soil Type: Brown Earth - fine, loamy
Fences per circuit: 5
Fences per 3 mile race: 14
Direction: Right-Handed
Course Distance:
Elevation Change (Highest to Lowest Point):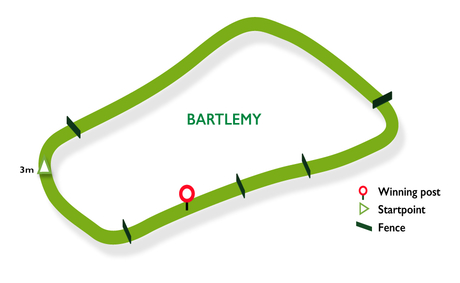 TRACK GUIDE
---
A right-handed track which consists of four straights, the runners begin at Bartlemy at the entrance to the back straight, from where there is a relatively short run to the opening fence.

This is the only obstacle located along the back straight, in part due to the curving nature of the straight. After passing through the first of two gaps which come up in quite quick succession, the track curves to the left, as the runners continue on the flat, eventually leaving the back straight behind them when turning to race downhill along the side of the course. There is a very long run on the flat between these first two fences, with number two located at the end of this straight.

The track begins to climb after fence two around the home bend, as the runners straighten up to jump the first of three fences in the home straight. There is a good run between fences three and four, with a bigger gap between fences four and five.

After jumping fence five, the runners race right-handed on a downhill bend into the side of the course and back towards their starting point.

Grade 3 winner Master Dee won his maiden at the course in 2013, as too did the two-time Listed winner, The Minnack, four years earlier.
JOHN BARRY, RIDER
Bartlemy is a fine big right-handed track. There is a long run between the fourth-last and third-last fences, and sometimes that can cause people to get racing too early, as you are still a good bit from home.

It is a long home straight and you wouldn?t think so looking at it, but when you walk the track, there is a good old climb from the second-last home, so if they have got racing early, you want to be holding onto a bit.