Courses
Damma House
Track info
County: Kilkenny
Soil Type: Luvisols - fine, loamy with limestone
Fences per circuit: 5
Fences per 3 mile race: 16
Direction: Left-Handed
Course Distance:
Elevation Change (Highest to Lowest Point):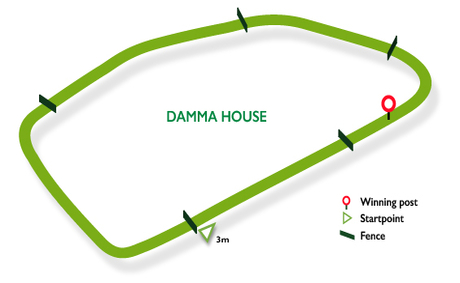 TRACK GUIDE
---
The Kilkenny hunt first introduced point-to-point racing at Damma House in November 2018 and is the latest course they have used in the county following on from the likes of Ballyfacey, Rahelty, Stonecarthy, Wollengrange, Gowran, Brambelstown, Killbline and Grennan.

A left-handed course, the runners begin alongside the first of two fences in the home straight, with a relatively short run on the flat before they arrive at the first fence, which is jumped four times during the race including as the final fence on the last lap.

After passing the winning post, they quickly turn left-handed and arrive at fence two. There is a slight elbow curve which is followed quickly by fence three before the runners head through a gap, turn slightly once again and arrive at fence four, which marks the end of the long gently curving back straight. They then take a sharper bend to race along the side of the course, for what is one of the longer sections on the flat without a fence to be jumped.

Fence five marks the completion of their opening circuit as they pass their starting point early in the home straight, followed by a further fence and a short run-in.

BARRY O'NEILL
Damma House is a nice left-handed track and it really suits a horse that travels well and is quite level.

It is very straight forward and would suit a sharp type of horse.