Courses
Grennan
Track info
County: Kilkenny
Soil Type: Alluvial Gleys - silty
Fences per circuit: 5
Fences per 3 mile race: 15
Direction: Right-Handed
Course Distance: 0.98m
Elevation Change (Highest to Lowest Point):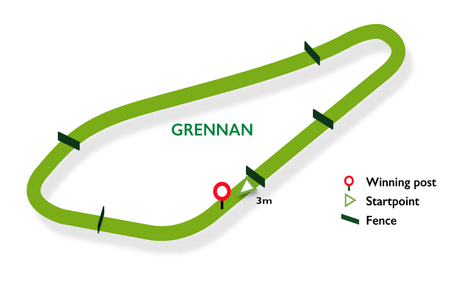 TRACK GUIDE
---
Taking place on the grounds of Thomastown GAA, Grennan has hosted point-to-points since 2012 and is a quick ground flat track on the banks of the River Nore.

There are two fences positioned in advance of the winning post in the home straight, and races begin alongside the latter of them, ensuring the first fence that is jumped is taken after a right-handed bend past the winning post. A long right-handed bend brings the runners into the back straight where two fences await them. The two fences are positioned at opposite ends of the straight, with the first coming up quite quickly, whilst the second, which is fence four, jumped after the runners take a slight left-handed kink.

A sharp right-handed bend into the home straight follows, and as the runners make their away around it, the ground on the outside of the bend become banked, sloping upwards briefly, as they make their way to fence four. There is a decent run before they meet it, with the two fences evenly spread out, and followed by the run to the line.

BARRY O'NEILL
Grennan is a very sharp course that is nice and flat, and things can happen very fast. It often suits a front runner as they can slip the field running to the third-last fence and around the top bend.

From that point it can be hard to reel them in, especially as you probably do not need to stay three miles to win around it, which helps those front runners to get home after kicking on.