Courses
Liscarroll
Track info
County: Cork
Soil Type: Brown Earth - coarse loamy
Fences per circuit: 5
Fences per 3 mile race: 13
Direction: Left-Handed
Course Distance: 1.17m
Elevation Change (Highest to Lowest Point):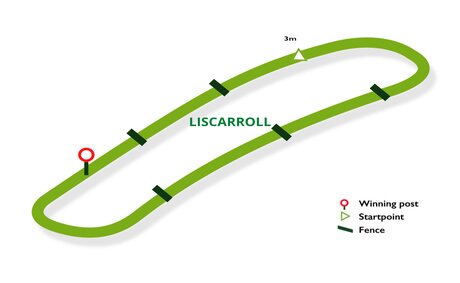 TRACK GUIDE
---
Point-to-Point racing was revived at Liscarroll in 1954, and it has remained a popular venue on the circuit ever since, most commonly associated with Cheltenham Gold Cup winner Denman, who won his maiden as a five-year-old in 2005.

A left-handed course dominated by two long straights, runners begin in the back straight, from where there is a relatively short run to the first of two fences on this section of the course. There is a long run to fence two, which is positioned towards the end of the back straight, by which point the runners will have begun to climb slightly, with the climb increasing around the long home bend.

There are a total of three fences located in the home straight, the first of which comes up quite quickly after the bend, before passing through the winning post on the long run to fences four and five, which are located in the final third of the home straight. Turning left-handed into a slight dip, the runners then race downhill back to their starting point, and the completion of a lap of the track.
CIARAN FENNESSY
Liscarroll is a good track. It used to be quite a fast track, although the new layout in recent years has made it a bit tougher. You need a horse that travels and jumps.

The fences can be quite tricky as they can be running away from you a small bit, so you need a clever horse. The second-last fence before the home bend is one fence in particular that can be tricky, so you would want to be well on terms by then.