Courses
Loughrea
Track info
County: Galway
Soil Type: Groundwater Gley - loamy, drift
Fences per circuit: 5
Fences per 3 mile race: 16
Direction: Right-Handed
Course Distance:
Elevation Change (Highest to Lowest Point):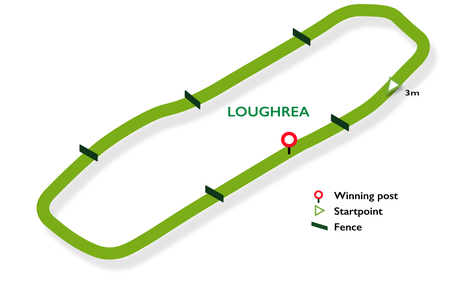 TRACK GUIDE
---
Taking place at Dartfield Horse Museum and Heritage Centre, which is set on 350 acres of parkland, Loughrea point-to-point has produced many National Hunt stars over the years such as Brindisi Breeze, Bewleys Berry and King Johns Castle.

Beginning early in the home straight, the runners jump two fences on this section of the course, with the winning post separating the two. Rounding the bottom bend alongside the betting ring, the runners arrive in the back straight, where a total of three fences await them.

The first obstacle comes up quite quickly after the bend, and each of the three fences are evenly spaced along this back straight, with some slight undulations between fences three and five.

After rounding the home bend, the final fence is soon in their sights before hitting the run-in.

DEREK O'CONNOR
I find that Loughrea can be a tricky track to ride and the ground has a big impact on how it rides.

On good ground it is a very fast, sharp track where stamina is not an issue. However, on soft ground it can be a very testing and tough track where plenty of stamina is needed.

It is not a big circuit, as you pass the post four times, so it tends to suit front runners.