Courses
Necarne
Track info
County: Fermanagh
Soil Type:
Fences per circuit: 5
Fences per 3 mile race: 14
Direction: Left-Handed
Course Distance: 1.11m
Elevation Change (Highest to Lowest Point):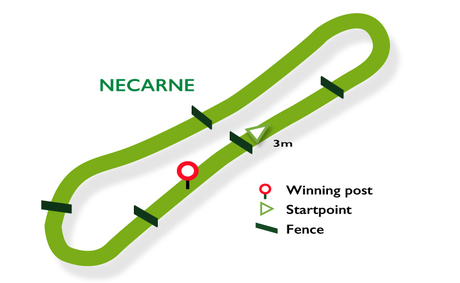 TRACK GUIDE
---
The grounds of Necarne Castle, a castle which was built in the 17th Century and has had a varied history, has been home to the Fermanagh hunt point-to-point since the turn of the millennium.

Featuring a distinctive layout of two long straights which run closely parallel to each other, the runners begin in the home straight at the back of the middle of three fences which are located on this part of the course. That ensures there is just one fence to be jumped in the home straight on the opening lap following a slight uphill climb.

Turning at the far bend, the horses race into a slight dip before climbing to the highest point of the course early in the back straight and then racing downhill on a long run to fence two. At the end of the back straight the track curves to the left where fence three is located. The home bend curves further bringing the runners into the home straight where fence four comes up quickly, before the runners race steeply uphill on a short climb which is located on the run-in.

Grade 1 Cheltenham Festival victor Briar Hill won his maiden at Necarne 10 months prior to his big race success in the Cotswolds.

MARK O'HARE
Necarne is a bit of a unique track and it is fun to ride around with a good atmosphere.

It does take a well-balanced horse as there are plenty of undulations and turns around it, so there is a real advantage to be had with a horse who wants to go forward for you.