Courses
Stradbally
Track info
County: Laois
Soil Type: Luvisols - fine, loamy
Fences per circuit: 5
Fences per 3 mile race: 16
Direction: Right-Handed
Course Distance: 1.04m
Elevation Change (Highest to Lowest Point):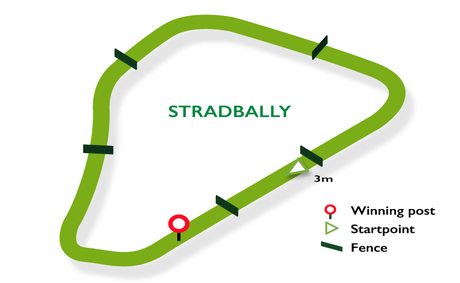 TRACK GUIDE
---
One of the few parkland courses on the point-to-point calendar, Stradbally takes place on the grounds of Stradbally Hall, which also hosts the countries largest outdoor music Festival, Electric Picnic.

A flat and sharp track, Stradbally typically produces quick ground thanks to its usual position late in the spring campaign. There are two different course configurations at Stradbally, and whilst both follow the same layout racing right-handed, the big difference is the positions of the start and finish points.

When the course that finishes at the far end of the field is used, the runners start in a separate chute on the entrance to the back straight. Within the back straight, there are three fences to jump, two fences in the home straight, with a further fence to be jumped when the field turn right-handed and pass the winning post.

There is quite a long run between the third-last fence, which is the final obstacle in the back straight, and the final two fences. These come up in quite quick succession, with the runners having to bear slightly left-handed approaching the penultimate fence, before then rounding a right-handed elbow to get to the final fence, followed by a very short run-in.

The finish line moves forward approximately half-a-mile in the alternative configuration, with the runners starting at the back of the second-last fence. There is a short run to the first fence which can often catch out runners, before a long right-handed bend. On the run away from the parade ring, the field jump two fences, with the third-last fence being located on the run to the home straight. This is often the point that the race really begins to develop. The final two fences are located in the home straight, with another short run-in.

Both layouts have been used in recent years.

BARRY O'NEILL
Stradbally is well renowned for its good ground conditions and usually suits a horse who thrives on the ground.

The races are typically run at a very fast pace around there.

Riders can be inclined to go a bit too quick around there, so you will often see them starting to fade from the second-last as others begin to stay-on which gives you the close finishes that you get there most days.