Courses
Tinahely
Track info
County: Wicklow
Soil Type: Brown Earth - fine, loamy
Fences per circuit: 5
Fences per 3 mile race: 15
Direction: Right-Handed
Course Distance: 0.99m
Elevation Change (Highest to Lowest Point):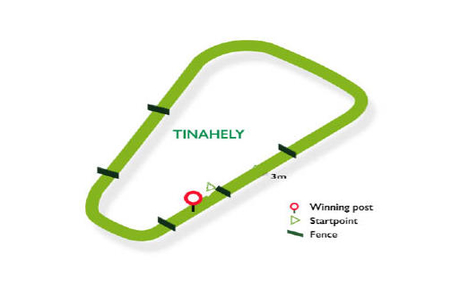 TRACK GUIDE
---
Tinahely is one of the busier tracks on the point-to-point circuit and often holds up to four fixtures each season with the Shillelagh & District, Bray and Wicklow Hunts all holding fixtures there in recent times.

The only course in Wicklow at present to stage racing, the track has a long history of point-to-point racing stretching back as far as 1988. The land that the racing takes place on, also plays host to the Tinahely Agricultural show each Summer, which is one of Ireland`s longest-running agricultural shows.

A galloping and undulating course which is almost exactly one-mile around, the start is located alongside the final fence, the second of three fences in the home straight. The last of that trio is jumped as fence one, after which there is a short and very steep climb to the right-handed bend which brings them into the back straight.

That climb stops quite quickly and initiates a steep descent to fence two. The rate of the descent levels out considerably from that point, as the runners continue along the back straight to fence three, only running gently downhill at this point. After negotiating the third fence, the runners head into the far field and begin to turn right handed. A short straight along the side of the course brings them to the home bend at the foot of a stiff climb up the home straight.

There is a very long run on the level between the third-last and penultimate fences. The climb for home continues over the final two fences with a short run-in.

Grade 2 winner Alpha Des Obeaux, who finished second in the 2016 World Hurdle, won his maiden at the course two years earlier, whilst Blaklion, Fundamentalist and On His Own are other notable winners at the course.
JAMIE CODD
Tinahely is a track that is close to my heart as I rode six winners in a single day around here. It is a very unique track running downhill along the back and then up hill in the home straight. It can catch a horse out going down the hill and jumping the downhill fences.

It usually suits a horse that has a bit of experience or is very straight forward. You also need a horse that stays around here as it is a good pull up the hill from the third last and can take a bit of getting.

On the soft ground I find you can race away in fifth or sixth and come from there later in the race. The inside can be very important around Tinahely and you can save a few lengths if you get a good run but you need a horse that travels and jumps.