Courses
Tallanstown
Track info
County: Louth
Soil Type: Brown Earth - fine, loamy
Fences per circuit: 5
Fences per 3 mile race: 14
Direction: Left-Handed
Course Distance:
Elevation Change (Highest to Lowest Point):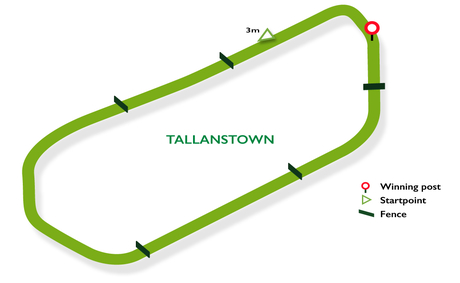 TRACK GUIDE
---
A mainstay of the point-to-point fixture list from 1976 onwards prior to a short hiatus in 2016, Tallanstown is an undulating course of just over a mile in circumference that has typically produced a quick racing surface.

Following a layout not to dissimilar to a rectangle, the two longest straights are parallel to each other and link the home and back straights with five fences positioned around the course.

Two fences are located on the run away from the home straight, the second of which is jumped as fence one. After taking a 90-degree left-handed bend, the field race along the short back straight, before beginning the climb to one of the highest points on the course. Fence two, which is taken quite quickly after the next bend, begins a notable descent. This levels out mid-way along the straight, before beginning once again after jumping fence three, which is also the penultimate fence.

There is a notable run on the level between the final two fences, with the field racing downhill after the second-last obstacle, before climbing and turning left-handed into the home straight. There is a short run-in to the winning post, with another decline facing the runners as they turn left-handed and head out into the country once again.
JAMIE CODD
This is a very up and down track, which runs left handed, it actually wouldn`t be too dissimilar to Downpatrick racecourse.

I find that you want to be riding horses with plenty of experience. With regards to riding around there, I think usually up there in the first four or five and stalk away for as long as you can.

That said I think you would want to be well on terms jumping two-out and a lot of horses in front at this point usually get home.