With the Cheltenham Festival just two weeks away, it is all systems go in the Co. Waterford yard of Declan Queally for his stalwart Minella For Value's second crack at the Foxhunters Chase.
Already a fabulous servant to the whole Queally family, who is ridden by Declan Queally junior and carries the colours of his mother Bernie, Minella for Value got his head in front five times last season.
Having finished just three lengths in arrears of Pacha Du Polder in last year's renewal and fresh off the back of an impressive success at Kildorrery, Minella For Value is perhaps the forgotten horses in the race, and at 33/1, he is sure to have plenty of his supporters cheering him on from around the point-to-point circuit.
We caught up with Minella For Value's regular partner Declan Queally to see how the preparations were progressing and the significance of riding a horse for the Cheltenham Festival.
"I am really looking forward to it now. I rode him a little safely last year, dropping him in to run well and in hindsight I was sorry.
"This year I will be a little more forceful with him and position him a bit handier. He has plenty of experience in them big handicaps when he was in England and he stays forever so I will definitely be a bit more forceful with him this year and he gallops forever. "
The 12-year-old is showing no signs of his ageing.
A win at Kildorrey two weeks ago, the second from three starts for this campaign, has left Queally with his hopes for Cheltenham.
"On P2P ratings that was his best performance, and I even felt riding him it was his best performance. We have kept him a little fresher this year and looked after him over the summer.
"He is in good shape and not showing his age. He came out of Kildorrey great and we will get another three or four bits of work in."
The Old Vic gelding has thrived with the Queally family who are kept busy with fourteen riding out between their runners between the flags and on the track. Whilst in the saddle, Queally has been enjoying a triumphant time of late, recording a milestone 200th winner abroad Fenno's Storm at Bandon last Sunday.
"All is going well. All flying at the moment. Fingers crossed we will try and keep going now, that's the thing.
"Minella For Value likes it at home here, a smaller yard and gets out in his paddock every day and seems to enjoy it. That seems to make a big difference that he gets out for two hours every day to just chill out.
"He is a really quiet horse now. He is a weaver though. When John Nallen had him there was a story on Irish racing about how no one wanted to buy him as he was such a bad weaver. But John ploughed on with him."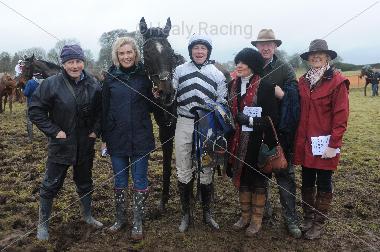 Not without his quirks, Minella for Value came to Queally through his brother, a leading flat jockey in England.
"He was owned by Tom's sponsor Peter Clay of Maxilead Metal, running in handicaps in England. He had a bit of trouble in training and he was lame a lot. He had been out in the field for a year and Tom suggested to Peter that we try and give him a go down the point-to-point route and see if he'd stay sound. The rest is history.
"To be fair to him he has never had a lame step since, it's been a total success.
"It was brilliant to get him by chance like we did and for him to be such a great horse. To come across him through a friend of ours and he is still involved and looking forward to seeing him at the festival. He is such a great horse to have."
Queally has ridden six times at Cheltenham, a second-place finish in the 2010 Foxhunters when second on Kilty Storm for neighbour Roger McGrath being the best to date.
The possibility of going one better on his own horse is adding to the excitement.
"It's a big thrill, you would be a little bit nervous but try and hold it together.
"He is so clever to jump and just pops away or wings them, whatever way. You just sit up on him, he is a joy to ride. I love riding him.
"He will go over Wednesday, and I will then fly over on Friday to ride him. My brother Louis looks after him and he will be travelling over with him. He is a big part of him so he will be looking forward to going over looking after him.
"All the family will be over. He is a real family pet. The main thing is that the horse comes back in one piece.
"Just to be going over there competing is a great thrill and having a live chance."