James Kenny is our latest rider to feature in our next generation section.
19-year-old James was in the winner's enclosure at Dromahane on Sunday when he steered the Pat Doyle-trained Shot To Hell to victory in the four-year-old maiden in the Gigginstown House Stud colours.
This was James third winner of the season as he also enjoyed success aboard Our Henrietta at Knockanard and Steel Ambition at Castletown-Geoghegan.

James got off the mark at Killeagh last season when he rode Our Henrietta to success for his father Liam.


Name: James Kenny
Age: 19
Area: Ballydarragh

How did you become involved in racing?
My Dad has always trained at home so I was brought up in the sport. When I was a child I rode ponies and did a good bit of show jumping around Ireland and at the RDS each year.
I represented Ireland a few times on the pony international circuit in England and Scotland and was lucky enough to have a few good ponies who I won some national titles on.
When I was about 12 I started to ride out for Dad and then when I was in sixth year at school I started riding out for Joseph O'Brien at the weekends and also during the summer after I finished school.
I have been based with Colin Bowe for the past year and a half and I also have a few pre-trainers for him which I do in the afternoons.

What's your favourite course?

Lingstown is my favourite course. I rode my second winner there aboard Battle Anthem for Dad. It is a great galloping track and I enjoy riding there.

What was the best day of your racing life?

Riding my first winner at Killeagh last season aboard Our Henrietta was great as it was for Dad but also her owner, Joe Whelan is a great family friend. I also really enjoyed my winner on Sunday especially to get the chance to ride for Gigginstown House Stud. I have to thank Colin for getting me the ride before the race.
Do you do any sport outside of racing?
I don't have time to play much sport but I try and go swimming a couple of times a week to help with my fitness.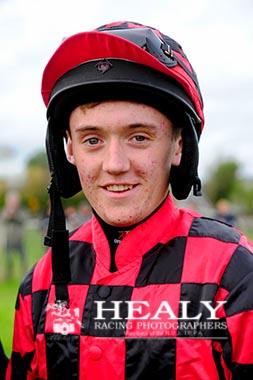 Give us a horse to watch out for?
Colin has a nice four-year-old Beneficial gelding that could run this weekend called Pistol Whipped who has been very good at home.

Who's your biggest influence?

Barry O'Neill and Rob James have been a great help to me especially since I started working in Colin's. They always give me good advice when we are schooling horses or before racing and if we are walking tracks together.
What improvements would you like to see in point-to-pointing?
I think it would be great to see if there was more of an incentive to keep the older horses point-to-pointing. I know there was an increase in their prize money this year but I still don't think there is enough there to encourage owners to keep them in training.
If you could ride a horse in the Aintree Grand National this Saturday who would you pick?
I would probably pick Blaklion as he ran a good race in it last year to finish fourth so he has good experience around there. Dad won a point-to-point with last year's winner One For Arthur and Blaklion actually finished third to him at Lingstown that day.
What are your plans for the future?

I hope to continue riding in point-to-points for as long as I can and then start training a few.
To read about some of our other featured riders this season click on the link below.
James Kenny is this week's featured rider in the Next Generation series. The Wexford native made his first ride in the famed maroon silks of Gigginstown House Stud a winning one, steering Shot To Hell to victory at Dromahane.

Read Full Feature Here: https://t.co/9LdMuMcrjO pic.twitter.com/zeMp84HrgQ

— p2p.ie (@irishp2p) April 10, 2018