Jordan Gainford has caught the attention of many in a short space of time since having his first ride at Boulta back in December.

While a maiden success eluded the Enniscorthy native until he rode Airgead Suas to a facile success at Oldcastle last Sunday, his first 23 rides resulted in nine placings ensuring the 18-year-old has begun to firmly establish himself as a rider. Having already ridden for a host of leading handlers, Gainford is a name we are likely to be hearing more off in the future.

Based with Colin Bowe, the up and coming rider should be well placed to capitalise on the tutelage off not only the Kiltealy handler, but also jockeys Barry O'Neill and Rob James.

Next Generation | Rider

Name: Jordan Gainford
Age: 18
From: Enniscorthy, Wexford


Are you from a racing background?

I'm not really from a racing family, one of my grandads was into horses and would always have went racing. On the other side of the family there has often been horses around the farm, broodmares mainly.


How did you get started riding out?

I only live up the road from Shay Slevin and a friend of mine was riding out for him orginally. I started going down to Shay's in the evenings riding ponies and after a couple of months I started riding out properly on a Saturday and going racing on Sunday's as well.

I ended up going in there for almost five years.


How did it all progress from there?

I had a few rides pony racing, but mostly spent my school holidays getting more experience. I did six weeks in Ballydoyle during one of my summer holidays and also went over to Nigel Twiston Davies for a few weeks.


Where are you based now?

I started in Colin Bowe's about two years' ago when I was still in school. I did my Leaving Cert last June and I have been here full time since.


You had have had you first ride back in the Autumn at Boulta?

I got my licence out in September and I had my first ride for Colin on Old Dominion at Boulta when she was second in the four-year-old mares' maiden.


You have been knocking on the door a fair bit since with six seconds?

I had two seconds on Old Dominion and then a few more for both Colin and Donnchadh Doyle. It's great to be getting plenty of good rides.

I rode for Cormac Doyle, David Christie and Brian Hamilton along with Paul Pierce last Sunday, Barry and Rob have been very good putting my name out there and helping me to get rides.


You must be getting plenty of advice from the two lads as well?

Ever since I went to Colin's, Rob and Barry have been a huge help. When you're riding out with them every day you would pick a lot up. We are going away schooling a couple of days a week and the lads would always be telling me what I am doing right or wrong.


It must have been great to get off the mark on Sunday at Oldcastle?

It was a good day alright. I was hopeful going up as she had some very good form. I was talking to Jimmy O'Rourke earlier in the week and he thinks a fair bit of her. She probably would have ran at Loughanmore only for it being called off, so it worked out in my favour!

Paul Pierce rang me on Friday morning to ride her, I hadn't sat on her before but the lads told me plenty about her and it all went to plan. Both my mother and father were there on the day and they were delighted.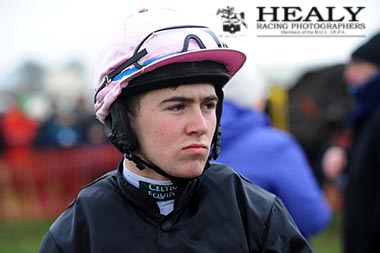 What are your ambitions now for the future?

I will see how things go point-to-pointing, I would be light enough at the minute. I will talk to the Colin and the lads in a year or two and see what they say.


Who has been your biggest influence in racing or who would you look up to?

Out of the professional jockeys I suppose Ruby, Davy Russell and Jack Kennedy as well, they are three great riders. The drive the three of them have is unbelievable.


Do you do any sport outside of racing?

I used to play everything - football, rugby, hurling, but gave it all up for the horses.


How about any other novice rider you think might be up and coming.

Pierce Rogan is based with Shay Slevin, he is a year younger than me and he is just starting to get a few more rides. I think he could be a nice rider coming forward.


What's the best piece of advice you've ever been given?

Colin Bowe said to me: "Work hard, keep your head down, do what you're told and you will go far."

Next Generation | Rider - Jordan Gainford

18-year-old Jordan Gainford rode his first winner at Oldcastle last Sunday and talks about how he got started here %u27A1%uFE0F https://t.co/XD1sJWSqYI pic.twitter.com/kHVGZchvog

— p2p.ie (@irishp2p) April 24, 2019