Next Generation | Rider
Name: James Duggan
Age: 17
Area: Athenry
Galway native James Duggan was seen to good effect when partnering his first winner aboard Captain Jimmy in the six-year-old geldings maiden at Loughrea last Sunday. The winner is trained by Tony Kelly, for whom the 17-year-old works for and with the support of this yard Duggan could be a name to keep an eye on this season.
It must have been fantastic to ride your first winner on just your first attempt in point-to-points?
I was very happy it all went to plan, we were just hoping to get around so when I won I was delighted.
Were your friends and family there on Sunday?
My parents were there and my grandmother who is 83 was also there and she was in tears when I won.

We are very involved with showjumpers and we actually told her we were going off show jumping for the day so when she realised I was riding in a point-point it was a great surprise and then when I won it was the icing on the cake.
You mentioned on Sunday that you rode in a couple of Bumpers before, how did you find that?
I found it very hard to get going but I've been very well supported by Pat Kelly and all my owners, so it has not been too bad.
Are you familiar with Captain Jimmy, have you done much with him in the yard?
I ride him out in the yard as much as I can and he's a great spin, hopefully he will stay point-to-pointing.
Are you from a racing background yourself?
I'm not from a huge racing background, my dad used to ride out in Tom Costello Snr's yard a good while back and my mother would have a hunting and show jumping background and that's how I got involved from a young age.

We all do a lot of hunting with the Galway Blazers, so it was fantastic to have my first winner at their meet.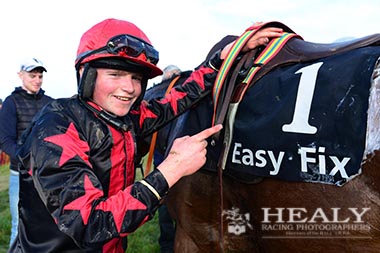 How did you become involved in racing?
On October 14th two years ago, I rang Pat Kelly and asked him if I could come up and sit on a horse and I got the bug from there then and the rest is history.
What's your earliest racing memory?
That would be watching the trailer for the Tony McCoy movie. I was very fascinated by the film and that's what inspired me to get involved in horse racing.
Who have you worked for to date?
I have only been involved with Pat and Tony, I ride out there at the weekends school holidays and during the summer. They have been great to me since I started riding out with them two years ago.

What are your plans for the future?
I'm in Leaving Cert at the moment in Clarin College Athenry, I don't really have a plan, but I do like the horses, it was always an ambition of mine to get my licence, so I'd like to stay involved with the horses and see what happens after that.

Have you ambitions for this season?
Id love to just stay injury free, hopefully get another few winners and keep the ball rolling

How about another rider you think might be up-and-coming?
Joey Dunne, he's an amateur and is only after starting out, he rides out for Gavin Cromwell and he's a good lad that looks promising.

Who has been your biggest influence?
My parents have very good drive and great ambition for me, they have been a great influence on my involvement with horses and I have learnt a lot from them.

Pat and Tony have also been a great influence on my career they keep me going and I am very grateful.

Do you do any sports/interests outside of racing?
I do a lot of running, it's great to keep fit and clear the head and it keeps me focused.

What's the best piece of advice you've ever been given?
Keep your head down, stay working and your dreams will come true.