Next Generation | Rider

Name: Peter Jay Kavanagh

Age: 19

Area: Ballindangan, Co.Wexford.

It was a red-letter day for 19-year-old Peter Kavanagh who got off the mark on just his second attempt between-the-flags when Mad Jack Mytton took the Open novice riders' race at Turtulla last Sunday. He is currently riding out full-time for champion handler Colin Bowe.

The Wexford native is looking forward to the season ahead where he hopes to gain more opportunities and could certainly be one to watch out for in the future.

Are you from a racing background?

My Dad was a jockey in his younger years and then he got into training a few horses, so the interest grew from him. I started riding out when I was nine or ten, I started off with ponies and it progressed from there to riding showjumpers, hunters, breakers, everything and anything.

How did you start off riding?

I started in Colin Bowe's when I was 14 and then when I turned 16, I took a year out when I was in transition year to go to RACE. While I was with RACE I was sent out to Kevin Prendergast's where I spent five or six months. After the course finished, I went to Willie McCreery's and took out my apprentice license and had five or six rides for him.

I went back to school but continued riding out for him at the weekends. My weight started becoming an issue, so I decided to go the amateur route then.

Where are you based at the moment?

I am with Colin Bowe full-time, its great to be in such a big yard where you can gain plenty of experience.

You were delighted with your win on Sunday?

I was delighted, I rode him on his first run at Damma House and he fell three-out, I was absolutely raging. When I rode him on Sunday, I was certain that he had a good chance as he was travelling so well and then when I turned into the home straight, I knew we he was going to win. I ride out for Cormac the odd day during the week, so it was great to get the ride from him.

What's the Plan for Mad Jack Mytton?

He will run again Sunday week and more than likely will be kept in the novice rider races.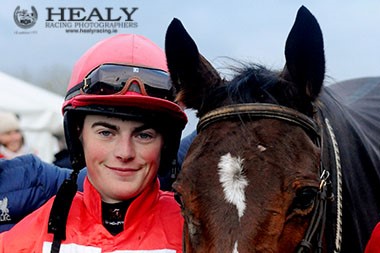 Do you school or ride out for anyone else?

I would school for the likes of Cormac Farrell, Cormac Doyle and any local lads that would need me.

Have you ambitions for this season?

To get as many rides as I can and get a few winners and get a bit of experience. I am very light I am only nine stone so I'll be going the conditional route in a year or two, but I would like to gain as much experience as I can in point-to-points before I do that.

What do you think about the opportunities for novice rider point-to-pointing?

I think its great the novice rider races are there as it creates opportunities for lads to get started as it can be difficult to get rides when you are up against more experienced riders.

How about another rider you think might be up-and-coming?

I think Pearse Rogan is someone to watch out for he rides out for Donnchadh Doyle and he would be good friend of mine, he's like myself just starting out.

Who has been your biggest influence in racing?

My father got me into horses and has been a great help to me.

Do you do any sport outside of racing?

I used to play GAA, but I don't do it anymore as I find that I don't really have time.

What's the best piece of advice you've ever been given?

To keep your head down and work hard.