When the hammer fell on lot 20 to a final bid of £330,000 at the Tattersalls Cheltenham November Sale, it capped off what was a dream start to a new association between rider Stephen Connor and the Colin McKeever stable of horses for owner Wilson Dennison.

The horse in question, Ballyadam, had marked himself out as the star performer of the autumn season to date when he made a winning debut at Portrush in October, in a four-length success that did not come as a surprise to the winning rider.

"I had ridden him in one or two bits of work here and in a schooling race the week before hand, and he had been unbelievable. I rode him in a bit of work one day and he showed a lot of gears without even coming off bridle.

"The first weekend, the horses just weren't fit enough, he was showing us plenty though and wasn't blowing too hard, so Colin said that we were ready to go with him."

Despite being a relatively new addition to the point-to-point fixture list, Portrush has generated more than it's fair share of headline performers, with Finian's Oscar winning the same four-year-old maiden in 2017, a contest in 2019 which featured a number of form horses opposing, producing a strongly-run race.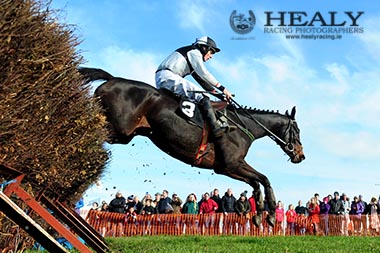 "It suited me that it was a very good gallop because he had been keen in the schooling race the week before. Going the right good gallop suited him and he got into a very good gallop.

"I panicked for two or three strides, because I had worked with Warren's horse (Bold Enough) and knew he had a few gears, but when I gave him a squeeze I was quickly taking him back again because I knew straight away that I was going to get there no problem.

"The performance wasn't a surprise, certainly not to us anyway. He was showing plenty to me, plenty of gears. I would say that he has a very bright future."

That was a sentiment immediately echoed by the winning handler who declared after the race that he had 'the makings of a Grade 1 horse.'

With so many subsequent Grade 1 winners having passed through his hands over the years, a prediction like that certainly did not go unnoticed when he came to the market four weeks later.

"He came out at 8am on Friday morning at the sale and wasn't back in his stable until 12.30. There was plenty of talk about him and everyone wanted to see him," added Connor, who having guided the four-year-old to his maiden success, then led him into the Cheltenham ring, where he topped the sale in what was not a surprise to any, as Gordon Elliott snapped up the son of Fame And Glory.

Elliott has already won a Grade 2 contest with a former McKeever pointer this year, with Chosen Mate winning at Naas in February, three months after he was bought for £32,000 at the same Cheltenham sale.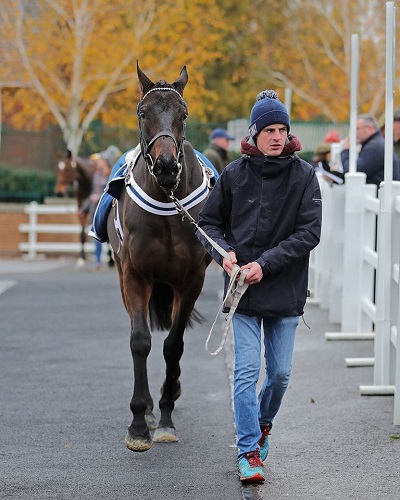 The Loughanmore outfit of McKeever and Dennison is the most successful yard in Northern Ireland, and boasts a record of producing so called 'Saturday horses' that few if any other point-to-point yards on the island can match. There are few weeks that you will look through results and not find one of their graduates in the winner's enclosure, with Irish Gold Cup winner Bellshill, Cheltenham Festival winners Yorkhill, Ballyandy and Blacklion among those that have achieved Grade 1 success in recent years.

Having been based in recent years with Timmy Hyde, a yard with its own big reputation, , the opportunity to move to Antrim came at a time when the Galway native was looking to further his career.

"It all came about through Derek (O'Connor), I spoke to him when I was in Timmy's. They had been brilliant to me all along, but I wanted to progress a small bit and see more, so I spoke to Derek and he told me that there might be a job going here.

"Trying to get opportunities nowadays when you look at the lads in Wexford, they all have very good young lads coming through. All them big yards have plenty of riders in there. Timmy would only have had 12 or 14 horses, but I was looking for more opportunities for riding and I was trying to get into one of the bigger operations and thought this could be my chance and I took it.

"Derek put me in touch, and it all went from there really. I came up here in June for two days to meet Wilson and Colin. I worked for the two days, there were a bunch of two-year-old's in at the time and we were just tipping around with them.

"I rang Wilson after two or three days and said that I would be very happy to come up if they wanted me, so I started the Monday after Galway week and have settled in now; they are great people."

That partnership has been working well to date, with 12 of his 18 rides for McKeever coming on horses that went on to finish in the first four, and with the progression that is so often forthcoming, the coming weeks are sure to bring further success.

"It was a big move alright, but it would have been hard to say no. The calibre of horses that is here is unbelievable, it is one of the best yards in the country.

"There are in or around 40 horses riding out at the minute, but there is nine of us riding out, so we are pretty good for staff. It is good that way because you are able to take your time and spend a bit of time with the horses and get a lot of education into them.

"Lads would be panicking nowadays that they need to get four-year-old's out and winning first time, but one thing about this place is the horses are not rushed. I think it really stands to them. Like those two horses that we ran last weekend in the four-year-old's (Folcano and Coothill), I would be really looking forward to them two when they run again in two or three weeks' time, because mentally they are going to improve incredibly. The improvement out of the horses here after each run is unbelievable."

Unlike the majority of those operators in the younger age maidens, the bulk of Wilson Dennison's point-to-pointers are bought as foals or yearlings by Ian Ferguson, spending a number of years at Loughanmore under McKeever's care.

"There are 25 or so two-year-old's to come in now in the spring for breaking and the same following the yearlings. Colin breaks them at two and does a bit with them before letting off, then he brings the back at three and does a bit with them that spring and then they are off again.

"We have about 22 three-year-old's too and they are a fair nice bunch of horses. I am really looking forward it."