Next Generation | Rider

Name: Dylan Phelan

Age: 19

Area: The Nire, Dungarvan

It was a red-letter day for Dylan Phelan, who got off the mark on his fourth attempt between-the-flags when the Pat Crowley-trained Comeragh Lad took the five-year-old and upwards confined maiden at Dungarvan on Sunday.

The 19-year-old, who has been based with Declan Queally since the beginning of the season, nearly found success with the Co. Waterford handler a couple of weeks back when riding Fenno's Storm in the open novice riders race at Ballindenisk in a thrilling finish, he ended up being beaten by only a short head.

With the support of this yard and other local trainers behind him, Phelan could be a name to keep an eye on this season.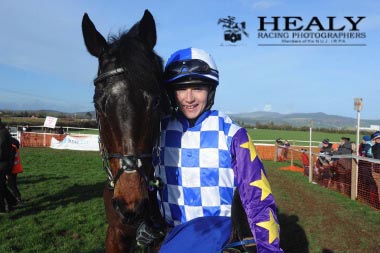 Are you from a racing background?

I don't come from a racing background myself; my family would be from a farming background. I started off hunting when I was about 14 with my cousin and that's how I got into horses and eventually I became interested in racehorses.

How did you get started in Racing?

When I was in fourth year in school, I started to ride out for Pat Flynn at weekends and school holidays and he got me going on the racehorses.

Where are you based at the moment?

I am based with Declan Queally now, I started off with him in September and it's been going great. He's been very good to me, I have been riding good horses in schooling races and he also gave me the opportunity to ride Fenno's Storm a couple of weeks ago in the open novice riders race at Ballindenisk, I almost had a winner that day as I was only beaten by a short-head.

In the afternoons then I head to Roger McGraths to ride out, he's based just outside Tallow, so I am kept busy.

Can you tell me about one of your earliest racing memories?

It would have to be going point-to-pointing to Dungarvan with my family, I loved it.

You were delighted with your win on Comeragh Lad on Sunday?

I was delighted, all my family were there to support me, so I was absolutely thrilled when I had the winner and it made it all the better as it was my local track.

It was also great to get the winner for Pat Crowley, who trains the horse and the owner of Comeragh Lad, Paula Cotter is a good family friend, so it was a great day for everyone.

How did your connection with Pat Crowley come about?

I always knew Pat, I would have done bits and pieces of riding for him before, but I suppose it's since I started riding out at Declan's (Queally) that I have gotten to know Pat better, he comes over to use his gallop a good bit during the week and I ride a couple of his horses for him when he does.

Had you ridden Comeragh Lad before the race?

He is one of the horses I ride for Pat when he comes over to Declan's (Queally's). I schooled him during the week, and he was in flying form.

Pat was pretty confident about him, he told me he was a good second the last time he ran, and he would come on a good bit from that and thankfully he was right and it worked out the way we wanted it to.

What's the Plan with Comeragh Lad now?

He is going to go for a winners' race now, he was green on Sunday, but that run will stand to him and he should have no bother running in winners' company next.

Have you ambitions for this season?

Keep the head down, get a couple of outside rides and hopefully get a couple of winners.

What is your favourite track to ride at?

It would have to Dungarvan as I had the winner there on Sunday, but its also my local track and I love riding around there.

What do you think about the opportunities for novice rider's in point-to-pointing?

They are a great addition to point-to-points as it gives us younger lads an opportunity to get going. I wouldn't have had the opportunity to ride Fenno's Storm as that was a novice riders race I rode him in, so it gives you the opportunity to ride better horses and gain more experience.

How about another rider you think might be up-and-coming?

Johnny Kirwan, he rides out with me at Declan Queally's, he's a hard worker, he got his license out this year and he will be one to watch out for.

Who has been your greatest influence in racing?

Danny Grant and Eoin Morris were very good to me when I started off in Pat Flynn's, they taught me everything I know.

Declan Queally has also been very good to me; he's given me plenty of chances with lots of nice horses.

Do you play any sport outside of racing?

I used to play hurling quite a bit when I was younger, but unfortunately, I don't have time anymore with the horses.

How do you relax away from racing?

I go to the gym and do a good bit of swimming in my free time. I keep a couple of hunters, so whenever I am not racing, I like to get out and do a bit of hunting.