The opening weekend of the new season proved to be a memorable one for Jay Gibney who made a winning return to the saddle, with success aboard Dento Des Obeaux in the 16- runner winner-of-one contest at Oldcastle on Sunday his first ride between the flags since April 2017.
The win was all the more notable, as the seven-year-old, who is owned by his father Liam, was also the first runner that he has also trained himself.
We caught up with the Downpatrick native following the success for the first NextGen feature of the new season.
Name: Jay Gibney
Age: 21
Hometown: Downpatrick, Co. Down
First Winner: Dento Des Obeaux, Oldcastle September 2020
How did you become involved in racing?
My Dad Liam point-to-pointed, he would have a couple of rides on his own horses and he encouraged me to go down the racing road.
I started off riding when I was about five or six and then went pony racing at ten or 11. When I was starting off Luke Dempsey would have been one of the leading lads, along with Conor King and Oisin Murphy. In my year group Jack Kennedy and Rossa Ryan would have been the main boys at it.
We would have travelled around a good bit for the pony racing, mainly to the midlands because my weight was good and the weight in the midlands was lighter, so we would have gone down there a good bit.
We had a couple of horses ourselves and then I would have ridden for some local people too getting experience. It is a great start for racing and I had no interest in school at the time, it was all about the racing!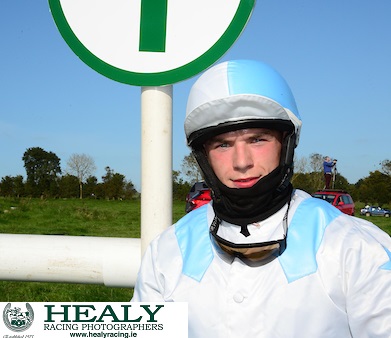 After starting in pony racing was it always your intention to take out your rider's license?
I stopped pony racing at 16 and left school at the same time to start working full time for Brian Hamilton and I then I took out my license a year later.
I moved over to England when I was 18 with hope of going conditional. I was with Robin Dicken for a while, but I struggled with the weight and I would say I am a bit of a homebird too to be fair.
After I came back, there was a while when I completely gave up racing. I was riding the odd bit, but I wasn't full time anywhere and worked a few different jobs. I went from working in clothes shops to care homes, just not knowing what to do and then last year I started working with horses again.
I am more of a boy to go out and work in a yard than to go and work in a clothes shop, I missed the early mornings, so I started working with Colin McBratney last year.
After getting the interest in racing again me and my Dad said we would get a horse to do for fun and Colin trained him when we bought him and we had great fun. I was going to get my license out and hummed and hawed about it all season and then it got to the stage that it was too late.
All along the plan was to bring him home and train him myself, that would be more my interest. During lockdown, when he came home when there was no racing on we made the decision to train him ourselves.
That's when I made that decision that we have him there for some fun, it would be even more fun if I rode him myself.

What setup do you have for training the horses & how do you combine both?
We just have a couple of stables at my Dad's house. We would use Patrick Turley's facilities for the everyday work. His new yard is class – he has a three furlong gallop, a schooling strip and a sand arena that we can get them jumping in. There are a couple of other gallops nearby too with Colin (McBratney) and Brian (Hamilton), that we could bring them if we needed to. We don't really have our own facilities but we use Paddy's.
It would take us about ten or 15 minutes to get down to Paddy's and we use that as their warm-up as it is a good exercise for them.
I go to Colin's four to five days a week and then my Dad owns a confectionary shop and I have to be in there once a week. My Dad finishes at 1pm and that is around the same time that I would finish in Colin's so we would then go and start on our own horses – we have two in at the minute.
We bought a mare (Jaunty Velocity) at the start of the year so that me and my Dad could ride out together. She is a maiden so hopefully she can have her day this year too, she should be winning her race too.
It is something for us to do together. It is a bit of fun on one hand, but a bit of experience for me as I would like to go down the training route eventually.
Obviously now that I have got my riding license out again I will definitely keep that for a while and then down the line I can take up training properly.

Has training always been a plan that you had in mind?

Training has always been in the back of my head. The thoughts of it being your decision, everything being up to you, having to get the horse's ready, selecting the right race, knowing how well it is going – that is all the type of things that I would be really interested in.
Every yard that I go into I would pay attention to what way they are training their horses and obviously me starting off now with a few older horses, the game is in big younger horses and bringing them on, so that could be my next plan. If the horses that we have now go well, we will probably look at buying a young horse and see how he goes.
Paddy (Turley) is someone that I look at, he has had a couple of nice horses. The effort that he puts into them is unbelievable. I would be pretty close to Paddy and can see it all. The effort that he puts has really paid off.
But also there is a lot of people around where I live who would love to have a horse but it just seems like they can't afford it, so it would be nice to have a bit of sport for them with these older horses.


Sunday was obviously a big moment for you and your Dad to get that first winner?
It was a great day to get that first winner, but with all that is going on with the Coronavirus, it is great to get it all back on again.
I know a lot of people are depending on it, but it's also great for the people who are doing it for the fun and something to be doing.
It was very touch and go at the start of the season as to whether we would bring our horses back in because we didn't want to bring them in and next thing the racing was suspended again after putting money into it.
It's great that it is going again and I was very impressed with how it was run at Oldcastle. Everyone was keeping their distance from each other and adhering to the rules.
NextGen: Jay Gibney

The Downpatrick native trained his first winner at the age of 21 when Dento Des Obeaux won at Oldcastle on Sunday, a horse that he also rode himself, for his first ride since 2017.

Full Story - https://t.co/k5JLTcHSRP pic.twitter.com/WTG0u1CPls

— p2p.ie (@irishp2p) September 24, 2020

How did you come across the horse?
Colin bought Dento Des Obeaux at the sales last year and knew that we were looking for a horse. He said we could take him and when we bought him he ran with Colin last year and then with me thinking about training we said we may as well get it done now and that is when I got my handler's license out.
We have to give the credit to Colin, he is the one who found the horse.


Do you have any horses to follow from the yards you are riding out in?
Colin has a couple of nice four-year-old's, the two that really standout are a nice Sholokhov and there is a nice Famous Name horse, and they are doing everything that they are being asked to do very well.
Outside of racing, do you play any other sports?
More so to keep myself fit I would play a bit of soccer. I would go to five-a-side once a week and then there is a team as well that is local to Downpatrick. It is more for fitness-wise that I would go along to that.
If I didn't watch myself my weight would rise up again, just with my build. It actually got to the stage there that I was even far too heavy for point-to-pointing, I did struggle for a while but I have got it back under control so hopefully I can keep it like that.
And finally, what aims would you have for the season?
It would be great to try and get a couple of outside rides to try and get my name out a bit there and then obviously with my own horses, for Dento, I would plan to run him in a Hunter Chase towards the end of the year.
There is a Maiden Hunter Chase around Downpatrick that we hummed and hawed about going for last year and that could be a plan for this year, and then for the mare it would be nice to get a win into her.
She will probably run in the next couple of weeks – she could do with the run but I would say that she could start off in Toomebridge or Moira the week after.