Next Generation | Rider
Name: Cian Chester

Age: 19

Area: Longwood, Trim, Co Meath
It was a day to remember for 19-year-old Cian Chester who partnered his first winner between the flags when guiding the Cullentra House Stable Staff Syndicate owned Evalabrune D'or to victory in the O'Roarke Bros Adjacent Hunt Winners Race at Umma House on Sunday.

Chester who has only been riding racehorses for two years, has had 9 rides in point-to-points and is based with leading trainer Gordon Elliott.
Are you from a racing background?
I wouldn't be from a racing background, I used to do a bit of showjumping when I was in primary school. I just had no fear of horses, I just got stuck in whereas the other kids would have been a bit nervous around them.

How did you get started in Racing?
One of my friends who already worked in Gordon Elliott's which is not too far away from me and she suggested one day that I come in and ride out. I just got the bug for it then and there was no stopping me.

I have only been riding racehorses for two years now. It was tough enough at the start especially in the first month, I was getting run away with I was thinking was it ever going to get any easier at all!

Have you ridden out for anyone else to date?
I ride out for Virginia Considine during my lunch-break and then on the weekends I do a bit for David Broad and Paul Flynn.

I want to try and keep my eye in a few places.
Where are you based at the moment?
I am living at home in Longwood, which is handy as Gordon's is only down the road from my homeplace.

What is your earliest racing memory?
I used to watch racing with my Grandfather who has since passed away.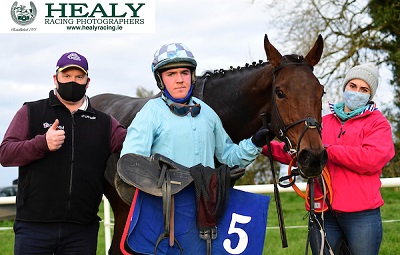 You were delighted with your win on Sunday?
I was over the moon to win aboard Evalabrune D'or on Sunday, he had pulled up on his previous start at Castletown-Geoghegan where the ground had turned heavy.

The ground on Sunday really suited him at Umma House. He is owned by all of the lads in the yard, so it was great to keep them all happy!

We have a couple of horses in the yard owned by the Cullentra House Stable Staff Syndicate which is great, it keeps us all interested.
Have you ambitions for this season?
To keep the head down and try and ride as many winners as I can! I would also like to try and ride out for as many people as I can.

What do you think about the opportunities for novice rider's in point-to-pointing?

I think there are great opportunities for novice riders, I have had plenty of rides so far. There is a good spread of novice rider races which is a great for riders starting out.

What is your favourite track to ride at?
Umma House for obvious reasons! It was a lovely track to ride around, it's a fine galloping track.
How about another rider you think might be up-and-coming?

Eliece Elliott would be one to keep an eye on, she rides well and hopefully she will get on well this season.
Who has been your biggest influence in racing?

Barry O'Neill and Jamie Codd are probably the two point-to-point riders I would look up to.
I am very lucky to be in Gordon's to have the likes of Keith Donoghoe, Shane McCann and Davy Russell to give you advice and tell you where you are going wrong.
What's the best piece of advice you've ever been given?
Keep the head, don't panic! You start making mistakes when you panic and get yourself into a state. You just need to keep the head right.