Next Generation
Name: Pearse Rogan
Age: 19
From: Enniscorthy, Co Wexford
It was a day to remember for 19-year-old Pearse Rogan who partnered his first winner between the flags when guiding the Donnchadh Doyle trained Fiston Du Mou to victory at Dromahane on Sunday.
The Wexford native has been working full-time for Donnchadh Doyle for the last year and a half.
How did you get started with horses?
I started riding out with Shay Slevin when I was younger and still riding ponies, I went to Jim Bolgers for a year then.
I finished school after my junior cert and went to Donnchadh Doyles and I have been there a year and a half now.
It's a great place to work, you do plenty of schooling and you learn plenty so it's brilliant.
Do you ride out for anyone else?
I mainly just ride out for Donnchadh but the odd time I'd help a few of the lads around here. I've ridden plenty of work for Mick Goff.
You must have been delighted to get the opportunity to ride Fiston Du Mou, when did you know you were riding him?
It was brilliant to get the chance on him, in fairness Donnchadh has given me plenty of opportunities over the last couple of weeks, so it was great to get the win for him. He has been very good me and I am very thankful.
I was delighted when Donnchadh phoned me on Friday evening and asked me to ride him.
He ran well on his first outing were you confident of a good run on Sunday?
I thought he would run well on Sunday, he was fourth on his first run when only beaten three and a three quarter lengths at Dromahane. The second day it didn't really go to plan with him, the ground was bit too good for him and I knew going back to Dromahane on the soft ground he would be able to operate on it.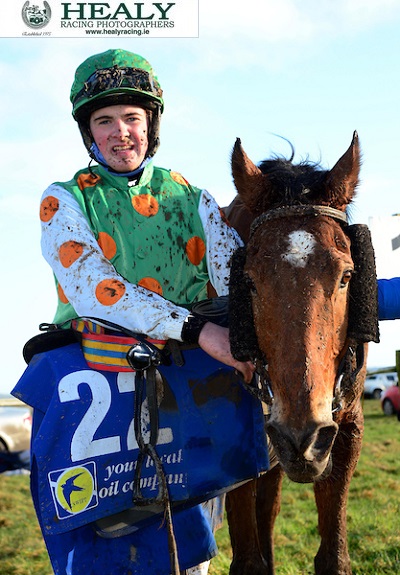 It must have been great to ride your first winner?
It was brilliant to get my first and especially for Donnchadh as he has been very good to me.
What are your ambitions now for the rest of the season?
To just keep riding away and keep schooling for as many as can and see what happens.
Is there any rider in particular that you think people should watch out for?
I'd have to say Ross Foley I work with him and he has ridden two winners already and I think he's really going to get going now.
Who would have been your biggest influence in racing?
Probably Rob James, he comes into Donnchadh's once a week. He is great for advice and would keep an eye us and tell us what we are doing wrong.
Is there any horse from Donnchadh's you think we should keep an eye out for during the Spring Season?
There is grey horse of Donnchadh's by Masked Marvel, I think he is a very good horse and one to keep an eye out for.