Daniel Scullion certainly could not have recorded his first career success in any more impressive fashion after William Tyndale destroyed the opposition to land the older geldings' maiden at Necarne last Saturday.
The 28-year-old has previously spent a time riding in point-to-points in Wales, is also a qualified farrier.
Name: Daniel Scullion
Hometown: Portglenone, Co. Antrim
Age: 28
First Winner: William Tyndale - Necarne
What would be your earliest racing memory?
Noel Kelly would be the nearest trainer to us, he is a neighbour of my uncle's and I can always remember going down to his yard with my uncle and watching him taking horses down to the beach.
How did you get involved in racing?
I would have done a small bit of pony club and riding lessons around home, but it was probably not until I was 16 or 17 that I started riding out.
I pretty much starting with Noel and then also in Enniskillen College. I spent a year doing my pre-Farrier course in Enniskillen after I finished school and would have been riding a good bit there too.
I spent four years in Wales doing my Farrier apprenticeship and did another three years in Newmarket.
Did you go racing over there?
I had a about 20 point-to-point rides when I was based over in Wales for local handlers.
It would definitely be a lot more competitive here. A lot of the people that I would have been riding for were true amateurs, they would have farmers that trained the odd horse and it would have been getting fit by racing.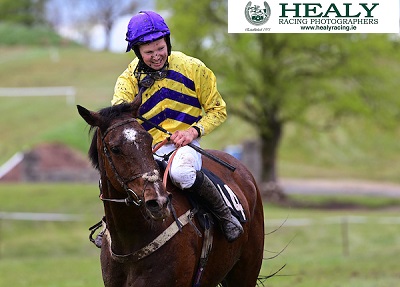 What is a typical day like for you combining your work as a farrier?
I am back three years and Noel's would still be my local yard. I would go in every morning between 6.15am and 6.30am to ride out William Tyndale and then head off to work when I have looked after him.
I might ride a few more on a Saturday, but I usually just have time for him during the week.
I start work as a farrier around 8am and cover some of the local handlers like Noel, Gary McGill and then I travel to Sean and Noel McParlan. They would be the main racing yards I would go into.
William Tyndale won well for you at Necarne which must have been nice to get?
He had been running well at Cork when he fell and then ran a brilliant race to finish second in another Hunter Chase at Down Royal earlier in the month.
After that run we were fairly hopeful he would go well back in a maiden and thankfully he did.
It was nice to get that ticked off the list, getting the winner was the big thing.
Are there any horse's in Noel's that have caught your eye?
Noel has a good few nice horses and things have been going well. Gladitorial looks a nice horse after he won his maiden hurdle at Down Royal, he could be a good horse and of course Decor Irlandais is the stable star.
I'd say they will have a good summer campaign with him now. He had a bit of a break over the winter and is ready to go now.
NextGen | Daniel Scullion

The qualified Farrier from Portglenone in Co. Antrim recorded his first success in the saddle at Necarne last weekend when William Tyndale ran out a wide-margin winner for @NoelCKelly1

Find out more about Daniel - https://t.co/V07wlNblbb pic.twitter.com/VXCB45urwl

— p2p.ie (@irishp2p) May 20, 2021