Name: Alan Harney
Age: 20
From: Kilmacow, Kilkenny

20-year-old Alan Harney registered his first winner between the flags when winning the novice riders open at Turtulla aboard the Donnchadh Doyle trained Er Dancer.

How did you get started with horses?

We would have always had ponies at home growing up. We used to do plenty of hunting with my neighbour and from there into show-jumping and then into racehorses.

I first started working with racehorses in Eoin Doyle's who is only down the road from me. I started working with him at weekends from the time I was about 13.

Was it always the plan to take out your Qualified Riders licence?

It was always something at the back of mind to take out my licence, from a young age I've always had an interest in racing and really enjoyed watching it.

Were you with still with Eoin Doyle when you took out your licence?

No, I left school after my junior cert and then worked for Henry de Bromhead for three years.

It was a brilliant experience working in such a big yard with the best horses and best jockeys coming in, you learn plenty from them.

I used to look after Minella Indo when I was down there and actually led him up when he won the Albert Bartlett at the Cheltenham Festival in 2019.

What made you decide to leave Henry's and join the Donnchadh Doyle stable?

Henry didn't have that many opportunities for amateurs or any point-to-point horses and it was something I really wanted to give a proper go, so I decided to join Donnchadh's team and have been there with him full-time now for the last two years.

What do you think the main difference is working in a big racing yard to working in a point-to-point yard?

Well in the point-to-point yards your buying them as three-year-olds and then bring them home and having to break them, teach to them to get going and school them whereas in Henry's they arrive ready to go.

You must have been delighted to get your first winner on Er Dancer?

Ah it was brilliant to get my first winner, it has been a long time coming I had my first ride in a point-to-point at Lisronagh aboard Arch Chancelor in 2019.

It was particularly nice to get the winner on Er Dancer, he is a favourite in the yard, Ross Foley also had his first winner on him and Pearse Rogan has also won on him.

He was a great help to Pearse last season winning the novice title.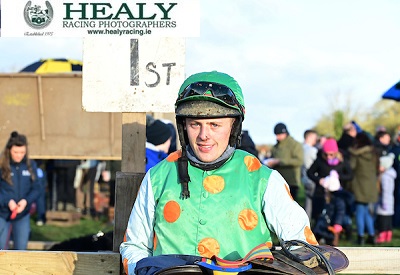 That was Er Dancers first run of the season what were the expectations heading into Sunday?

Donnchadh just said going out, just to keep fitness in the back of my mind because he wasn't in that long and we were just riding him more to get a place and get around and he'd come on and improve loads from the run.

Hopefully he will be aimed at more of the novice rider races and keep him away from Rob James!

Were any of your family there to see your big win on Sunday?

My parents there on Sunday, it was great to have there made it extra special.

Who would have been your biggest influence in racing?

Rob James and James Walsh who are there in Donnchadh's have been a great help, they are great to have around they always be looking out for you and telling you if you did something wrong and how to improve.

All the Doyle brothers have been so good to me since I started down there and have helped me every bit of the way and I am so appreciative of that.

You have your own open horse as well this year which is great?

Yea I have Pallaskenry, I got him out of Henry's and he has been great to have this season and he has been running well. He has been placed on all his starts and in some pretty decent open's also, so hopefully there will be a day in him.

Julia Foran is training him for me, she would be a neighbour of mine.

Where will you run him next?

We didn't look at anything this weekend for him, but we look at the weekend after and hopefully there will be something for him there.

What are your ambitions for remainder of the season?

Just keep the head down, try and get as many rides as I can and knock in a winner or two hopefully.

Do you have any other interests outside of racing?

Not really to be honest, horses take so much of my time so not a lot of time left for anything else.

Would you keep much of an eye on Minella Indo after having looked after him for so long at Henry's?

Ah of course, I'd always be keeping an eye on entries to see where he will be going to next.

It was unreal to see him winning the Gold Cup, even though I don't work with Henry anymore I still got a great kick out of seeing him win.
Alan Harney recorded his first point-to-point winner on Sunday at Turtulla when winning aboard Er Dancer.

%uD83D%uDC49For more on Alan click here https://t.co/ubOg7zG1Dj pic.twitter.com/u9kEh0l4Vk

— p2p.ie (@irishp2p) November 24, 2021