Name: Robbie Clancy
Age: 21
From: Sixmilebridge, Co. Clare
Twenty-one-year-old Robbie Clancy registered his first winner between the flags when taking the mares' maiden at Turtulla on Sunday aboard Leading Babe, a horse that he not only owns but also trains.
From Co. Clare, he is the son of Michelle Clancy (nee Holohan) who shared the champion lady point-to-point rider's title with Susan Finn in 1990.

How did you get started with horses?
My mother Michelle, she was a point-to-point jockey, she passed away when I was 11, but there were always point-to-pointers around at home when I was growing up.
I did a good bit of show jumping when I was younger, I would have been jumping from about the age of eight up to 16.
I won at the Dublin Horse Show in 12'2 and 13'2 ponies and I was on the European team in 14'2 ponies for show jumping.
How did you end up making the switch to point-to-points?
I liked racing and always had it in the back of my mind. I went to Eddie Hales when I was in my last two years in ponies and would have spent three or four weeks in the summer with him and got a liking for it there.
I actually took out my handler's permit first and went training for a year or two before I got my riders licence.
We have a two-furlong circle Wexford sand gallop at home as well as a schooling strip, an arena and a walker with 22 stables in the yard. I have 16 of the stables and Niall Kelleher uses the other six stables.
Niall has helped me a lot over the years. I had a mare that I owned when I was younger and he trained her to win first time out and we got her sold.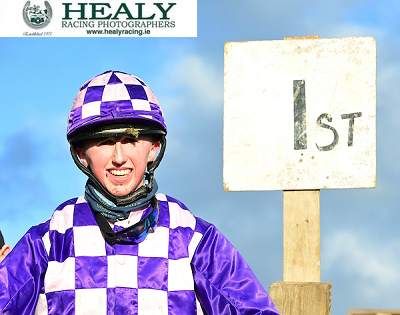 Was it extra special to have also trained Leading Babe too?
Yes, that was great. She would have needed the run at Quakerstown the week before and she came on a lot from it.
She had always worked like a good mare so we were hopeful and she did it well. We have had a couple of calls since and I think the plan is to go to Ascot now for the sale on December 6th.
Do you have many other horses in training for the season?
Twelve of my stables would be filled with horses between the ages of three and five. A good few of them are for pre-training, and then I would probably have six to train for point-to-points. They are owned by good lads.
I have a nice Sans Frontieres four-year-old that will hopefully get out before Christmas and I also have a Jet Away filly there too. She is only a three-year-old but she seems to be nice as well.
I like training, but if I could get going riding for a few years I definitely would kick on with the riding.
I always like to have a couple of horses in the yard and tip away, but if the riding kicked off I would definitely likely to go down that route.
I am only around nine stone so going down the track and getting my professional licence would be in the back of my mind too.
I would like to spend this year point-to-pointing getting more experience and see how it goes from there.
At the moment I ride out for Niall, and also Fachtna Twomey who would be another lad local to us and I have learned a lot from both Niall and Fachtna.
Is there any other rider that you think people should keep an eye out for?
I would be good friends with Mark McDonagh, he is a conditional on the track and he is making a name for himself.