It was a day to remember for 20-year-old Michael Looney who partnered his first winner between the flags when guiding the Patrick Cronin-trained O Mio Babbino to a comprehensive victory in the adjacent maiden at his local track in Dromahane.
Name: Michael Looney
Age: 20
From: Killavullen, Cork
First Winner: O Mio Babbino – Dromahane 30th December 2021
Do you come from a racing family?
No, we are farming here at home so we would have always had horses. My father would have had a couple of thoroughbred broodmares and there were always horses around the place.
I went to a local riding school and started off riding when I was about 11 or 12, it was a place called Glen Aire Stables that was my first time riding a horse and I progressed from there.
My parents bought me a pony and I started doing a bit of hunting with the Avondhu Foxhounds and some show jumping.
Once you started learning to ride was racing always something you wanted to get involved in?
I suppose when I was hunting it was the speed and the faster that we would be going the more that I would enjoy it. When I was old enough then I started riding out in racing yards and got hooked on racing then.
I was riding out at Eugene O'Sullivan in 2019 and I took out my licence. They gave me my first few spins in point-to-points on A Decent Excuse. He was a brilliant horse, and Maxine and all the lads in the yard were great to me as well. They got me going in point-to-pointing.
Who are you riding out for now?
I ride out for Michelle Duggan in the morning and Richie Harding and then I go to Paul O'Flynn and I would do a bit for Paddy Cronin too.
And it was Paddy Cronin that supplied you with your first winner...
Paddy would know my father and he comes over to use Paul O'Flynn's gallop. I would be there working for Paul so that is how the connection came about.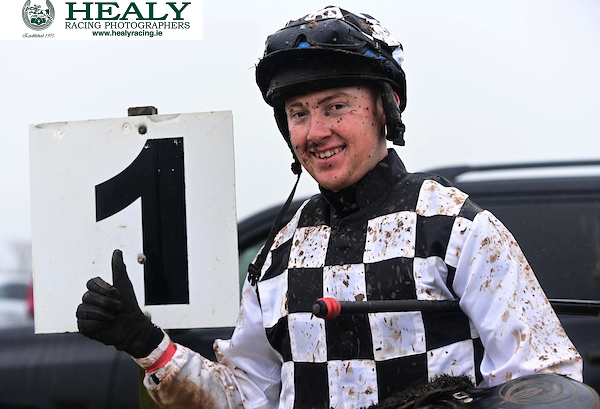 Was confidence high going into Dromahane?
Yes, we knew that she had a good enough chance. She was handicapped over hurdles so we thought that track experience would stand to her coming back to a point-to-point as well.
The instructions going out was to start off out the back but if they were going too slow I was to leave her bowl along in front and let her enjoy herself. When I would try to give her a breather after every fence, she just wanted to go on again so I just left her jump away out in front and she enjoyed it.
We knew she was fit and she is a brilliant jumper, at every fence she was pulling a length or two further clear, she was foot perfect at every fence. After all the racing that day and with all the rain that came, the ground was loose enough and she just ploughed her way through it. She was very honest.
Turning in for home I couldn't believe when I looked back and there was nobody there, I just left her enjoy herself up the straight and she did it very easily in the end in fairness to her.

It must have been nice to get your first winner at your local track?
Yes, most of my friends and family were there on the day and it was great to be able to have the crowd back too for my first winner and to do it at the local track.
Who would be your biggest influence in racing?
My uncle was a jockey Mick Lundragin, He used to ride, but he got a fall and couldn't get his licence back. Any time that I would meet him, sitting down and talking about racing was a great help.
When I started riding out, Tom Lombard who also used to be a point-to-point rider, he gave me a great start learning how to ride young, green horses over jumps.
Do you have any ambitions for the rest of the season now?
Mainly it would be just to try and get more rides and hopefully with some more rides I might be able to get another winner or two before the end of the season and progress along.
Are there any other riders that you think people should keep an eye out for?
There are a few lads that I would be riding out with who are worth following. Cal Shine would be one and Alan O'Sullivan too. Alan is Eugene's nephew and they are two young riders to follow.
Cal had a winner at Ballindenisk and does a bit of schooling around for everyone and is a very good rider I think. He gets plenty of rides and plenty of winners as well.
Do you have any interest outside of racing?
I would have a bit of an interest in farming. I help out on the farm at home whenever I can. We run a dairy and beef farm.
I would also be into buying ponies and breaking them and selling them on.