Next Generation
Name: Bertie Finn
Age: 18
From: Oulart, Wexford

The Wexford native, Bertie Finn registered his first winner between the flags aboard the Patrick Doyle trained Mangan Sue at Borris House on Sunday.

How did you get started with horses?
I was always involved with ponies growing up, my cousins had ponies too.
Did you always want to take out your Qualified Riders License?
From the age of about 13, I had always wanted to take out my point-to-point license.
Who are you currently working for?
I'm currently riding out for Colin Bowe. I have been there since the start of the season, i'm enjoying working there it's great to get to ride out such nice young horses.
Do you ride out for anyone else?
I started riding out for Mick Goff at about 13 years of age.
Are you from a racing background?
I'm not from a racing background at all. My cousin used to be a jockey.
You must have been delighted to get your first winner on the board, can you tell me a bit more about it?
I had schooled for Pat a small bit and he had put me up on her then. I had ridden her twice before finishing third both times, I was probably a bit unlucky then. However she got the job done in Borris. I'm wanting to keep riding in point-to-points in the near future.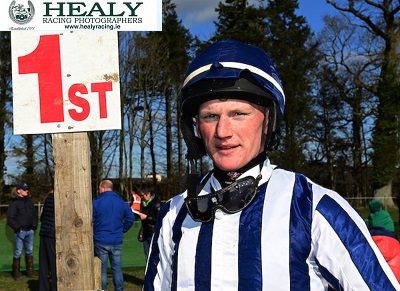 Were your family there to there to see you ride your first winner?
My mum and dad were there to see me ride my first winner on Sunday which was great. I've two brothers, one older and one younger. Unfortunately, they weren't there to see it!
Who is your biggest influence in racing?
Davy Rusell, he's just the best around.
Have you any ambitions for the rest of the season?
Ride as many winners as I can I suppose! If I could get more rides that be great, I'll keep the head down and keep working hard anyways!
Have you any interests outside of racing?
I enjoy hurling, I played for Wexford minors last year. I also played for Oulart GAA too.
With the Cheltenham Festival coming up next week is there any horse, in particular, you are looking to forward to watching?
I'm looking forward to watching the Champion Bumper, American Mike is my pick!