Name: Matthew Love
Age: 17
From: Rathmolyon, Co. Meath
First Winner: Down The Highway
How did you first start out with horses?
I have been on a horse since I can remember, I have two older siblings who evented so when they were competing and I was too young to participate I would still bring my pony along and just follow them around.
I started off eventing, I still do and I have two nice horses to compete in the upcoming season but if pointing is on the same day as an event, it will definitely get the preference.
I was on the Irish Gold Medal winning team for the European pony eventing last year. That was amazing but winning my first point-to-point gave me such a thrill!
Are any of your other family members into horses?
My mum used to event as well as my sisters and then my brother and my father pinhook a few horses together and I have a share in a Pillar Coral store this year.
My Dad is a farmer so we have plenty of room for horses at home, we have five stores altogether this year.
Were any of your family there on the day?
My sister actually led me up, and most of my family were there. It was a great family day out. Even both my grandmothers were there too. It was a great day.
What is your first racing memory and what was it that was that attraction for you personally?
It would have to be back in 2013 when my grandmother, Dot trained Liberty Council to win the Irish Grand National. I was about seven and I just remember my older sister running up and putting a bet on him, she did not know what she was doing but she knew to collect her winnings after.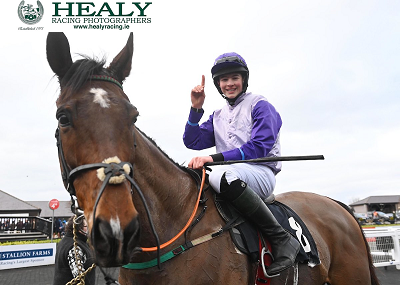 Are you with horses full time?
I am in boarding school but I ride out as much as I can during the holidays and at the weekends in Gordon Elliotts as my home place is beside him and when my brother is home (he works in Paris) he drives me down to Charlestown to ride out for Ciaran.
Did you always want to take out your license?
I always wanted to take it out, I had four bumper rides when I was sixteen and then I actually went for my license upgrade to ride in point-to-points in RACE the day after my 17th birthday, there was no wasting time!
What is the plan for Down The Highway going forward?
My dad and brother bought him to have some fun with and luckily he has turned out alright, he will probably stay running in opens for the rest of the season, he won a Hunters Chase in Cork in April last year so he could possibly go for one of them again at the end of the pointing season.
Who would be your biggest influence in racing?
It would definitely have to be Davy Russell, but I am very lucky that all of my family have been very supportive with me riding and that my dad and brother gave me the ride on Down The Highway.
Do you have any interests outside of racing?
I played hockey when I was younger and I play a lot of Rugby and that helps with my fitness because I can't ride out everyday while at school.
What are your intentions in the near future within racing?
This season I would like to keep working away getting rides and hopefully ride some more winners.
I intend on going to college when I finish school and riding as an amateur while doing it but then giving it a good go when I am done in college but it is always a good plan to have a degree to fall back on.