The 2007/08 season saw 36 individual pointing graduates win 46 Graded contests with 7 horses managing Grade One success.
The highlight of the year was undoubtedly the win of the Cheltenham Gold Cup by Denman. Denman had four runs during the season and won all four two grade one's, one Grade 2 and a Grade 3).
GRADE 1:- 7,
GRADE 2:- 12,
GRADE 3:- 12
46 Graded winners; 36 Individual horses.
CONNA CASTLE
EBF Novice Chase - ROSCOMMON (Gr 3) €19793

MAJOR FINNEGAN
Newnham Mulligan Nov Hdle - LIMERICK (L) €15395

MOSSBANK
Ladbrokes National Hcap Chse - LIMERICK (Gr A) €50351
Clonmel Oil Chase - CLONMEL (Gr 2) €26391

COOLGREANEY
Visa Pacific Asia Novice Chase - PUNCHESTOWN (Gr 3) €15835
Popular Square Chase - NAAS (Gr 3) €18432

DRUNKEN DISORDERLY
Ballybrit Novice Chase - GALWAY (Gr 3) €17594

ONE COOL COOKIE
Killultagh Prop Ltd Chase - DOWN ROYAL (Gr 3) €32567

ROYAL COUNTY STAR
Troytown Chase - NAVAN (Gr B) €43986

DENMAN


Hennessy Gold Cup - NEWBURY (Gr 3) £85530
Lexus Chase - LEOPARDSTOWN (Gr 1) €83783
Aon Chase - NEWBURY (Gr 2) £28510
Gold Cup Chase - CHELTENHAM (Gr 1) £268279

PARSONS PISTOL
Stayers Novice hurdle - CORK (Gr 3) €17594

TRAFFORD LAD (GB)
Barry&Sandra Kelly Mem. Hdle - NAVAN (Gr 1) €43918

MERRY COWBOY
Greenmount Park Nov Chse - LIMERICK (Gr 2) €24192

NEWBAY PROP (IRE)
Paddy Power Chase - LEOPARDSTOWN (Gr B) €73378

TIME TO SELL (IRE)
Tim Duggan Mem. Chase - LIMERICK (Gr C) €19793

WHATUTHINK (IRE)
Future Champion Nov Hdle - LEOPARDSTOWN (Gr 2) €21993

GLENROCK LEADER
Dorans Pride Nov Hurdle - LIMERICK (Gr 3) €17594

BREEDSBREEZE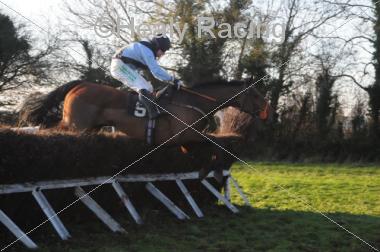 Tolworth Hurdle - SANDOWN (Gr 1) £28510
MISTER TOP NOTCH
Pierce Leop. Hcap Chse - LEOPARDSTOWN (Gr A) €52654

HI CLOY
Kinloch Brea Chase - THURLES (Gr 2) €23933

KNOWHERE (IRE)
Leatherby & Christopher Chase - CHELTENHAM (Gr 2) €57020

THE BUDGEE (GB)
Clarkson Hcap Chase - LEOPARDSTOWN (Gr C) €21540

MISTER WATZISNAME
Byrne Group Plc Novice Hurdle - PUNCHESTOWN (Gr 2) €23933

COOLDINE
Jim Strange & sons Nov Hurdle - CLONMEL (L) €19147
Michael Purcell Mem. Nov Hdle - THURLES (Gr 2) €21540
Rathbarry & Glenview studs Festival Hurdle - FAIRYHOUSE (Gr 2) €22976

BALLISTRAW
Red Mills Chase - GOWRAN PARK (Gr 2) €23933

KAZAL (FR)
Boyne Hurdle - NAVAN (Gr 2) €28720

GUNGADU
Racing Post Chase - KEMPTON (Gr 3) £57020

WELL TUTORED
Mick Holly Mem Hcap Chse - LEOPARDSTOWN (Gr B) €23933

BALLYFITZ
Pertemps Final - CHELTENHAM (L) £45616

OUR VIC
Ryanair Chase - CHELTENHAM (Gr 1) £114040
Totesport Bowl Chase - AINTREE (Gr 2) £91216

MISTER TOP NOTCH
Pierce Leop. Hcap Chse - LEOPARDSTOWN (Gr A) €52654

HI CLOY
Kinloch Brea Chase - THURLES (Gr 2) €23933

KNOWHERE (IRE)
Leatherby & Christopher Chase - CHELTENHAM (Gr 2) €57020

THE BUDGEE (GB)
Clarkson Hcap Chase - LEOPARDSTOWN (Gr C) €21540

MISTER WATZISNAME
Byrne Group Plc Novice Hurdle - PUNCHESTOWN (Gr 2) €23933

COOLDINE
Jim Strange & sons Nov Hurdle - CLONMEL (L) €19147
Michael Purcell Mem. Nov Hdle - THURLES (Gr 2) €21540
Rathbarry & Glenview studs Festival Hurdle - FAIRYHOUSE (Gr 2) €22976

BALLISTRAW
Red Mills Chase - GOWRAN PARK (Gr 2) €23933

KAZAL (FR)
Boyne Hurdle - NAVAN (Gr 2) €28720

GUNGADU
Racing Post Chase - KEMPTON (Gr 3) £57020

WELL TUTORED
Mick Holly Mem Hcap Chse - LEOPARDSTOWN (Gr B) €23933

BALLYFITZ
Pertemps Final - CHELTENHAM (L) £45616

OUR VIC
Ryanair Chase - CHELTENHAM (Gr 1) £114040
Totesport Bowl Chase - AINTREE (Gr 2) £91216