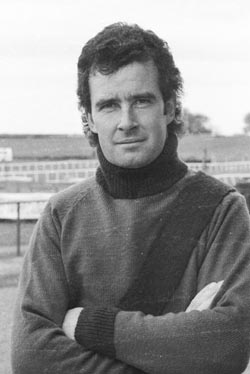 Awards Venue
Limerick Inn Limerick

Champion Rider: R. Hurley (35 winners)

Champion Lady: Rosemary Stewart

Champion Novice: (7lb claimers): R. Hurley

Ulster Champion: R. Steele

Munster Champion: R. Hurley

Leinster Champion: J.A. Berry

Connaught Champion: T.S. Costello

Champion Senior (OVER 33): R. Steele

Personality of the Year: Jim & Mary Hickey

Leading Sire: Proverb


RIDERS TABLE

35 R.Hurley

24 A.J.Martin

21 P.J.Healy

20 J.A.Berry

16 R.Steele

12 E.Bolger, T.S.Costello, M.Phillips, J.F.Sleator

11 N.Dee

9 T.Lombard, J.Queally

8 L.P.Cusack

7 J.A.Flynn, L.Keogh, J.J.Mangan, P.Verling

6 I.Buchanan, J.Durkan, L.Lennon

5 A.Costello, T.O'Callaghan, M.O'Keeffe, Rosemary Stewart,

4 T.M.Bergin, M.Condon, Carmel Connaughton, J.Cullen, A.D.Evans, P.Fenton, D.Hassett, M.Kiernan,
D.M.O'Brien, D.H.O'Connor, P.Sinnott

3 M.F.Barrett, C.Dore, P.F.Graffin, P.Larkin, F.McGillion, C.McGovern, P.McMahon, D.Moore, G.Mulcaire,
W.P.Mullins, J.O'Callaghan, S.H.O'Donovan, R.Tyner

2 M.Brassil, W.J.Burke, E.Casement, B..Cockburn, D.Costello, P.Deegan, T.Doyle, P.J.Dreeling,
G.Fitzgerald, F.Fitzimons, J.F.Gleeson, M.Harris, D.Hickey, N.C.Kelleher, P.G.Kelly, P.M.Kelly, T.Lambert,
T.Leonard, G.T.Lynch, D.McAuley, G.Martin, G.McGarry, P.McLoughlin, M.McNulty, D.G.Murphy, G.M.O'Neill,
R.J.Patton, P.J.Vaughan, N.Wilson

1 P.Aherne, J.R.Banahan, J.Baragry, K.Begley, D.Black, J.Bryson, Mary Burchill, E.M.Byrne, G.Chesney,
H.Cleary, J.Costello, G.Cromwell, P.Crowe, P.Curran, J.Dagg, A.Daly, J.Donnelly, Tara Doran, P Drennan,
D.T.Evans, W.Ewing, G.Farrell, D.Finn, P.Fitzgerald, B.Forde, P.Fox, D.Gay, D.Geoghan, P.Gormley, P.Green,
Deirdre Hogan, R.Kehoe, M.Kelleher, R.Kenny, R.W.Kidd, F.Kiernan, Ann Lambert, J.Lane, M.Lonergan,
T.Jordan, A.Lynch, Mary Mahon, C.McBratney, K.P.McCarthy, P.J.McCarthy, O.McDonnell, Mary Molony, J.Neville,
J.Neiland, P.O'Dwyer, P.O'Haire, R.O'Keeffe, S.O'Shea, W.O'Sullivan, W.Queally, D.Sheehan, A.Stronge,
Michelle Tulett, A.Younghusband, F.Younghusband

Some of the newcomers of note to the List (Riders who make their first appearance to the list. In most cases this is their first winners but not all)

H.F. Cleary - (South East amateur. Rode 40 winners)
A.G. Costello - (Clare rider. Rode 76 winners to 2003. Son of Tom & brother of former champion Dermot and
Tom jnr)
J.J. Costello - (Son of Tom. Brother of former champion Tom & Dermot.)
G. Cromwell - (Drogheda Trainer)
A. Daly - (Mayo Amateur)
T. Doyle - (Thurles Trainer)
D.T. Evan -(Wicklow professional. Son of Delgany trainer Alfie, who also rode in points '80-'97over
40 winners and Ladbroke winning rider based with Dermot Weld)
W. Ewing - (Northern Amateur. Western Champion '92. Northern Champion 2000 Ridden 98 winners)
D.E. Finn - (Balingarry Rider. Ridden 16 winners to '03)
M. McNulty - (Former Stable Amateur with Jim Dreaper. Rode 21 pt winners before retiring due to injury)
J. Neilan - (Producer of promising young horses in Galway)
S.H. O'Donovan - (Rider of Nuaffe as a professional)
R. O'Keeffe - (Wexford Trainer)
A. Stronge - (Northern Trainer Ridden 22 winners to 2003)

SUMMARY

• Roger Hurley was top of the pile in 1987. Hurley was one of the most talented of his era. A regular in the colours of P.P. Hogan he enjoyed much success over the banks at Punchestown on many of the leading hunter chasers of the time. He has ridden 107 point to point winners and the 35 winners he kicked home in '87 saw him eleven winners clear of Tony Martin.
• Robert Steele took his second Northern title in a row with a total of 16 winners.
• The Eastern title went to John Berry for the second time with a total of 20 winners
• Jim & Mary Hickey took the personality award for their work looking after the Cork And Waterford region over the years
• Tony & John Costello both rode pointing winners this year. John was returning from injury of a number of years while Tony was about to embark on a career that saw him ride Best Mate, Florida Pearl, One Man, Merry Gale &Cool Dawn among many other top horses.
• Sean O'Donovan rider of Nuaffe got off the mark as did David Evans and Martin McNulty
• On the track John Queally's 25 winners saw off Roger Hurley's 17 winners preventing him taking a pointing and track double.
• Ah Whist was one of the leading horses taking the Champion Hunter Chase under Enda Bolger by 4l from a John Queally partnered Sunset Way and the pair were 2 ½ l winners of the Joseph O'Reilly.
• Other Leading Horses in '87 were Attitude Adjuster, No Other Way and Mr Donovan who finished 5th , 7th & 11th in the Foxhunters respectively when partnered by Messrs Queally, Bolger and Willie Mullins.