Courses
Boulta
Track info
County: Cork
Soil Type: Brown Earth - fine, loamy
Fences per circuit: 5
Fences per 3 mile race: 14
Direction: Left-Handed
Course Distance: 1.22m
Elevation Change (Highest to Lowest Point):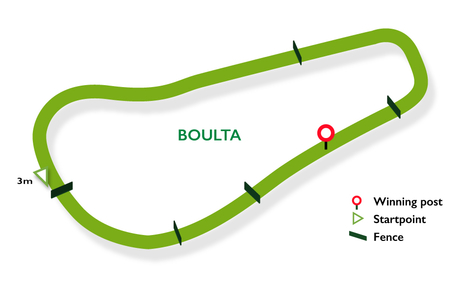 TRACK GUIDE
---
A big galloping track, Boulta, which is also a popular schooling grounds, first held a point-to-point in 2002, and offers a real test of a horse with just over two and-a-half laps of the course to be completed in all three-mile races.

Beginning alongside the fence on the side of the course, runners have a long run before reaching their first fence which comes in the home straight. There is a good pull rounding the home bend to the first of the three fences in the home straight, two of which come before passing the winning post. After passing the winning post, runners continue up the home straight on a good run to fence three, before almost immediately turning left handed.

There is just one fence located in the back straight, with a long run before they reach it at fence four, approximately two-thirds of the way down the straight. The track curves slightly to the right as the runners then begin to take the long bottom bend to pass through their point of departure and fence five which is not jumped on the opening circuit.

Given the fine track that it is, it is no surprise that it has thrown up some leading performers over the years, including a number of notable mares' such as the Colin Bowe pairing of Our Victoria and Askanna, 2010 Irish National winner Bluesea Cracker, and most recently Ms Parfois. Cheltenham Festival winner Ballyalton is another Boulta victor to go on to future big race success.
JOHN BARRY
Boulta is a very testing track. It is about a mile and two around and it is a real tough three miles, especially as the ground can be quite testing with the two meetings being run in December.

The best horse normally wins around it though, as it is quite fair. You can drop in or ride handy and just do your own thing.

Sometimes, they can get racing going to the third-last, but there is a good climb to the second-last and it Is a long straight, so it will catch people out if they do and there are only usually a couple of finishers.