Courses
Fairyhouse
Track info
County: Meath
Soil Type: Surface Water Gleys - fine, loamy
Fences per circuit: 6
Fences per 3 mile race: 17
Direction: Right-Handed
Course Distance: 1.17m
Elevation Change (Highest to Lowest Point):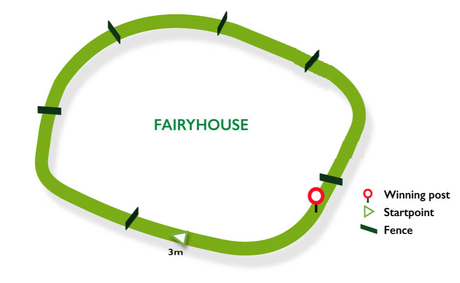 TRACK GUIDE
---
Home to the Irish National each Easter Monday, the Grade 1 course at Fairyhouse also played host to the Fingal and Ward Union point-to-points for a number of decades. However for close to 10 years, from the last Ward Union fixture at the venue in 1995, the track remained absent from the pointing fixture list until it was re-introduced by the Louths in 2014 to host the second ever Anglo-Irish Challenge and E5,000 Tattersalls Ireland Mares Winners race. Since then it has been the home of the Meath & Taras spring fixture.

Taking place inside the inner rules course, the point-to-point track is just over one-mile around with five fences, and is considerably sharper than the main course, and speedier horses tend to have the edge.

The runners begin with their backs to the grandstands and have a very short run to fence one. This is the only obstacle positioned on this section of the course, as they rise steadily towards the highest point of the course at the top bend into the back straight. Fence two comes up quickly in the back straight which is a lot shorter than the outer chase course, as the field turn slightly right-handed to fence three, having left the back straight behind them.

Previously, the final two fences were located quite close together in the home straight, however in 2019 the second-last fence was re-positioned and placed just before the home bend. There is now a longer run from the home bend to the last, with a short run-in to the line.

JAMIE CODD
Inside the racecourse, the track is right-handed and around two and a half circuits.

The ground is generally good there and it suits to be handy. From five-out to three-out you are on the turn the whole way and it is quite hard to make up ground.

The last two fences used come up very quick, but that has improved with the second last being moved. It is still a track that would often suit a front-runner, as they tend to get home around here.