Courses
Kildorrery
Track info
County: Cork
Soil Type: Brown Earth - coarse, loamy
Fences per circuit: 5
Fences per 3 mile race: 14
Direction: Right-Handed
Course Distance:
Elevation Change (Highest to Lowest Point):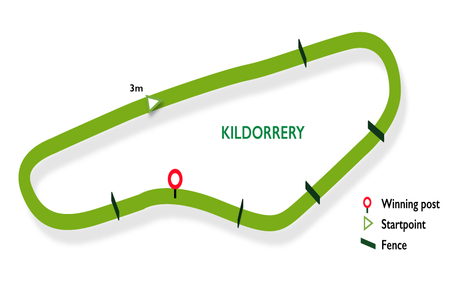 TRACK GUIDE
---
Home to point-to-point racing since 1979, Kildorrery is a good galloping track that provides a nice test of a horse.

Runners begin early in the back straight and jump five fences on each circuit except for the opening lap, where four fences are jumped. From their starting point, the horses have a nice run to the first fence which is positioned at the end of the back straight. After jumping it, they are soon on the turn, racing gently right-handed on their way to fence two which is taken after racing through a gap on the run into the home straight. Fence three is also on this part of the course, and it is jumped before they turn into the home straight proper.

The track drops slightly early in the home straight as the runners make their way onto the first of two fences in the home straight. The first of these, which is also the final fence, comes before the winning post, after which there is a slight left-handed curve, as the runners pass through the winning post and jump fence five before the road crossing.

As the field leave the home straight behind them, they race slightly downhill turning to race between the betting ring and lorry park to climb a moderate rise to their starting point and the completion of a lap of the track.

Grade 1 winner Scorpiancer, one of the leading jumps horses in America, is the course`s star graduate having won his maiden at the venue in 2014 for Eugene O`Sullivan.
CIARAN FENNESSY
Kildorrery is a very fair track with the ground conditions tending to be very soft.

It is quite a tough track and the last is always very tricky. There are often plenty of casualties at that fence, as you are running downhill and horses can get tired and tip up.

You have plenty of horses that win either from behind or making the running, but you do need a horse with plenty of stamina around here.