Wexford-native Cian Cullinan rode the third winner of his career when steering home Bitofalright to win first time out in the mares' maiden at Fairyhouse last Sunday.

This was a second success of the season for the RACE graduate who has held his licence since 2016. The 21-year-old is based full time with Peter Croke and having also been placed on his first ride under rules the previous week it's certainly onward and upwards for this novice rider.

Next Generation | Rider

Name: Cian Cullinan

Age: 21

From: Gorey, Wexford

Are you from a racing background?

I grew up around horses and a granduncle of mine used to always bring me racing when I was a child. I would have done a lot of pony club, show jumping and all that kind of stuff when I was younger as well.

How did you get started riding out?

I went to RACE when I was 16, so I started that way. I was out on placement with Tracey Collins, although I broke my back with a month to go, but thankfully I was able to complete the course. It's a great place to start, as you learn to do things right the first time.

How did it all progress from there?

I went over to Philip Hobbs that summer and afterwards I spent some time with Philip Rothwell, Sean Doyle and Tony Martin.

You had your first few rides back in 2015/16 and rode your first winner that season?

Lorcan D'Arcy was very good to me when I started out, he gave me my first ride and also my first winner when Spud's Trouble dead heated around Moira back in May 2016.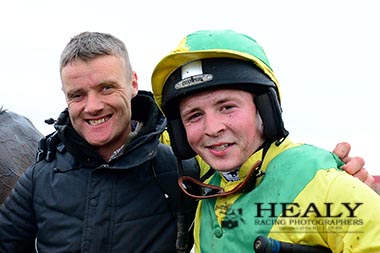 Where are you based now?

I started working for Peter Croke full time at the start of the season. My first ride for him was a winner and that was my second winner for him last Sunday so things are going well. We have 11 or 12 riding out at the moment.

Things are starting to get going for you point-to-pointing?

It's great to be riding winners, I rode Bitofalright for Peter at Fairyhouse last Sunday and she did the job. We were hoping for the best going up and the race worked out well for her.

The owners were over the moon, they have been very good to me since I started in the yard. I actually rode my first winner of the season for them as well, this is my fourth season riding and the ball is just starting to get rolling now.

You had your first ride on the track the other day as well at Kilbeggan?

I rode Humps and Bumps in a handicap hurdle for Peter and she finished second, she is the mare I won on back in the Autumn at Turtulla, so she has been very good to me.

What are your ambitions now for the future?

I will take things as they come, I am getting on well in with Peter and I would like to try and get more established point-to-pointing.

Any plans for the summer?

I have a couple of three-year-olds myself to get going. I have a half-share with an Ask and an Imperial Monarch with Peter and we will be busy enough in the yard over the summer.

Who has been your biggest influence in racing or who would you look up to?

When I started out Andrew Ring was in Philp Rothwell's and he gave me plenty of tips and told me what I was doing right and wrong, so he has been good to me.

Any horse we should watching out for?

Shimmer And Shine won at Tramore earlier in the year and she should win again. We also a few nice four-year-olds to run as well.

How about any other novice rider you think might be up and coming.

Robbie Jackson and I would be friends from pony club and he rode his first winner around Borris back in Autumn and could be one to watch out for.

What's the best piece of advice you've ever been given?

Keep your head down and work hard, it won't come too easy.
Next Generation | Rider - Cian Cullinan

Cian Cullinan rode his third winner at Fairyhouse last Sunday and discusses his career to date here %u27A1%uFE0F https://t.co/Swe2jDELSp pic.twitter.com/cHYEKotPvO

— p2p.ie (@irishp2p) May 1, 2019