Well known for his long time association with Whyso Mayo, Damian Murphy is now primarily concentrating on breaking and pre-training along with training a number of horses for point-to-points.
Where do you train?
I train just outside Kilbrin in Co. Cork.
Were you delighted with Sovereign Gold's recent win in Aghabollogue?
We were delighted with her. Last year, she was just so big, she needed time, and then the ground went too good for her. That's why she didn't run last year.
Were you expecting her to win?
Yeah we were, I think she's a good filly.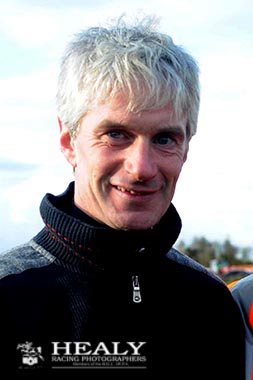 What's the plan with her after the win?
We will go for a winners race with her. Possibly at Knockanard, maybe Carrigtwohill. I will look at Carrigtwohill, but I would be thinking more than likely that it will be Knockanard. We will see how she is.
Are you from a racing background?
No, none of my family had anything to do with horses. Dad used to go racing, and he was always mad about it, but we had never had a horse or anything.
Were you always interested in going training?
Riding was all that I was ever interested in!
Do you miss the riding?
Yeah, big time. At some stage, you have to stop.
I have been breaking horses for Mr (Trevor) Hemming's for about 19 years. I had breakers above in the yard belonging to him, and then he asked me would I like to pre-train some of them, so I said that I'd love to.
He told me to forget about the riding now and to concentrate on this. I started thinking about it, and thought at some stage I'm going to have to stop riding anyway, and I thought this was something I could do in the future, so that's why I stopped riding.
It was a no-brainer really! At some stage you have to stop racing, I would love to keep racing, but as I said there comes a time when age sets in and you don't bounce as good as you used to!
Have you many in training for the season?
I've only got four or five to run, but I have a good few pre-trainers and breakers.
Any good horses that have went through your hands?
The first two horses that I had in this yard were Theatre Territory and Native River. I broke Native River for Denis Ahern. I broke Many Clouds as well, I just broke him and he went straight to England. It's lovely watching them going on to win after.
Have you any horse to watch out for?
I wish I knew!
Who has been your biggest influence in racing?
My father more than anything has to be. Any point-to-point that I went to, he was at with my mother. Almost every point-to-point that I have ridden in, he has been there.
There has been very few days that they missed. When I started off, they bought land at home when I was about nine. I came home from school one day, and they were after buying a pony, and I've never got off since! I started pony racing first, and then went on point-to-pointing.
Do you have any interests outside of racing?
My Dad has greyhounds, I'd do the dogs as much as I could and go racing. He wouldn't have many but, I'm interested in anything that can run fast! I follow the soccer and stuff, I follow all sports really, but they would be the main ones.