Ray Ross, the sole video provider to the Northern point-to-point region, has decided to step down at the age of 72 and hands over the meetings that he has covered for over 30 years to Irish Point to Point Services. He is pictured here covering his final fixture at Moira last Saturday.
Commentator Richard Pugh, who has long worked alongside Ray, pays tribute to his long-standing contribution to the sport.
I first met Ray at Sligo point-to-point in the early 1990s. I was the announcer at the meeting and he was working beside me doing videos of the races.
Back then it was VHS tapes which then moved to DVDs and more recently has included USB sticks.
For myself, my family and my friends some of our proudest and happiest moments were captured on camera by Ray and whether things had gone better, or indeed worse than expected, a video was often called upon to inform the post-race analysis.
Ray Ross from Ardglass in Downpatrick was once an amateur and then professional boxer who fought over 130 bouts in his career.
He then went on to become the head green keeper at Ardglass Golf Course before, in the late 1980's, a friend of his who had a video camera asked if he would help him out covering an event and Ray accepted the challenge.
From there he went on to build his own business videoing Weddings, Football Matches and many other events as required in the local area.
In the late 1980s he was approached to cover his local point-to-point at Tyrella which he has done ever since that time covering a period of over 30 years.
Ray has become the sole provider of videos to the Northern circuit for at least 20 years and possibly longer and also covers many southern meetings too.
In that time he has taken footage of some top class horses winning their point to points such as Gold Cup winner Imperial Commander at Summerhill in 2005 along with Gold Cup placed horses such as Forget The Past at Maralin and Truckers Tavern at Loughanmore.
He has taken footage of an endless list of high class horses such as Lostintranslation, Briar Hill, Petit Mouchoir, Battleoverdoyen, Bellshill, Angels Breath, Yorkhill, Finians Oscar, Definitely Red, Ballynagour, General Principal, Annacotty, Flemenstar, Bindaree, Davids Lad, Direct Access, Our Vic and many more.
His work also assisted the sale of many horses including footage of the ill-fated Flemenshill at Oldtown who went on to set the record of 480,000 for an Irish Pointer when selling at the Tattersalls Cheltenham February sale in 2017 for Wilson Dennison and Colin McKeever.
In my role as commentator at Northern point-to-points since just before the turn of the century I have climbed on many vans, front loaders, cherry pickers, scissor lifts and innovative height for hire solutions to gain the best vantage point for our respective roles.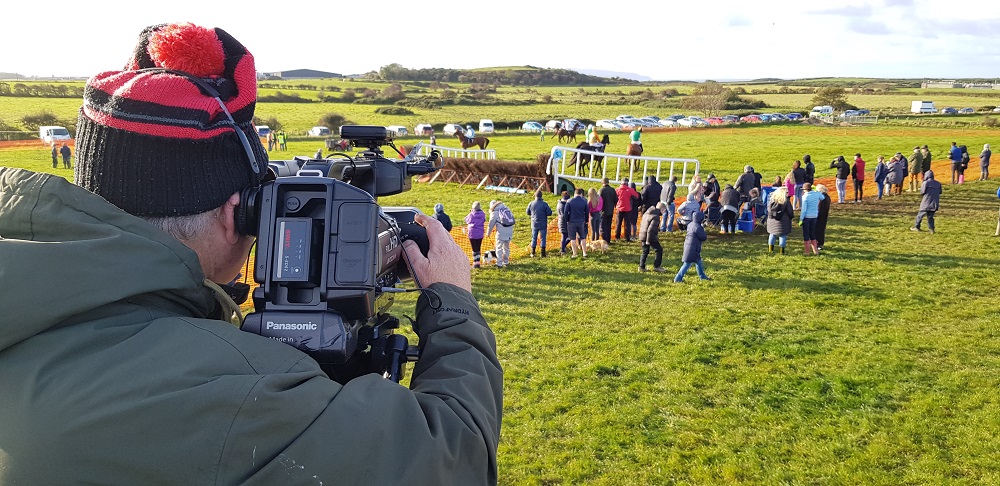 Ray videoing the action at Portrush last season before the introduction of social distancing protocols.


Having attended Belclare point-to-point in 2001 when Best Mate won his maiden with no video evidence I have always been acutely aware of the value both sentimental and beyond of having footage of each and every race.
It will be a very different experience to go to a Northern point-to-point to carry out my own role not having Ray Ross beside me when I call a race. He was standing beside me when I covered my first ever commentary at Sligo point-to-point in 1997.

He was the only camera on course back in Down Royal at 1998 when I called my first track meeting and whether it was my wife Jennifer's first winner or a fall she took during a race he was always the person standing alongside me at that time.
In recent times Ray has given his library of videos to us at Irish Point to Point services which we will upload to the website over the coming months and years and stretches to thousands of races and ensures that his work and indeed our sports history will be protected for ever more.
Along with his family, and most consistently his wife Kathleen or son Kevin, they have provided a wonderful service to our sport and one which we should be truly grateful for.
I will certainly miss him being the ever present presence he was at every northern meeting and wish him well in a very well earned retirement. I suspect he will be on call to cover a meeting should resources require but on a wet Saturday afternoon I hope he takes the time to put his feet up and enjoy the well-earned rest.