Next Generation | Rider

Name: Toni Quail
Age: 22
Area: Enniscorthy, Co Wexford
It was a day to remember for C. Down native Toni Quail who partnered her first winner between the flags at Loughanmore on Saturday when guiding the Ellen Doyle-trained One For The Yard to victory in the six-year-old and upwards geldings' maiden.
Quail is no stranger to the winner's enclosure when first tasting success when winning the Eventers Challenge race at Dundalk in 2018 aboard the Kevin O'Donnell-trained Bobeska.


Are you from a racing background?

I have always been around horses. I have done plenty of eventing and have competed at International Level. I was on the European Junior team in 2016 and on the European Young Riders team in 2018 and 2019.

I still do eventing and keep my horse with Ann Lambert. I actually just finished outside the top 10 at the last Ballindenisk International at two star level.


How did you get started in racing?

When I was younger I used to love the pony club games, I just loved the speed factor and have always had an interest in racing.

I very fortunately got the opportunity to ride in the Eventers Challenge race at Dundalk which I ended up winning. The race held to raise funds for the Irish Eventing High-Performance Squads and the senior athletes journey to the World Equestrian Games.

Kevin O'Donnell very kindly supplied me with my horse, I am very friendly with his daughter Christine who I have evented with. That really kick started my interest in race riding.


Where are you based at the moment?


I started riding out in Brian Hamilton's and decided that I needed a change.

The Wexford handlers seem to know their stuff, that's where all the winners were coming from, so a friend of mine suggested going into James and Ellen Doyle's, and I have loved it from day one. I love all the schooling and riding out on the beach.


Have you ridden out for anyone else to date?

I try to do as much schooling as I can, I have ridden out for a couple of different people including Peter Croke and Sarah Dawson.


Can you tell me about one of your earliest racing memories?

When I was younger I used to always go racing with my father to Downpatrick which is our local track.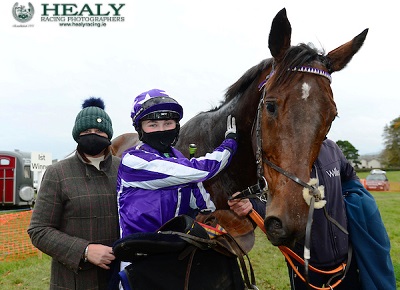 You were delighted with your win on One For The Yard on Saturday?

I was delighted to ride my first winner on Saturday on One For The Yard. I know the horse really well as I ride him out every day.


What's the plan with One For The Yard now?

He is going to go for a winners' race in two weeks time.


Have you ambitions for this season?

I would like to ride as many winners as I can and I would love to win the Ladies Title.


What is your favourite track to ride at?

I would have to say Loughanmore! It was actually my first time to ride at Loughanmore on Saturday, I thought it was a lovely, fine, big galloping track.


What do you think about the opportunities for novice rider's in point-to-pointing?

I there are plenty of opportunities for young riders these days. There are plenty of races for us to take part in.


How about another rider you think might be up-and-coming?


Susie Doyle is a good friend of mine and is doing well. It was great to see her ride a winner also on Saturday at Ballycrystal.


Who has been your greatest influence in racing?


Declan Lavery, he has been a big help to me. When I first started he gave me loads of advice when we were riding work and when I rode in bumpers he would have walked the track with me also.


Do you play any sport outside of racing?

I don't have much time for anything else other than point-to-pointing and eventing. I used to have two horses to go eventing but I didn't have time to do both so now Ellie Humphreys has taken one to go show jumping.



How do you relax away from racing?

Go for a run, if I find the time!
It was a day to remember for 22-year-old @QuailToni who partnered her first winner between flags aboard One For The Yard at Loughanmore.
To find out more on Toni click here https://t.co/qsMZ8TU4yt pic.twitter.com/PJCqbPqCht

— p2p.ie (@irishp2p) October 29, 2020