Next Generation | Rider

Name: Tom Harney
Age: 22
Area: Eadestown, Kildare
It was a day to remember for Tom Harney when he got off the mark with the success of Keenaghan Lass in the concluding Colorman older maiden at Tattersalls on Sunday.
Tom Shaw's mare emerged from the fog at the Co. Meath venue and a swift jump at the last saw them go on to win by three lengths.
The success for Harney came on his 12th ride of the season having ridden for Shaw, Louis Hill and his boss Ross O'Sullivan.
Are you from a racing background?
Not really, my father is a farmer and I just got into the horses when I was younger. I was mad for the speed then.
A friend of mine Peter McCarthy taught me to ride, he would have been into ponies, and then I did pony club and pony racing from there.
Was pony racing a good start in racing?
Pony racing is brilliant, I did it for about two seasons. I think I only had about five rides in my first season but I had about 50 rides then in my second season. I had my own pony to ride a few times and then I had a few outside rides too.
Luckily at the time I was working over in Michael Halford's in Kildangan and living with Shane Foley. There were plenty of pony racing lads around there and I was riding for them and they would give me the leg up on their horses.
That was the first racing yard that I went into. I had never sat on a racehorse before that, the likes of Conor Hoban and Shane Foley showed me the ropes. Sean Corby was a good friend of mine from school and he would have brought me along. They even showed me how to bridge my reins at the start!

I started off riding the lead horse in there and after a while I stepped my way up gradually.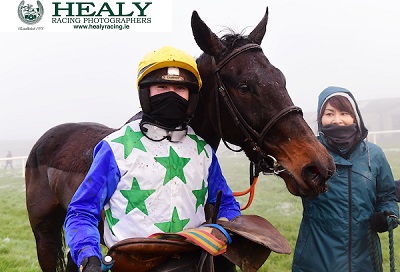 How did you end up working for Ross O'Sullivan?
I had went to Ross when I finished school to look for a job and he just didn't have one for me at the time, but he got me into Willie Mullins'.
I went there for two years and then Ross was building the new facilities that he has at the minute and he approached me and asked me if I would be interested in going to work for him. It just worked out at the time, I had wanted to move home and it was great.

I had a great time down in Willie's. There is so many good horses and they are lovely people the Mullins'. It was a great place to work and I learned a lot there.
It is very enjoyable where I am now, it is very hands on. We would be starting horses off from scratch and working up them as they make their way up and there is a great mix of horses, so you learn lots.
I am full time with Ross and then as much as I can, I would try get over to the likes of Tom Shaw, who I rode the winner for at lunchtime.
I looked after Baie Des Isles, so I got to go over to France with her – that was a great memory and one I will never forget. It was a brilliant experience to win a Grade 2 out there for such a small yard.

What would be one of your earliest racing memories?
As a kid you would always see Frankie doing a flying dismount after a big winner, I didn't try that on Sunday – it was a bit cold for that!
From a young age too we would always go to Punchestown. It is only over the road, so it was a big thing to go to the Festival every year.
I rode in the Ladies Cup on a filly called Any Time for Ross two years ago. That was brilliant, a lot of my family love going to the Festival so it was great that they could all be there.
Keenaghan Lass won well for you on Sunday.
It was great that she won. I was fourth on her down in Turtulla last year and the race had worked out well, the second and third had come out and won this season already so I was quietly confident that she would get one. I wasn't sure if she would get it yesterday but I knew she would win one somewhere along the line this season.
What would be your ambitions for the season?
If I can keep the ball rolling now and get as many rides as possible really. Hopefully more of them will click like they did yesterday.
I suppose it is great to get one for the season and if I can get another one or two and work from there it would be great.
As everyone says experience is key, I had a few rides last year, so the more rides that I get the more I learn, it's all a learning curve so hopefully it will keep going.
Is there any up-and-coming rider that stands out to you?
I have been watching Jordan Gainford a lot lately and I think that he is top class. He is very tidy for a young lad that is only coming through, he looks like he has been doing it for years. I think he is top quality and will be a champion of the future I would say.
Who would be your greatest influence in racing?
Ross has been a huge help to me. There is a big difference between schooling very good horses in Willie Mullins' to schooling a three-year-old over hurdles and Ross has helped me a lot to be able to do that. He would always be looking out for you.
Do you play any other sports outside of racing?
I used to play a bit of Gaelic Football, but I don't really have as much time for that anymore but I do like to do a bit of running.