Next Generation

Name: Nora Walsh
From: Killeagh, Cork

26-year-old Nora Walsh registered her first winner between the flags when winning the opening division of the older maiden at Borris House aboard the Johnny Hurley trained Moral Of The Story.

How did you get started with horses?

I grew up around them really, I did plenty of hunting and a bit of show jumping. My Dad would have always had a few racehorses over the years but I only really got into the racing game after I left school.

I used to ride out for a couple of the local handlers and then I actually did a season with Willie Mullins. I came back then and I worked with a local handler Paul Cashman and I then started with Johnny and Danielle Hurley during the summer.

How did you find it working in Willie Mullins?

It was a savage experience, he was an absolute gentleman to work for, it was savage to be apart of such a successful operation. I left because I really wanted to go down the race riding route and I felt I would get more of an opportunity in a smaller stable. It was going to be very hard to get going in somewhere like Willie's.

Was it always the plan to take out your Qualified Riders licence?

I've always had interest in taking out my licence, it was something I've always wanted to do.

Where are you currently working? Do you ride out for anyone else?

I am with Johnny and Danielle six mornings a week and then I ride out for a couple of other local handlers including Andrew Lee in Cloyne and Denis Ahern in Dungourney.

How did you come about going into Johnny and Danielle's?

I would have known them for many years through racing circles and from the sales. They are only about 20 minutes from home.

You must have been delighted to get your first winner on Moral Of The Story?

Oh yea, it was absolutely savage to get my first winner, it was such a great buzz. I was very lucky to get the opportunity, they have been so good to me since I started with the Hurleys.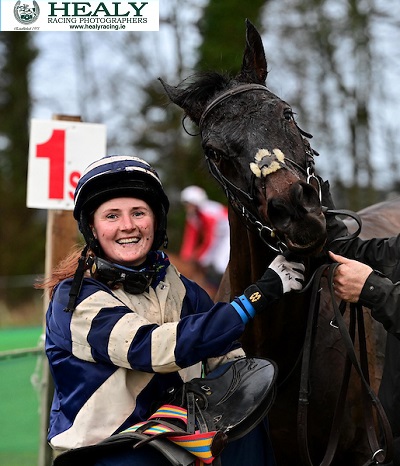 You had ridden him a couple of times before were you confident heading into Sunday considering he pulled up the last day at Lingstown?

To be honest we weren't quite sure what to expect but things had been going to plan in the lead-up to the race. He settled very well and gave me a great spin throughout and it all just fell into place for me really.

What is the plan for him now?

He will go for a winners race next.

Who would have been your biggest influence in racing?

Growing up I suppose it was Ruby Walsh and Paul Townend up along the years, with Paul being local to me at home he would have been a big influence.

Do you have any other interests outside of racing?

I really enjoy sport, I play GAA with my local club Killeagh and also do a bit of running.

You mentioned you were in college, what did you study?

I studied exercise and health in Waterford, which I have found very useful and have a good nutrition base.

Is there any up and coming jockey you think we should be keeping an eye out for?

There are plenty of local lads riding well at the moment but I suppose Alan O'Sullivan is one to mention, he is a nephew of Eugene O'Sullivan. He is a very promising young rider I think.

What are your ambitions for remainder of the season?

Just to try and get as many rides as possible and please god I might knock in another winner or two and just get my name out there and get the ball rolling.

I am very appreciative to Johnny and Danielle and to local handlers who have given me an opportunity, I look forward to what the future holds.
%uD835%uDE12%uD835%uDE2A%uD835%uDE2D%uD835%uDE2D%uD835%uDE26%uD835%uDE22%uD835%uDE28%uD835%uDE29 %uD835%uDE2F%uD835%uDE22%uD835%uDE35%uD835%uDE2A%uD835%uDE37%uD835%uDE26 %uD835%uDE15%uD835%uDE30%uD835%uDE33%uD835%uDE22 %uD835%uDE1E%uD835%uDE22%uD835%uDE2D%uD835%uDE34%uD835%uDE29 %uD835%uDE33%uD835%uDE26%uD835%uDE28%uD835%uDE2A%uD835%uDE34%uD835%uDE35%uD835%uDE26%uD835%uDE33%uD835%uDE26%uD835%uDE25 %uD835%uDE29%uD835%uDE26%uD835%uDE33 %uD835%uDE27%uD835%uDE2A%uD835%uDE33%uD835%uDE34%uD835%uDE35 %uD835%uDE312%uD835%uDE31 %uD835%uDE38%uD835%uDE2A%uD835%uDE2F%uD835%uDE2F%uD835%uDE26%uD835%uDE33 %uD835%uDE22%uD835%uDE23%uD835%uDE30%uD835%uDE22%uD835%uDE33%uD835%uDE25 %uD835%uDE14%uD835%uDE30%uD835%uDE33%uD835%uDE22%uD835%uDE2D %uD835%uDE16%uD835%uDE27 %uD835%uDE1B%uD835%uDE29%uD835%uDE26 %uD835%uDE1A%uD835%uDE35%uD835%uDE30%uD835%uDE33%uD835%uDE3A %uD835%uDE22%uD835%uDE35 %uD835%uDE09%uD835%uDE30%uD835%uDE33%uD835%uDE33%uD835%uDE2A%uD835%uDE34 %uD835%uDE30%uD835%uDE2F %uD835%uDE1A%uD835%uDE36%uD835%uDE2F%uD835%uDE25%uD835%uDE22%uD835%uDE3A.

%uD83D%uDC49%uD835%uDE41%uD835%uDE64%uD835%uDE67 %uD835%uDE62%uD835%uDE64%uD835%uDE67%uD835%uDE5A %uD835%uDE64%uD835%uDE63 %uD835%uDE49%uD835%uDE64%uD835%uDE67%uD835%uDE56 %uD835%uDE58%uD835%uDE61%uD835%uDE5E%uD835%uDE58%uD835%uDE60 %uD835%uDE5D%uD835%uDE5A%uD835%uDE67%uD835%uDE5A https://t.co/07gmbkaX0M pic.twitter.com/6jCdNuWXge

— p2p.ie (@irishp2p) December 15, 2021