Next Generation | Rider

Name: Dan Nevin

Age: 18

Area: Gowran, Kilkenny

Dan Nevin is the latest rider to feature in our Next Generation feature following his first career success between-the-flags aboard the Philip Rothwell-trained Lawlors Choice in the five-year-old and upwards mares' maiden at Tinahely on Sunday.

The 18-year-old, who has worked for champion trainer Willie Mullins rode in his first point-to-point aboard Cheeky Rafeeky at Borris House in March 2019, just eight months after making his competitive debut in the Amateur Derby at the Curragh.

The Kilkenny native has been based at Harley Dunne's yard in Wexford since the beginning of the season and is looking forward to the rest of the season where he hopes to gain more opportunities and he could certainly be one to watch out for in the future.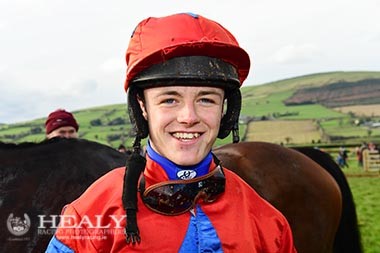 Are you from a racing background?

My parents Gillian and David Nevin worked in racing when they were younger and they have always been involved in owning two or three flat horses, who would be in training with Michael Holden in Kildare.

I started out in ponies when I was younger and I used to go hunting with the Kilkenny hunt I also used to go hunter trialing and show jumping, so the interest grew from there into racehorses.

How did you get started in racing?

Kevin O'Donnell was a local trainer and I was about eleven years old when I first sat on a racehorse at his place, he kept a couple of point-to-pointers and that's where my interest in point-to-points came from. I knew from that first time I sat on the racehorse that I wanted to be involved in racing.

When I was in third year of school I rode out for John Clifford at weekends.

Where are you based at the moment?

I am based down in Wexford since September of last year in Harley Dunne's yard.

I try and get as much schooling done as I can then in the afternoons for local trainers such as Kieran Roche. The aim is to build up as many contacts as I can, so I can get outside rides.

Have you ridden out for anyone else to date?

I decided to take a year out of school in Transition Year and during that time I rode out for Jane Foley.
I also spent two years riding out for Willie Mullins.

After finishing at Willie's I'd go and ride out for James Barrett, I decided to take out my point-to-point licence when riding for James and he gave me my first ride between the flags last March.

Can you tell me about one of your earliest racing memories?

My parents had a mare called She's Our Girl and I remember at the age of four going to Leopardstown to watch her run, Mick Kinane was riding her and she won on the day, so that definitely is one of my earliest racing memories.

My parents still have the mare at home, they bred off her after she finished racing and she's retired now.

You were delighted with your win on Lawlors Choice on Sunday?

I was absolutely over the moon, the minute I crossed the line there was a smile across my face. I rode the mare twice before and I know her inside and out.

She finished second the last day she ran at Tinahely and she finished third at Cragmore recently, so she's been knocking on the door for a win and thankfully she was able to get her head in front on Sunday.

What's your connection with Tom Power who owns Lawlor's Choice?

Harley Dunne put me in touch with Tom when I moved to Wexford and him and Annette have been very good to me. I started off schooling for them and they have given me most of my rides in racing, so I can't thank them enough for how good they have been to me.

What's the plan with Lawlors Choice now?

The plan with her now is to aim her at a winners' race.

Have you ambitions for this season?

My aim is to keep improving my riding by doing as much outside schooling as I can and, to try and get as much experience as I can from riding in races. If I had another winner along the way, then that would be great.

What is your favourite track to ride at?

I have to say Tinahely after getting the winner there, it's a great track to ride around!

What do you think about the opportunities for novice rider's in point-to-pointing?

I think they are a great addition to racing, if it wasn't for the novice rider races then I wouldn't have gotten half the rides I have had. It helped massively to get me going and the races create great opportunities for young lads out there who are struggling to start off.

How about another rider you think might be up-and-coming?

A young lad that I think is up and coming would be Pearse Rogan, he's a good lad and he works hard, and I think he is definitely a rider to watch out for.

Who has been your greatest influence in racing?

I have to say, Patrick Mullins, he was very good to me when I was riding out at Willie's. From day one, he helped me, he always came back to me with constructive criticism and tried to set me on the right track, so I really appreciated that and its been worth a fortune to my riding.

Do you play any sport outside of racing?

I used to play hurling a good bit up until last summer, but the horses have taken over this year and I haven't really had much time since I moved down to Wexford.

How do you relax away from racing?

If I'm not riding at the weekends, then I try and head back to Kilkenny and meet up with a couple of friends. I try and go to the gym once a week, I am light enough so thankfully I don't have to do much more than that.