Name: Brian Barry
Age: 18
From: Conna, Co. Cork
Eighteen-year-old Brian Barry, who is the younger brother of leading point-to-point rider John Barry, registered his first winner between the flags when guiding home Burning Ambition in the open at Boulta.
That success for Barry, came just three months after his opening victory under rules at Listowel back in September.
How did you get started with horses?
John would have been a huge influence on me just watching him growing up and that is really how I got into it.
My parents would always be going to watch John point-to-pointing at weekends and I would go along with them so I grew up watching him ride winners as he progressed through.
I started off doing a bit of hunting with the Conna Harriers when I was younger and then I went pony racing and rode almost 30 winners. John got me my first pony for racing and it went from there to riding bigger gorses and then going into racing from there.
I started off going into a couple of places with John. I went to Jimmy Mangan's first and then went into a few other yards during the summer's and that's really how I got started.
Was it always the plan to take out your Qualified Riders Licence when you graduates from pony racing?
Well with John being a point-to-point jockey I decided to go and get my Qualified Riders licence. I thought it would be a good opportunity to start and I could progress from there.
When I got the licence I was doing my Leaving Cert, so I have finished that and am full time in work this year. I am considering going to college next year, but I said I would get a good year under my belt first.
It must have been special to ride your first point-to-point winner on Burning Ambition last Sunday?
Boulta is a local enough track for us, so both my parents were there and John was riding there too, and they were all as happy as I was!
Burning Ambition is there for me for the season and hopefully we will both stay sound and I'll be able to get another couple of winners out of him.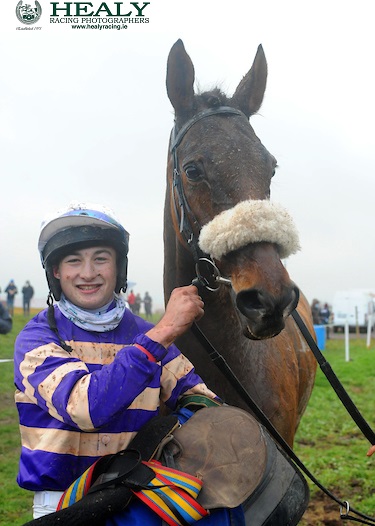 That wasn't your first winner though, you had a winner over fences at Listowel earlier in the season?
Yes, I had a winner for John Ryan back in September at Listowel. I would have went into John Ryan's for a couple of days about two or three years ago when my brother John would be going in, but John has been very busy and would go to other yards now like John Nallen's.
I started going back into John Ryan's during the summer and he was kind enough to give me the opportunity.
I was over the moon with it, it couldn't have gone any better really. It was great to have that first track win under my belt.
What yards are you currently working for?
I try to spread out as much as I can during the week. I am with Jimmy Mangan about three days a week, then I go into John Ryan for a day or two each week, depending on schooling days, and I also go to Enda Bolger's for one day a week.
Who would be your biggest influence in racing?
It would have to be my brother John. I've watched him growing up and he has taught me everything that I know. He has been a huge help to me and I wouldn't be where I am only for him.
Is there any rider that you think people should watch out for?
I think John Aherne is one to watch. He finished second behind me in Boulta and is getting plenty of rides. He is a good rider and Eoghan O'Grady is backing him. He should have a few more winners this season.
Do you have any ambitions for the rest of the season?
Hopefully get as many rides as possible to try and get my name out there, and get those extra couple of winners.