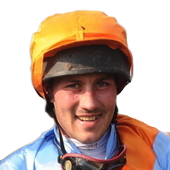 Tom Geoghegan
Castletown-Geoghegan, Westmeath
Since making his point-to-point debut at Nenagh in 2008, Tom Geoghegan has been associated with handler James Kiernan, as it was for the Westmeath native that he had his race-riding introduction. A year later, the Francis Kiernan-trained Lusatani would provide him with his initial success at Durrow in March 2009, before following up a month later at Castletown-Geoghegan when handled by James. That son of Luso proved a particularly notable horse for Geoghegan, as he it would also be the first horse that he saddled to win as a handler when winning at Lisronagh in May 2010, initiating a memorable month for the pair as they would win three races together that month.
Stats are generating... Please wait a moment.
'Niceprospect' Reality Cheque cashes in for Doyle family after faultless display.