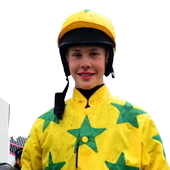 Finian Maguire
Finian Maguire, a graduate of the pony racing circuit, made a quick start to his riding career under rules, recording his first success at the age of 16 at Listowel in June 2014. The son of Gold Cup winning jockey Adrian Maguire, Finian first visited the winner's enclosure at a point-to-point aboard his father's Seventh Sign at Dromahane in April 2015. Under rules he has enjoyed Grade 2 success for Dermot McLoughlin at the 2019 Dublin Racing Festival, in addition to winning consecutive editions of the QR Handicap at the Galway Races in 2020 and 2021.
Stats are generating... Please wait a moment.
Jerminnie Green propels James to third in the jockeys' table.
Queens Brook justifies faith with smooth maiden strike.
The Cork native was injured in a fall from Whisperinthebreeze during the National Hunt Chase.